RIT names Diane Slusarski as new Graduate School dean
University of Iowa professor and researcher assumes role Aug. 1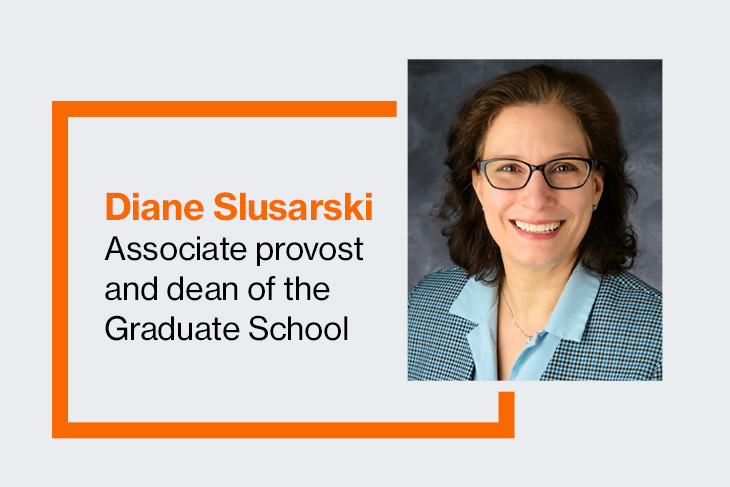 Following a national search, Rochester Institute of Technology has named Diane Slusarski as associate provost and dean of the Graduate School, RIT Provost and Senior Vice President for Academic Affairs Ellen Granberg announced today. Slusarski begins her new leadership role Aug. 1.
Slusarski joins RIT from the University of Iowa after more than two decades in the department of biology, including five years as the first female chair in the department's 165-year history. She was in charge of a large department that encompasses basic and applied research disciplines in ecology and evolution, cell and developmental biology, genetics and biotechnology, neurobiology, and an interdisciplinary graduate program in genetics.
Slusarski also holds joint faculty appointments in the university's interdisciplinary genetics Ph.D. program, Diabetes Research Center, Institute for Vision Research, and the Iowa Neuroscience Institute.
"Diane's experience imagining and reimagining graduate degree programs at the University of Iowa, while never losing sight of student success, positions her to take RIT's Graduate School to the next level," Granberg said.
Slusarski served extensively in leadership roles in university-wide committees and collaborations. She was a long-standing member of the university's interdisciplinary graduate program in genetics, serving on the curriculum and executive committees, and played an active role in the oversight and development of graduate curriculum in the department of biology.
Funding from the National Institutes of Health and the American Heart Association has supported her research in cell and developmental biology. Work in Slusarski's lab focuses on zebrafish as a model for human disease, especially blinding disorders and congenital heart defects. Her work has appeared in numerous journals, including Gene Therapy, Biomedicines, and the Journal of Neurogenetics.
Slusarski looks forward to collaborating with RIT leadership and faculty to grow the Graduate School with new programs that reflect the changing world, and which foster a commitment to mentorship, student success, and diversity, equity and inclusion.
RIT's "nimble" quality as an organization appeals to Slusarski.
"I am intrigued by the opportunities offered with RIT's doctoral designation and the institutional commitment to growing graduate programs," Slusarski said. "The newness allows for flexibility and innovation to create programs for today's society and tomorrow's needs."
Slusarski, a first-generation college student, holds a BS in biology and a BA in biochemistry from the University of Illinois at Urbana-Champaign, and a Ph.D. in biochemistry, molecular biology and cell biology from Northwestern University. She was a postdoctoral fellow at Johns Hopkins University.
Slusarski succeeds Twyla Cummings, who recently retired as graduate dean. She will work with deans, department chairs, and program directors to shape RIT's graduate curricula and graduate student experience.
RIT is classified as a Carnegie R2 research university. It currently has 11 Ph.D. programs, with two new programs in business administration and cognitive science launching in 2023. RIT also offers more than 70 graduate programs resulting in MA, MFA, MBA, M.Arch, and MS degrees.
Topics