RIT names Erica Haskell inaugural director of the School of Performing Arts
Haskell will join RIT in July from the University of New Haven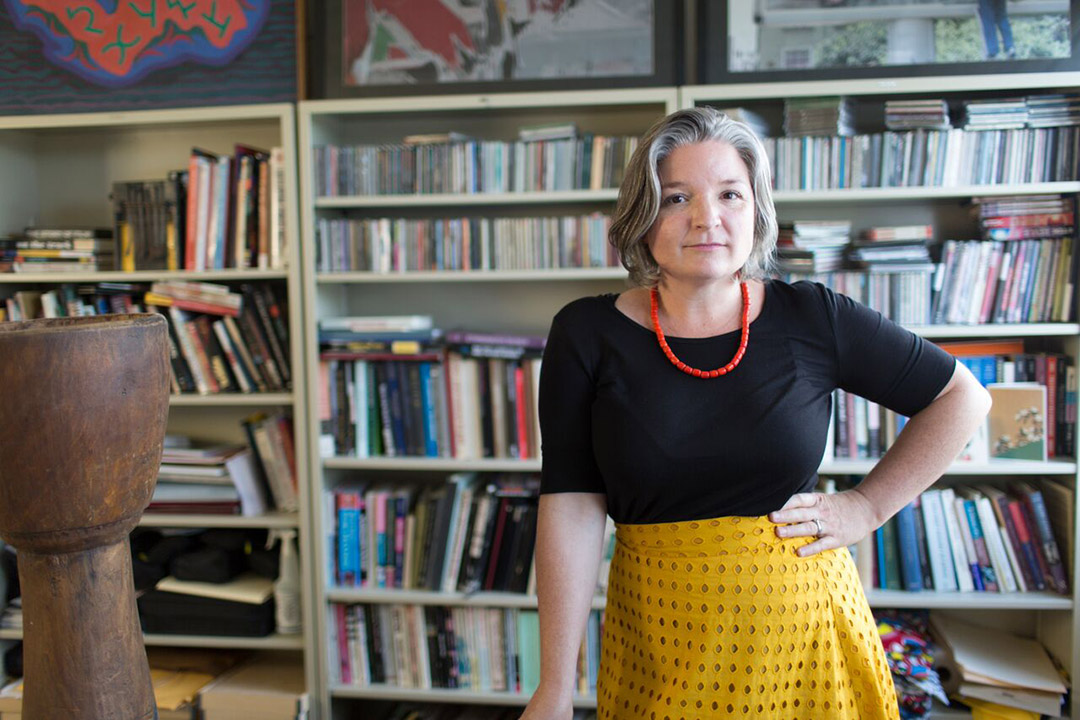 Rochester Institute of Technology has named Erica Haskell professor and inaugural director of the university's new School of Performing Arts.
Haskell comes to RIT from the University of New Haven where she served as assistant dean of the College of Arts and Sciences, chair of the Division of Performing Arts, Oskar Schindler Humanities Endowed Professor, and faculty member of ethnomusicology. She was selected as school director following a nationwide search and will begin her new role on July 1.
"We are thrilled to welcome Erica to RIT and into the College of Liberal Arts. Her impressive background as a scholar of ethnomusicology, coupled with her experiences in the music industry and as an administrator at a well-respected university, make her exceptionally well-suited for the role of inaugural director of the School of Performing Arts. I'm excited to see all that is in store for the school under her leadership," said Anna Stenport, dean of RIT's College of Liberal Arts.
Performing Arts Scholars
RIT's Performing Arts Scholarship helps students get involved with performing arts regardless of their intended major. RIT began offering these scholarships three years ago, and more than 950 students have received them.
Performing Arts Scholars come from a variety of performing arts backgrounds, including classical or jazz instrumental music, voice, dance, musical theater, acting, technical theater, video composition, and even circus arts.
The School of Performing Arts will be housed within RIT's College of Liberal Arts beginning July 1. RIT will leverage unique diversity strengths in the new school in collaboration with the National Technical Institute for the Deaf, which has its own highly regarded performing arts department and offers several annual theater and dance productions, as well as set and costume design, and lighting and sound opportunities for students. The new School of Performing Arts will offer additional creative opportunities for thousands of students who wish to pursue their passions in performance while majoring in a variety of other fields.
"Erica brings a wealth of experience as an administrator, instructor, and accomplished musician," said Ellen Granberg, RIT provost and senior vice president for Academic Affairs. "As director of the School of Performing Arts, she will open up new opportunities for our performing arts students and faculty. I look forward to welcoming her to RIT." 
Bringing years of community-engaged international performing arts experience and expertise in ethnomusicology to the RIT community, Haskell aims to find innovative, interdisciplinary ways to make performing arts at RIT more present, diverse, inclusive, and accessible to all.
"One of our priorities will be to foster a more varied and dynamic cultural ecosystem. Building on the already strong music, theater, and dance partnerships between RIT, NTID, and the local community, I would like to launch an artist residency program, which would allow our students and faculty to participate in and witness innovative and experimental creative processes," said Haskell. 
As part of her goals as school director, Haskell hopes to increase the diversity and frequency of performances on campus, provide more varied opportunities for students to perform off-campus, and enhance the digital streaming and documentation capabilities for sharing students' work. New performance venues in the Student Hall for Exploration and Development (SHED) and the Music Performance Theater will enable this growth.
"Access to the technological tools on-campus allows our performing arts scholars to perform in professional venues, and their high-fidelity work can be shared with the world," said Haskell. "New technology can also make it possible for people from all backgrounds and perspectives to participate in the creative process. There is a real possibility for expanding upon the cutting-edge research going on at NTID in this area."
Haskell shared that some of her other goals for the School of Performing Arts involve providing performance opportunities that support, reflect, and are inclusive of students of different cultures and backgrounds. She also wants to focus on the use of technology to enhance the reach and accessibility of performances and engage in interdisciplinary collaboration and research. Another priority will be exploring performing arts initiatives with RIT's international campuses, particularly in Kosovo, Dubrovnik, and Zagreb.
As the inaugural director of the School of Performing Arts, Haskell looks forward to helping shape the school's presence on campus, in the greater Rochester community, and nationally.
"The idea of building something new is inspiring to me. I'm really impressed with the faculty who are already at RIT and the work that they're doing, and it's exciting to think of what we can build together with the ongoing input of RIT students," said Haskell.
Outside of her experience in academic leadership, Haskell is well established in the music industry as co-founder and curator of Free Dirt Records, an independent record label and services company founded in 2006. Based in Washington, D.C., the label is a consciously artist-centric company dedicated to partnering traditional understandings of American roots music with new expressions that expand listeners' understanding of American music. Free Dirt has released albums by Pokey LaFarge, Anna and Elizabeth, Hazel Dickens & Alice Gerard, Rachel Baiman, Vivian Leva, The Wilders, and others.
Free Dirt Record artists have been nominated for two Grammy Awards in the last several years: Julian Lang & Chris Eldridge's Mount Royal (2017) and Che Apalache's Rearrange My Heart (2020). Che Apalache is a four-member string band comprised of musicians from the United States, Mexico, and Argentina. The label recently signed multi-instrumentalist, scholar, and activist Jake Blount and released his debut solo album, Spider Tales. He specializes in black and indigenous string band music. Haskell is also co-producer of the critically acclaimed American folk music album Starlight on the Rails by U. Utah Phillips, released on AK Press and Daemon Records.
Haskell holds a Ph.D. and master's degree in ethnomusicology from Brown University. She also holds a bachelor's degree in music from Mills College.
In her scholarly work, she has explored the politics of music, applied ethnomusicology, and the involvement of international humanitarian organizations in cultural events and projects in Bosnia-Herzegovina. In addition to her written publications and curatorial work, Haskell produced several visual podcasts with her students about Congolese refugee musicians living in Connecticut.  
Topics