RIT/NTID laboratory director has life-size statue on display for If/Then She Can national exhibit
Tiffany Panko is included in showcase that features pioneers in the advancement of science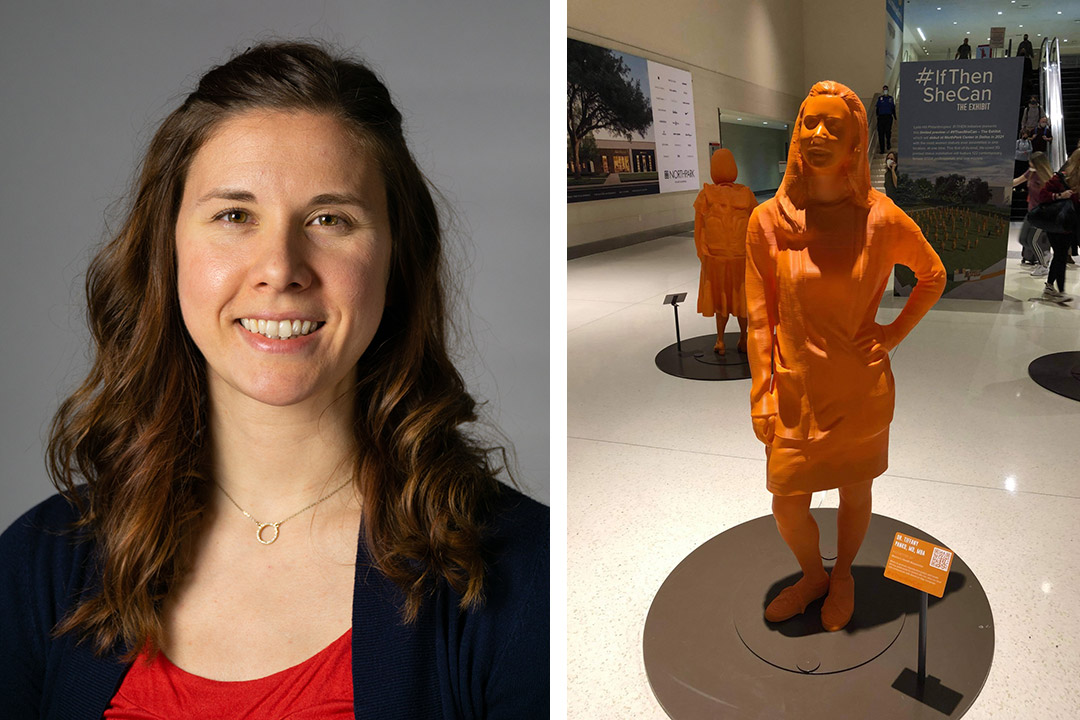 Those who've met Dr. Tiffany Panko know that she conveys a larger-than-life presence when it comes to promoting women in STEM education and careers. And to reflect Panko's commitment to STEM, the Smithsonian will be featuring her and 119 other women in STEM leaders in a new national exhibit.
Panko, director of the Deaf Health Laboratory in the Center for Culture and Language at Rochester Institute of Technology's National Technical Institute for the Deaf, will be among 120 women in STEM personified in life-sized statues that will be on display in Smithsonian gardens and in select Smithsonian museums March 5-27 for the #IfThenSheCan — The Exhibit.
According to the Smithsonian, the exhibit, which represents women leaders engaged in the American Association for the Advancement of Science, is the largest collection of statues of women ever assembled together. The exhibit kicks off the Smithsonian's Women's Futures Month, a forward-looking celebration of the power of women and girls in STEM to shape a better world.
"I applied for and was selected for this amazing honor as an ambassador, along with other amazing women in STEM who share a passion for promoting interest in STEM for middle school girls," said Panko. "Hence the motto, #IfThenSheCan, as in if she can see it, she can be it. My passion for encouraging young women to pursue education and careers in STEM runs deep, and this honor is another way that I can share my message."
As a result of this honor, Panko attended a summit for the Ambassadors, where she obtained outreach training, developed a personal press kit, and contributed material to the IF/THEN® Collection. This digital asset library is for nonprofit and educational use and has led to Panko's being featured in three museum exhibits across the country. Further, she earned access to a mini-grant, which enabled her to co-create a women's health book featuring the work of a deaf illustrator.
Panko, an alumna of RIT who received support from NTID, earned her undergraduate degree in applied arts and sciences, with concentrations in premedical and psychological studies, in 2008. She earned her MBA from Saunders College of Business in 2009 and her medical degree from the University of Rochester School of Medicine and Dentistry in 2016.
In her role at NTID, Panko oversees the Deaf Health Laboratory's mission to promote health justice by conducting research and initiatives in the deaf community on the areas of preventive health, family planning, health literacy, and the deaf experience in health care. Panko's research interests include reproductive justice, health literacy, access to health care, and women's health issues.
Panko is also involved with the Rochester Bridges to the Doctorate program as the director of research networking, as further testimony of her dedication to mentoring and supporting deaf and underrepresented students in STEM.
Topics