RIT offers film and photography, music, belly dancing and ukuleles at this year's Fringe Festival
More than 570 eclectic performances and displays planned Sept. 10-21 in Rochester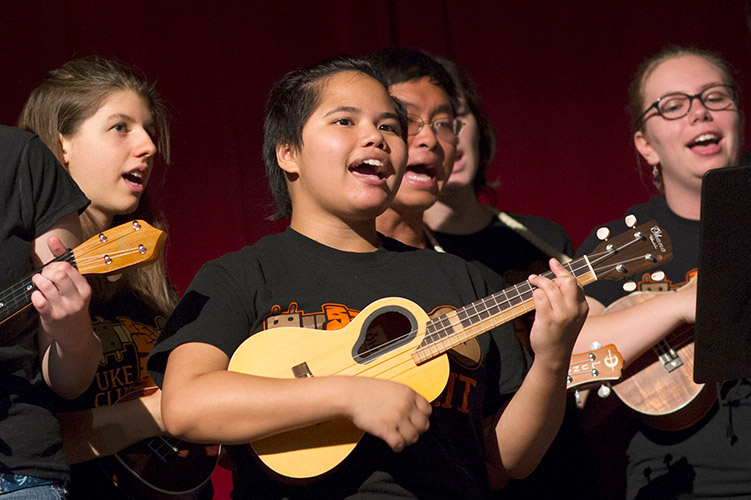 A. Sue Weisler
Free shuttlebus service to and from campus is once again being provided for Rochester Institute of Technology students wanting to attend the weekend events at the KeyBank Rochester Fringe Festival, which begins Tuesday and continues through Sept. 21 in downtown Rochester.
RIT students, faculty, staff and Osher members are part of the 12-day lineup of more than 570 eclectic performances during the festival.
RIT also is a major educational sponsor of the community collaborative event, now in its eighth year. The festival is a celebration of the performing and visual arts in more than 30 venues in downtown Rochester, featuring world-renowned performers as well as up-and-comers. More than 78,000 people attended last year's festival.
More than 150 of the festival events are free, including all of the 35 RIT performances and exhibits, most of which will be held at the Little Theatre #5 and Café, 240 East Ave.
Rochester's Fringe Festival is the largest multi-genre arts festival in New York state and is renowned among the world's more than 200 fringe festivals for its large-scale, outdoor, free-to-the-public performances.
"Nancy and I look forward to seeing the creative talents found in our campus community shared with the greater Rochester community," said RIT President David Munson. "This festival, which embraces creativity in all forms, helps us showcase the variety of talent we have at RIT, and we're proud RIT has supported Rochester's Fringe Festival since its inception."
"The arts bring people together, and there is nothing better than seeing the city streets filled with people from all parts of our community, as well as visitors from far and wide, enjoying all kinds of performances in a wide range of venues," said Deborah Stendardi, RIT's vice president for Government and Community Relations.
RIT student Garegin Grigoryan, a Ph.D. student from Moscow, Russia, signed up to perform songs on the piano by Billy Joel, Elton John, Paul McCartney, Ray Charles and pop music from Queen and Lionel Richie during this year's festival.
"I just want to perform for an audience," he said. "It will help me be more confident at research conferences as well."
The RIT offerings at this year's Fringe Festival include (* denotes interpreted):
*Dangerous Signs, Signed Shorts, a collection of one-act skits and songs performed in American Sign Language.
WADAIKO, traditional Japanese performance drumming.
RIT Ukulele Club, performs both classic and contemporary songs.
RIT Vocal Accent, all-female a cappella group performs empowering and emotionally charged music.
Al Biles and GenJam, jazz performed by human and computer.
Al Biles Quartet, jazz performance
*RIT Improv, student improv comedy entertainment with three troupes: BrainWreck, Improvessionals and Work-In-Progress.
*Shoe Stories: My Life with 400 Pairs of Shoes, Thomas Warfield, director of dance at RIT's National Technical Institute for the Deaf, takes the audience on a whimsical journey through storytelling, music and dance. Each pair of shoes is connected to a story of his more than 40 years of travels around the world to more than 100 countries.
The Galileo Band: Dance to the Music, faculty and staff perform "feel good" music.
*Sunshine 2.0, "The Wild Design," traveling theater troupe from NTID, gives a performance inspired by "The Wild Designs" at Peabody Essex Museum which featured works by artists who are looking to nature and living systems for new ideas and creative solutions to human problems.
Jumping Over the Moon with a Cow, Chickens, Yaks and You!, Howie Lester performs with a banjo, sarangi and fiddle.
Dust Jackets, Premium Rock and Blues, a four-piece rock and blues band plays classic lesser-known songs from the Rolling Stones, Bob Dylan, Tom Petty, White Stripes, Neil Young and Muddy Waters.
RIT Players Presents: Too Much Light Makes the Baby Go Blind, students present 15 short comic, tragic, political, personal and abstract plays in 30 minutes.
Out of Sync, a live experience that combines abstract art, avant-garde film and experimental music into the realm of live performance, beginning with film loops painted by hand.
RIT Surround Sound, an all-male a cappella group specializing in barbershop music.
RIT A Cappella Hour, four of RIT's a cappella groups perform: Proof of Purchase, Brick City Singers, Encore and Eight Beat Measure.
Photo House: Exposed, images from students of RIT's Photo House are displayed.
Signatures Literary and Art Magazine, RIT's undergraduate art and literary magazine offers poetry and prose readings by RIT students, faculty, staff and alumni.
RIT School of Film and Animation Honors Show 2019, a selection of the more than 300 projects students have completed this year.
Bill Dresnack, Versatile CPA, performing original songs on harmonica and guitar.
One Frogless Evening, a tribute to the amphibian Artiste Michigan J. Frog.
Live Coding Computer Music, code – written live in front of the audience – is generated using C Sound to explore the intersection of timbres, beats, bytes and time.
RIT Photojournalism Documentary Shorts, a selection of videos created by RIT photojournalism students.
Osher Lifelong Learning Institute Artists, exhibit from the artists belonging to the Osher Lifelong Learning Institute.
Fowl Play Comedy, a showcase of some of Fowl Play Comedy's best original sketches.
RIT Jam Club Live!, RIT student musicians play a variety of songs across various genres.
*Mental Graffiti Poetry, slam poetry by students who will share original poems and favorite pieces.
Desert Rhythms, belly dancing complete with swirling veils and dueling swords.
The Quarternion Drifter(s): Offbeat Song & Dance Interactivator(s), song and dance routines that spotlight syncopated rhythms and out-of-the-ordinary poly meters.
re | verb, part of City Art Space's Faculty in Focus Service, this is a collaborative exhibition featuring School of Art faculty members showing material research and explorations in glass, ceramics, metal, video, installation and more.
Encore A Cappella, all-female a cappella group performs songs spanning several decades.
Piano Man, RIT student Garegin Grigoryan performs on the piano, playing some pop and rock songs including some from Queen, Lionel Richie, Billy Joel and Elton John.
*Home Within: A Journey of a Black Deaf Son with His Father, an hour-long show, written and performed in ASL by Fred Michael Beam, with voice interpreting.
Cigs Inside, an alternative independent rock band performs.
 
For a complete schedule of RIT Fringe events (and notations on interpreted performances) as well as the shuttle schedule to and from RIT, go to www.rit.edu/fringefest or contact RIT Assistant Vice President of Special Events Lynn Rowoth at 585-475-7408 or lynn.rowoth@rit.edu.
Topics