RIT Presidential Scholarship awarded to two Greece Olympia seniors who are a part of Liberty Partnerships Program
LPP is a state-sponsored program with a location at RIT's K-12 University Center to provide academic, personal supports to eligible area students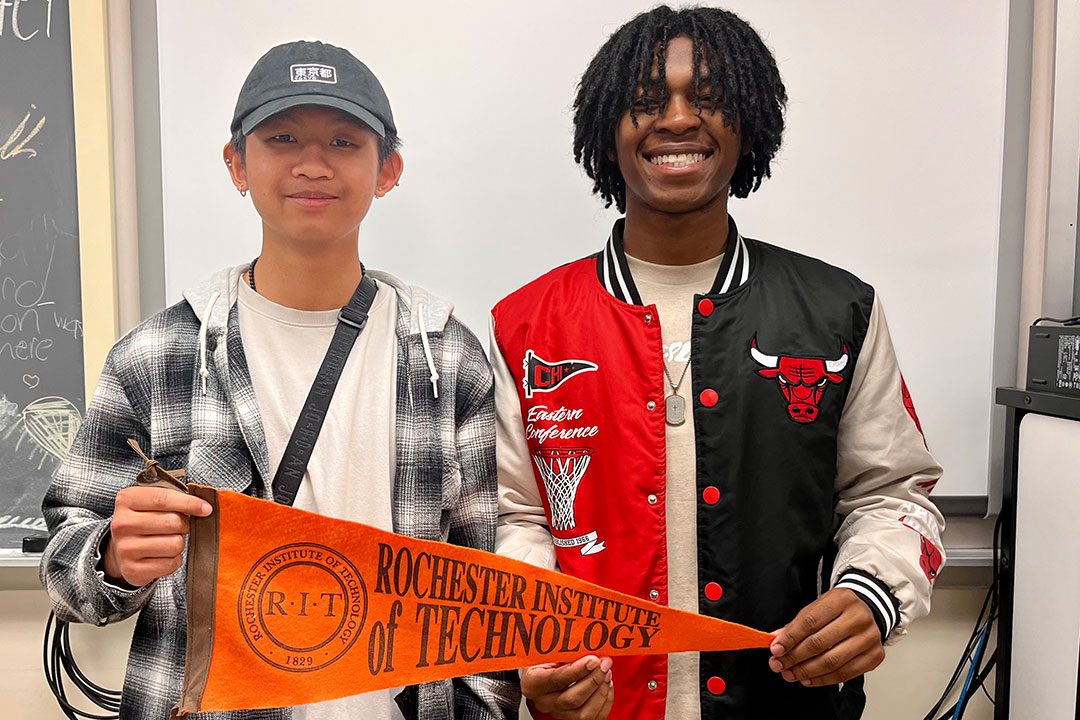 When it comes to achieving goals, Greece Olympia Senior High School students Amir Johnson and Kaiyu Kosanouvong attribute much of their success to support from others.
The seniors, who also participate in the Liberty Partnerships Program through Rochester Institute of Technology's K-12 University Center, were awarded the Presidential Scholarship through RIT to support their higher education endeavors. With plans to attend the university in the fall – and also room together – Johnson aspires to study mechatronic engineering technology, while Kosanouvong is getting into cybersecurity.
According to RIT, the Presidential Scholarship is awarded to eligible incoming freshmen who demonstrate exceptional academic performance, receive exemplary letters of recommendation, as well as strong entrance exam scores.
"For me, it was always looking into the long-term; I never wanted to struggle in life," Johnson said. "I think a really good thing is to surround yourself with like-minded people who are kind of in the same mindset, and lift you up. When you surround yourself with people like that, it's easy to meet your goals and also be with someone you can relate to."
They both joined LPP in middle school, which provided them with exposure to services such as professional workshops, life skills knowledge, and other college and workforce development experiences. LPP is a state-funded program founded under the umbrella of the New York State Education Department, with a location at RIT's K-12 center. It was first created in 1988 as a dropout prevention service, and evolved to provide academic and personal supports to eligible students. The local program currently serves students from Greece Olympia, and University Preparatory Charter School for Young Men in Rochester, with a goal to increase its assistance to other schools eligible for the program based on state requirements.
"I've really enjoy being a part of it," Kosanouvong said about his time with LPP. "I'd say it has definitely prepared me, gave me expectations for what college looks like and learned about the vast amount of things I could be doing with my life after high school, so it helped me set parameters for the next phase of my life."
The welcoming atmosphere is another aspect appreciated about the program.
"They take in every kid with open arms and treat everyone like their family," Johnson said about LPP staff.
"And it's not just how it affects us, but what we learned through it and how we can use that to positively affect the underclassmen we work with, too," Kosanouvong added. He plays a mentorship role with LPP, and started a book club through the program, called Reading in Tranquility.
For other LPP students hoping to achieve similar goals, both young men suggest taking advantage of all the program offers, particularly attending workshops that provide guidance on various topics such as budgeting, college and career readiness, a cooking competition, debate team, resume writing and more. There is also a speaker session that welcomes professionals from the Rochester area.
Topics