RIT professor named Engineer of the Year
Martin Gordon, professor of manufacturing and mechanical engineering technology, to be honored for achievements as academic, professional and community leader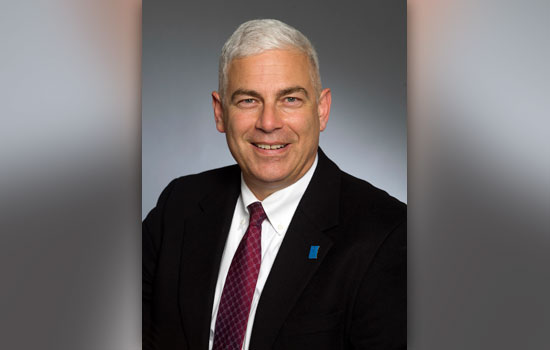 Martin Gordon, a professor at Rochester Institute of Technology and nationally-recognized expert in forensic engineering and traffic crash reconstruction, was recently selected as the 2018 Engineer of the Year by the Rochester Engineering Society. Gordon will be honored for his many academic and professional contributions to engineering at the society's annual gala on April 14 at the Joseph A. Floreano Rochester Riverside Convention Center.
A 1998 Eisenhart Award recipient for excellence in teaching, Gordon combines class work, advising and mentoring in his role at RIT where he has been part of the faculty since 1995. He is currently program director for undergraduate studies in CAST's manufacturing and mechanical engineering technology department, and also acts as NCAA faculty representative for the university's athletic department advocating on behalf of its student-athletes.
Gordon has been a difference maker in the classroom and in the community, said Manian Ramkumar, interim dean of RIT's College of Applied Science and Technology.
"This is such a well-deserved award for Marty. He is such a strong engineer, and he brings applied engineering skills to his classes that really challenges students and gives them the benefit of understanding how engineers can impact the real world," said Ramkumar. "We're proud to have him as a member of the faculty; he's great for the college and the program."
Gordon has taught numerous courses in mechanics, mechanical design, ergonomics and human factors, and other engineering topics, providing opportunities for his students to put into practice many of the theories taught in class. He developed and taught a special undergraduate course in traffic crash reconstruction, where he has had students design and operate special equipment during controlled crash tests conducted by the New York State Police.
"I love mentoring young engineers and demonstrating the skills necessary to be successful in life. One of the reasons I remain active in so many things, both on and off campus, is to provide a positive role model for both my children and my students," said Gordon, who is completing his Ph.D. in engineering with a focus on transportation and highway safety. "I've never been an award-seeker. I'm too busy being involved in activities. Nonetheless, it is both humbling and rewarding to be recognized for your hard work.
He has been faculty adviser for RIT's Baja race team and organizer of five international SAE competitions taking place at RIT since 2005. The most recent event at the university took place in 2016 where more than 100 teams from around the world competed in an off-road competition.
Outside of RIT, Gordon has consulted or provided expert testimony in state and federal courts for nearly 150 traffic accident and product liability cases. A member of numerous regional and national professional organizations, Gordon is currently president of the National Academy of Forensic Engineers and has held other leadership positions with the Monroe Professional Engineering Society, National Society of Professional Engineers, American Society for Engineering Education, New York Statewide Traffic Accident Reconstruction Society, and the Association for the Advancement of Automotive Medicine. He is also an entrepreneur, founding his own company, Gordon Engineering PC, located in Henrietta, N.Y. He and his wife, Jill, are residents of Rochester and have two daughters, Amanda and Abby.