RIT professors organize yarn installation in Rochester Aug. 21
Curators of 'Crafting Democracy: Fiber Arts and Activism' call for volunteers and fiber artists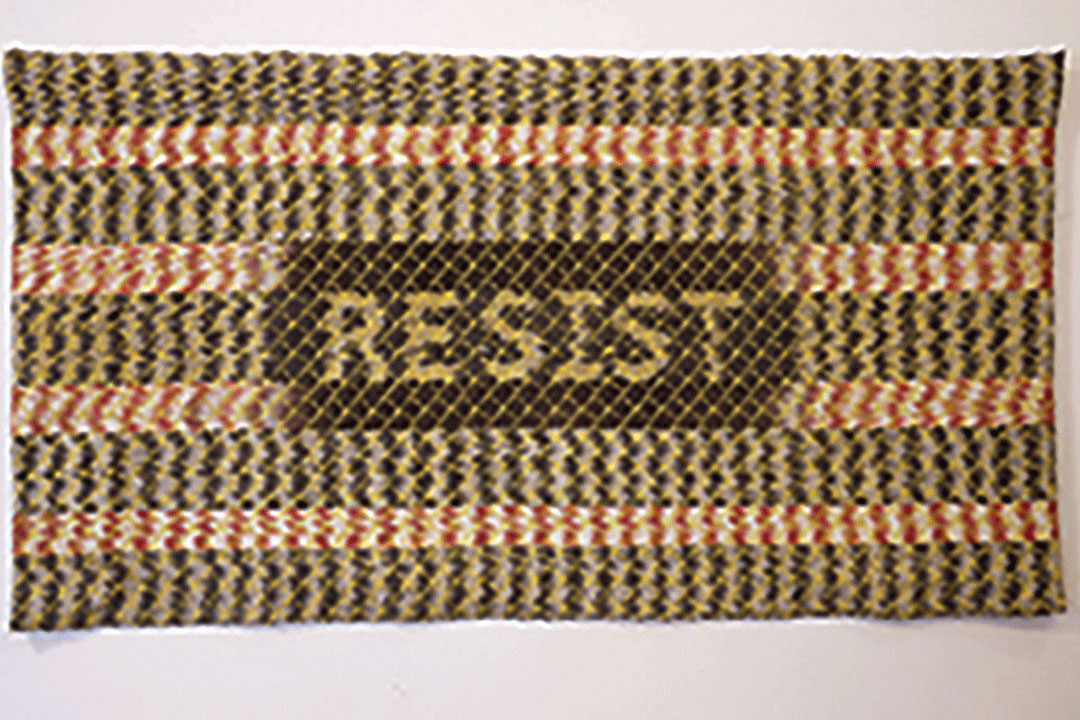 Grab your needles, yarn or thread, and get crafting for democracy in a community-wide tribute to Rochester's legacy of social activism with a contemporary twist.
Fiber artists are needed to contribute to a yarn installation celebrating the Rochester Ladies Anti-Slavery Sewing Society at a historic site on Corinthian Street. "The Corinthian Hall Craft Intervention" will take place 9-11 a.m. Aug. 21 at the Frederick Douglass sculpture standing at the edge of the Corinthian Street parking lot. A series of sculptures created by Olivia Kim, an adjunct professor in RIT's College of Art and Design, were unveiled in 2018 to celebrate the 200th anniversary of Douglass' birth.
Event organizers and "craft activists" Hinda Mandell, associate professor in the School of Communication, and Juilee Decker, associate professor of museum studies at Rochester Institute of Technology, want to "bring vibrancy and color" to the historic site that is more than a parking lot.
"The yarn 'intervenes' the space and calls attention to an overlooked history of this site, namely the women who championed Douglass, his newspaper, The North Star, and the broader abolition movement through proceeds from the sale of their textiles," Decker said.
The women's sewing society organized anti-slavery lectures and fund raising bazaars at the 19th century civic center on Corinthian Street. The Douglass sculpture celebrates the man and the now-famous speech—"What to the slave is the Fourth of July?"—he delivered at Corinthian Hall on July 5, 1852.
The yarn installation coincides with Decker and Mandell's curated exhibit and publication of the companion catalog by RIT Press, "Crafting Democracy: Fiber Arts and Activism." (The exhibit will be on view Aug. 1 through Oct. 25 in the Anthony Mascioli Gallery in Hacker Hall on the first floor of the Rundel Memorial Library Building, Central Library of Rochester and Monroe County, with a reception from 4 to 6 p.m. Sept. 16.)
Decker and Mandell are asking for three kinds of contributions for the installation:
Knit or crochet "swatches," of any color, yarn weight and yarn fiber, measuring seven inches by seven inches;
Knit or crochet flowers of any design, size and color;
Embroidery, of any color or design, measuring seven inches high by seven inches long.
"Through craft and color—and this textile 'intervention'—we hope to bring attention to this important chapter of Rochester's history by focusing on this women's social-reform group," Mandell said. "We'd love to receive textile contributions as colorful and lively as the Rochester community."
Send contributions by Aug. 15 to Hinda Mandell, School of Communication, RIT, 92 Lomb Memorial Drive, Rochester, N.Y., 14623, or bring handicraft to the event.
For more information, contact Hinda Mandell at hbmgpt@rit.edu.
A program of events related to the "Crafting Democracy: Fiber Arts and Activism" is available at www.craftingdemocracy.com.