RIT recognized by Veterans Outreach Center for workforce training program initiative
Three area organizations honored for contributions to advancing area veterans' health, food and living supplies, and career options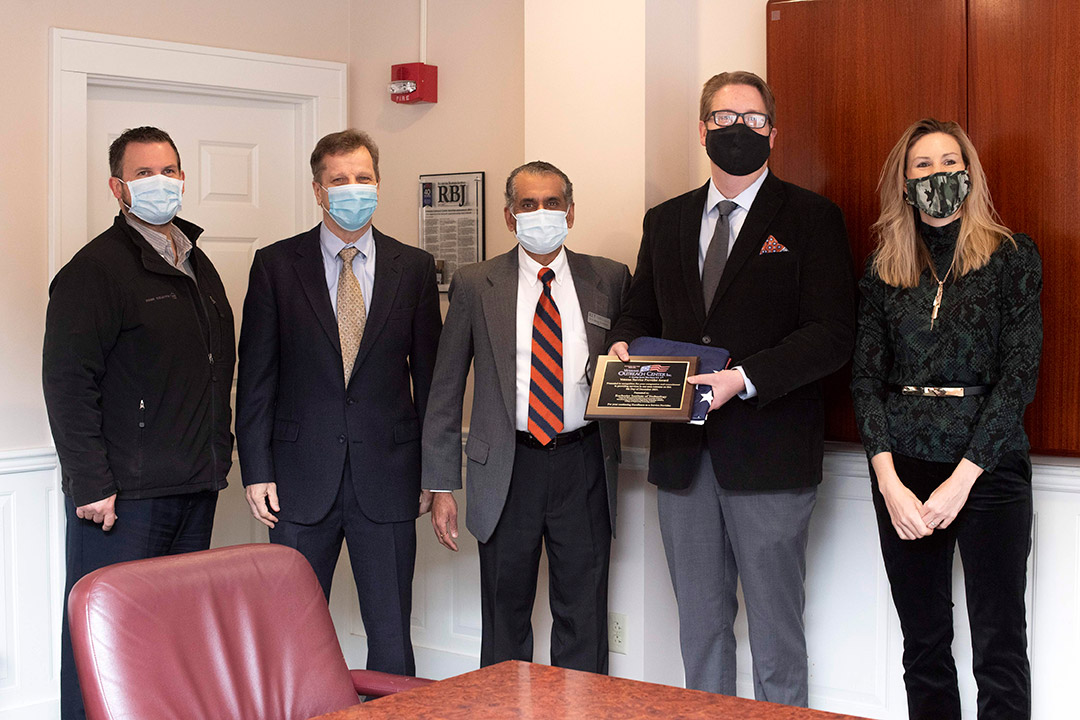 Veterans Outreach Center honored Rochester Institute of Technology, Foodlink, and the CHS Mobile Integrated Health teams this week with its annual Service Provider Awards. The ceremony, held at the local center, recognized the groups' contributions in the areas of employment, food and living resources, and medical services for area veterans.
RIT was recognized for its workforce development programming in Surface Mount Electronics Assembly Training.  Duane Beck and Martin Anselm, faculty from RIT's College of Engineering Technology, conducted hands-on training sessions about electronic component technology, printed circuit board development and productions, as well as quality control and operator training. Working in RIT's Center for Electronic Manufacturing and Assembly, the students learned about the overall manufacturing process and worked on equipment found in today's electronics companies.
Seventeen veterans participated this past summer; as of this fall, all were hired by local companies. Similar results occurred since the training began in 2016.
Students can become certified in specific electronic assembly processes. The certification, based on national standards, is transferable. It also aligns closely with new manufacturing needs in the military and aerospace industry, areas today's service members are most familiar with, said Veterans Outreach Center Executive Director and U.S. Army Veteran Laura Stradley.
"Being able to come together and partner with local organizations is a critical component to ensuring veterans are setup on the path to success," she said. "We are so grateful that they share the same dedication to supporting our nation's heroes that we do. Much of what we do wouldn't be possible without them."
Stradley shared some additional comments about the three organizations and presented each with a commemorative plaque and American flag:
Foodlink offers both food and shelter-resources for veterans throughout the year and also hires the veterans to support the multiple sites and shelters needing services in the Greater Rochester area. According to the center leaders, nearly 20 to 40 veterans at the organization's housing facilities received food through Foodlink on a weekly basis. In Rochester, at the highest point of the pandemic, there was a 45 percent increase in food insecurity in the region. Although that need has declined, it still remains nearly 10 percent higher than average years, said Martha Bush, Foodlink director.
Health services are available to veterans through CHS Mobile Integrated Healthcare primarily for emergency medical services and training. Veterans can receive care and also be trained in providing and supporting community care.
RIT's team of faculty were recognized for training and certification resources that might otherwise be out of reach financially. Certifications make the veterans competitive in the marketplace.
"Partnering with our veterans and the Veterans Outreach Center on workforce development initiatives like the electronics assembly program is a natural fit for our university and our college," said S. Manian Ramkumar, dean of RIT's College of Engineering Technology. "We value the experience our veterans bring to communities, and we can provide an environment where veterans can pursue degrees and transitional skills that will support them along their educational paths."
RIT is recognized as a welcoming place for veterans with a Veterans Service Office dedicated to active-duty and retired veterans. RIT also has a strong student organization and connection to the Yellow Ribbon Program, the U.S. Department of Veterans Affairs initiative to provide qualified veterans and dependents 100 percent tuition coverage for undergraduate and graduate degree programs.
Area veterans also have the opportunity to attain college degrees and enter some of the area's fastest growing employment sectors through Veterans Upward Bound, a national outreach program that is based at RIT. The university and an extensive group of community partners, including the Veterans Outreach Center, coordinate a program to support veterans as they progress toward postsecondary education and career prospects. Since it began in 2017, the program has helped more than 125 veterans access higher education at universities, community colleges, certificate or trade programs across the area.
Topics