RIT researches the status of pollinators
Bees, butterflies and other pollinators may benefit from more plants, grasses and flowers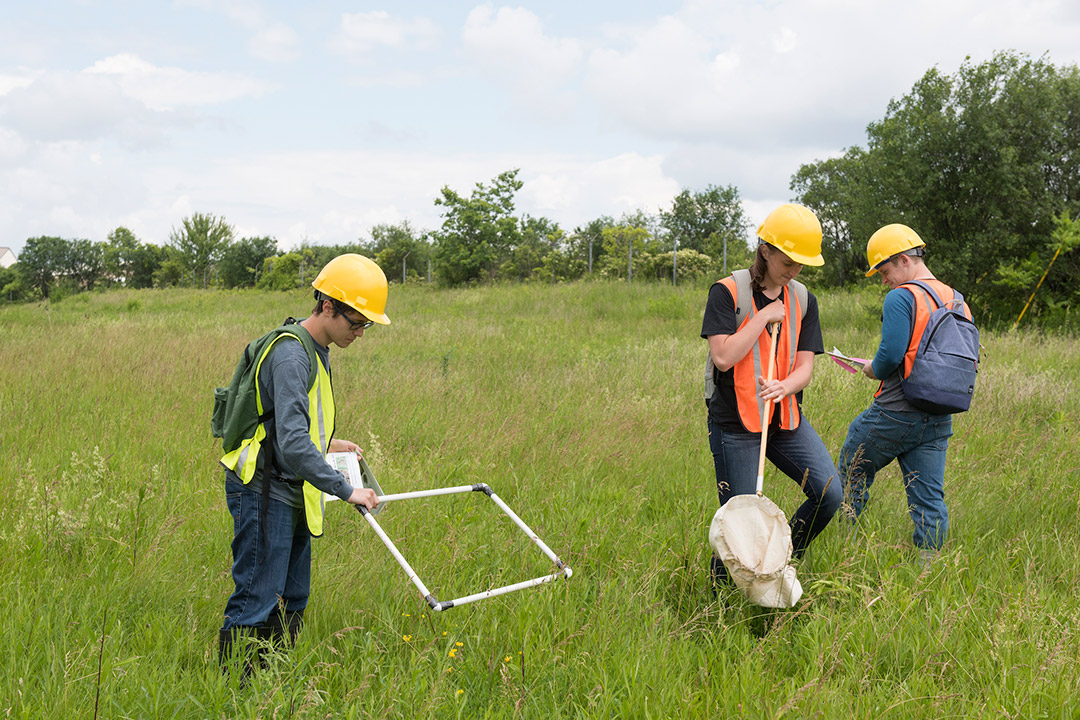 A. Sue Weisler
Research being conducted by Rochester Institute of Technology students and faculty will help determine if additional flowers, grasses and plants will benefit insects that help in pollination.
"Understanding how society shapes the world around us is a big part of what our department, RIT and our College of Liberal Arts research and teach," said Kaitlin Stack Whitney, an assistant professor in the Science, Technology and Society Department. "This is the perfect place for this research to be based, as rules, policies and management heavily shape the natural world."
The research is being done across the state, particularly next to roadways, and could help determine if later or fewer cuts to the vegetation next to the roads would help pollinators by allowing more time for plants to flower, thus increasing their food supply. Stack Whitney and her students began their research this summer, and plan to continue it the next two summers looking at dozens of rights-of-way, the grassy areas next to highways. The sections will be paired in controlled and experimental treatments, so comparisons to data can be made.
 "Understanding pollination is critical for supporting climate-resilient futures broadly, and for supporting services that we humans really want, like food crops," Stack Whitney said. "One third of our food supply is estimated to be dependent on pollinators, so considering and rigorously evaluating whether we can use novel habitats, like roadsides, to support them is key."
They also study what types of vegetation thrive along roadsides. They do this using repeat point mount photography and line intercept vegetation monitoring by running a measuring tape along the studied sections and documenting what plants species it touches.
While conducting their research, Alyssa Juergens, a second-year biology major from Hilton, N.Y., recently took a large sweep net – a large stick with a net on one end – and swept the side of Interstate 390 in Livingston County, south of Rochester. A few minutes later, she found what the sweep yielded inside the net: several small flies, leaf hoppers and a large grasshopper.
"This is giving me good experience to practice research," Juergens said. "And I definitely know more about roadside plants and bugs than I did before."
Andrew Yoder, a third-year electrical engineering major from Alexandria, Va., also spent his summer collecting data. He wore rubber rain boots as he walked into an area of wildflowers and placed a quadrat made of PVC around some flowers to conduct timed focal floral observations. He held laminated identification cards Stack Whitney designed for this project to help distinguish various flies and bees (there are more than 400 native bee species in the state). Butterflies, beetles, birds, bats and even mosquitos are also pollinators.
"I didn't know there was all this biodiversity," Yoder said. "Now I'll be driving down the road and say, 'That'd be a good spot to do some monitoring.'"
"I wish I didn't know that much about the two snakes that crawled by me," said Matt Madsen, a fourth-year mechanical engineering major from Matamoras, Pa., who had his socks pulled high over his pant legs to protect against ticks as he carried a clipboard with datasheets.
The students and Stack Whitney monitor the wind speed and temperatures during each session, as variations in weather can mean an increase or decrease in insect activity.
"We don't do any monitoring unless it's fair weather," she said. "This is because flying insects are very sensitive to cloud cover, wind speed and temperature."
Other than conducting fieldwork, students will be doing lab work, spatial analysis, cost-benefits analyses and more in the next several years.
The monitoring will continue until the first freeze of the season, then start again next spring.
Topics