RIT staff and alumni named FIRST Robotics Volunteers of the Year
Regional competition celebrates 15 years at RIT with championship teams and recognition of robotics alumni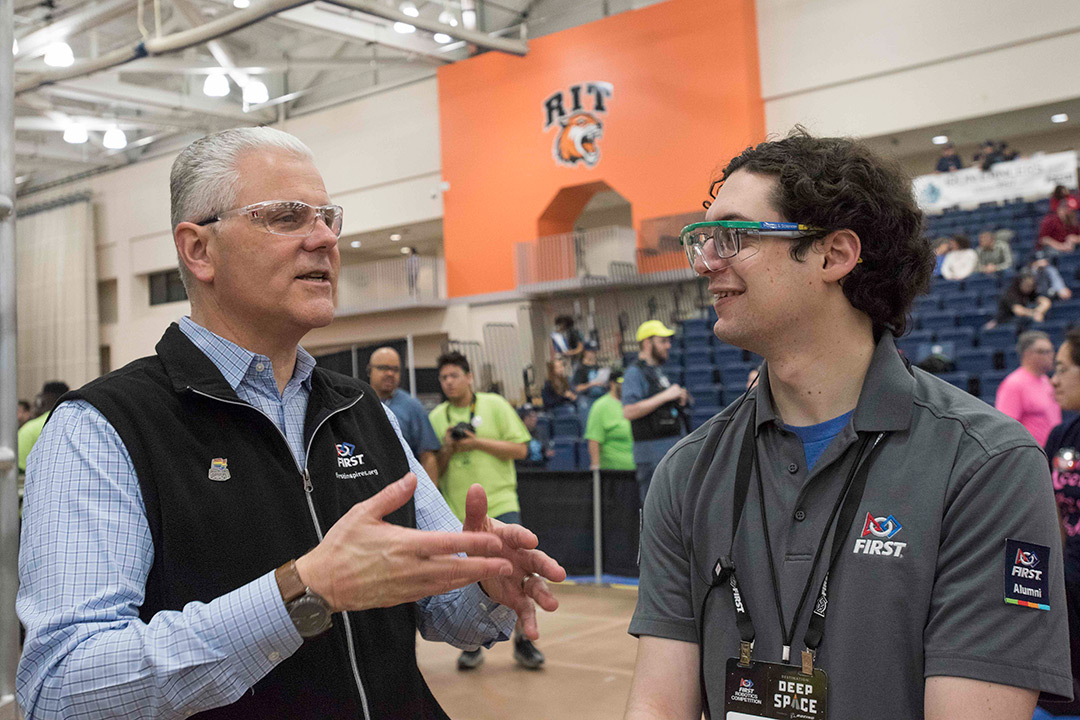 RIT alumni and long-time supporters of FIRST Robotics, Dan Schneiderman and Joe Kessler, were recognized as the 2019 Regional as Volunteers of the Year during the FIRST Robotics Finger Lakes Regional competition which took place March 15 and 16 at RIT's Gordon Field House. Both were honored for their contributions to the organization and the regional competition, serving in a variety of roles from advocates and team mentors to field judging, set up and match coordination. 
Schneiderman was a teenager when he participated with the Rush Henrietta High School robotics team in a FIRST Robotics Finger Lakes Regional. He'd remain connected to FIRST Robotics as well as become involved in the youth robotics and Maker Community teams in the area.
"I've been involved with FIRST for 14 years, originally as a student, then as a mentor and now as a volunteer for the past 12 years. FIRST is more than just robots. It's a greater community that encourages us to work together, continuously learn and face new challenges. It is the community that keeps me involved and wanting to provide opportunities for future generations. I find it hard not to be inspired by the students, mentors and volunteers—in and out of the competition," said Schneiderman, who is an outreach specialist with RIT's K-12 University Center. Since 2017, he and Danielle Gramlich co-coordinate the 100-plus volunteers needed to manage one of the largest FIRST regional events in the country.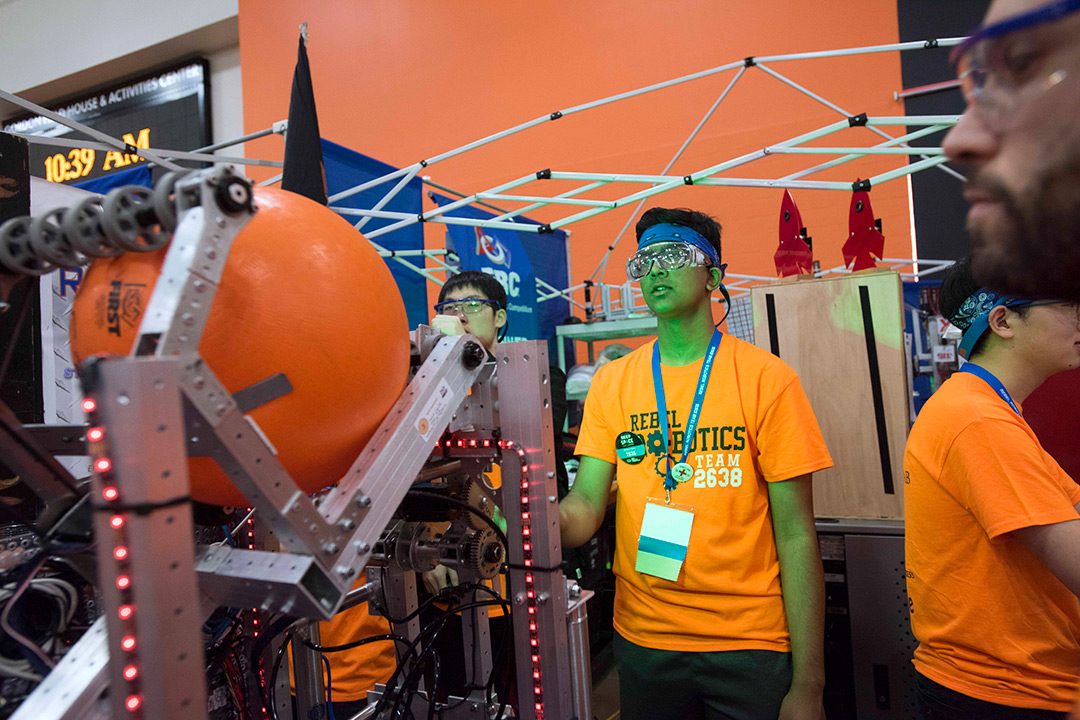 A. Sue Weisler
Kessler has been involved with FIRST since 1999, serving as a mentor for four different area FIRST Robotics Competition teams and one FIRST Tech Challenge team. He has supported the Finger Lakes Regional since its inception and has played a role in event setup and field reset. He is newly retired, after having worked for more than 33 years for Kodak and Harris Corp. in Rochester.
"As a mentor, I have found I can learn as much from the students as they can from me. This has certainly helped to keep my mind fresh in retirement," said Kessler '95 MS (electrical engineering). "I think the biggest impact I have been able to make in many students' lives is in guiding them in their career choices. The FIRST program provides an opportunity to be exposed to many disciplines (electrical, mechanical, software, etc.) and I encourage them to try other groups, especially if they show interest in them."
This year, 48 teams from across New York, Ohio, Michigan and Pennsylvania as well as Canada, Mexico and China competed in the regional that has taken place at RIT for 15 years.
At the inaugural FIRST Robotics competition in 2005, there were 16 teams representing the Upstate New York area. In 2019, 31 teams from the area competed, said Glen Pearson, the Finger Lakes Regional director.
"Having a regional in the area allows the students to participate without the added expenses of travel. It also gives those schools and districts without a team, as well as companies not yet involved with FIRST Robotics, a chance to experience the impact being part of FIRST has on students. These students, in a few short years, will be the technical workforce our local companies need to grow and prosper," said Pearson, who will be retiring this year as director, but intends to remain involved in the FIRST Robotics community.
Winners of the this year's regional are: Team R.I.C.E (Team 870, Southold Jr. & Sr. High School from Southold, N.Y.); Ranger Robotics (Team 3015, Rochester's Spencerport High School); and the Mechanical Marauders (Team 271, Bayshore Senior High School, Bayshore, N.Y.) These teams will be joined at the FIRST Robotics National championship in Detroit April 24-27 by runners up Team 340 – Greater Rochester Robotics (Churchville Chili HS); Team 3003 – TanX (Midlakes HS and Canandaigua Academy, Canandaigua, NY); Team 120 – Cleveland's Team (Youth Technology Academy, Cleveland, OH) as well as The Chairman's Award winners REBEL Robotics (Team 2638 from Great Neck, N.Y.). This award is one of the most prestigious awards given at FIRST and presented to the team that best embodies FIRST principles and is a model for other teams to emulate. All individual and team awards can be found online. 
NOTE: One of the many highlights of the 2019 regional was the alumni recognition. Over 15 years, hundreds of student-competitors would enroll in Rochester universities, take positions with local and regional companies and provide the area with tech talent. RIT has quite a few FIRST connections, including former competitors that have become involved with teams and with the national organization, volunteering over many years to help influence the growth of the program.  These are only a handful of alumni of both FIRST and RIT:
Rick Bryant '94 (computer science), FRC committee chairperson
Larry Lewis '04 (electrical engineering technology), mentor to Penfield High School's Rolling Thunder team
Kate Leipold '01, '07 (mechanical engineering), former event volunteer coordinator and lecturer in RIT's Kate Gleason College of Engineering
Lydia and Philip Hays, the brother-sister team returned as field judges and robot inspectors and
Joshua Goodman, the 'voice' of the regional as its game announcer
Topics