RIT students create pinball machines for History and Design of Pinball course
Game design students show off their pinball creations for visitors at The Strong museum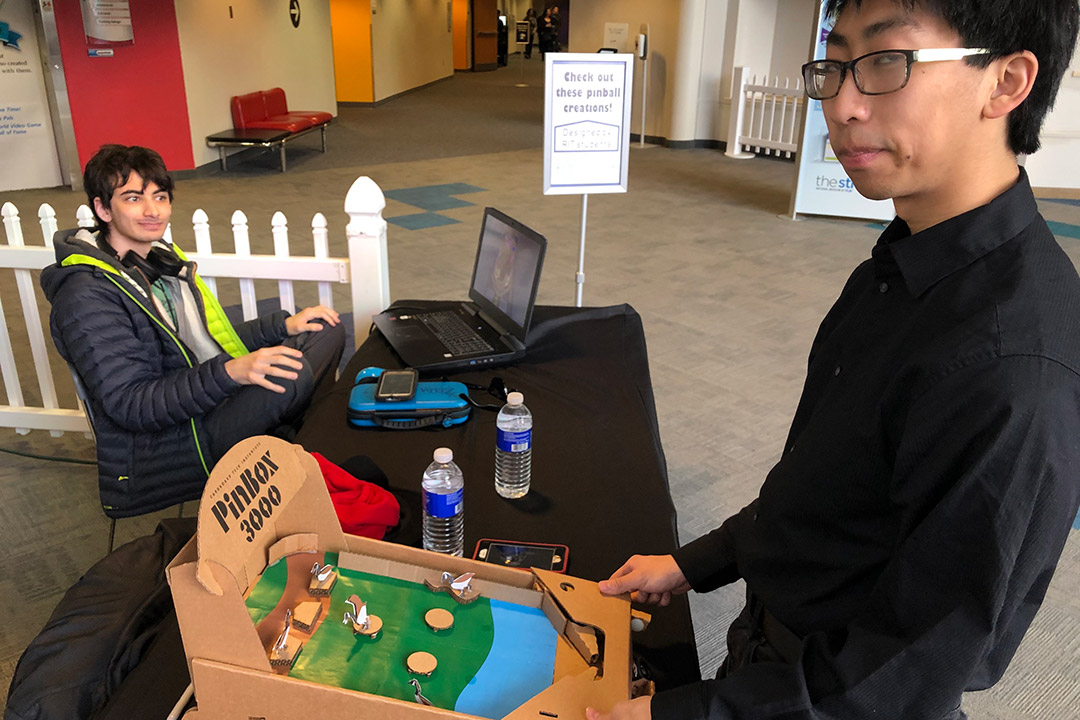 Stephen Jacobs
Rochester Institute of Technology students can sure play — and create — a mean pinball.
As part of an interactive games and media course, 12 RIT students made cardboard and digital pinball machines designed around themes of their own choosing, including the video game Hollow Knight, musician Jimi Hendrix, bowling, bocce and more. For the final exam, students brought their creations to The Strong National Museum of Play and had visitors give their physical and virtual pinball machines a test drive.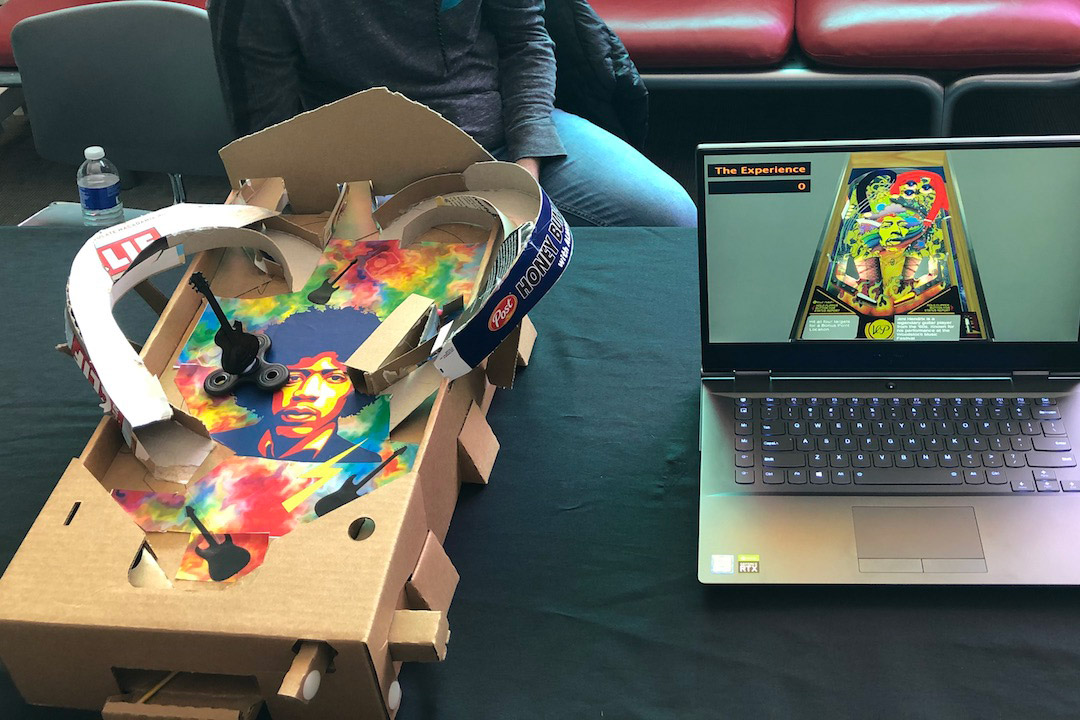 Stephen Jacobs
The History and Design of Pinball course was taught by Stephen Jacobs, a professor in RIT's School of Interactive Games and Media, throughout the fall semester. He has used pinball design assignments as a part of teaching interactive narrative for years and wanted to create a class that dove deeper into the topic.
"Many game historians and designers look at pinball design as a forerunner to video game level design," said Jacobs. "In the past, I'd have students do an assignment in transmedia storytelling by building a pinball machine that told a different story around a known media property, such as Waiting for Godot or a table that told the story of Chitty Chitty Bang Bang's career as a race car before the accident that brought him to the inventor's shop."
Throughout the fall course, students designed and built physical cardboard pinball machines based on the Pinbox 3000 platform. Students also created software-based pinball designs built in the open source video game engine Visual Pinball.
Alexander Stevens, a game design and development major who graduated in winter 2019, took the class because he thought pinball was a good representation of the journey that gaming has taken, from physical to virtual gaming. For his final project, he made a bowling-themed pinball machine.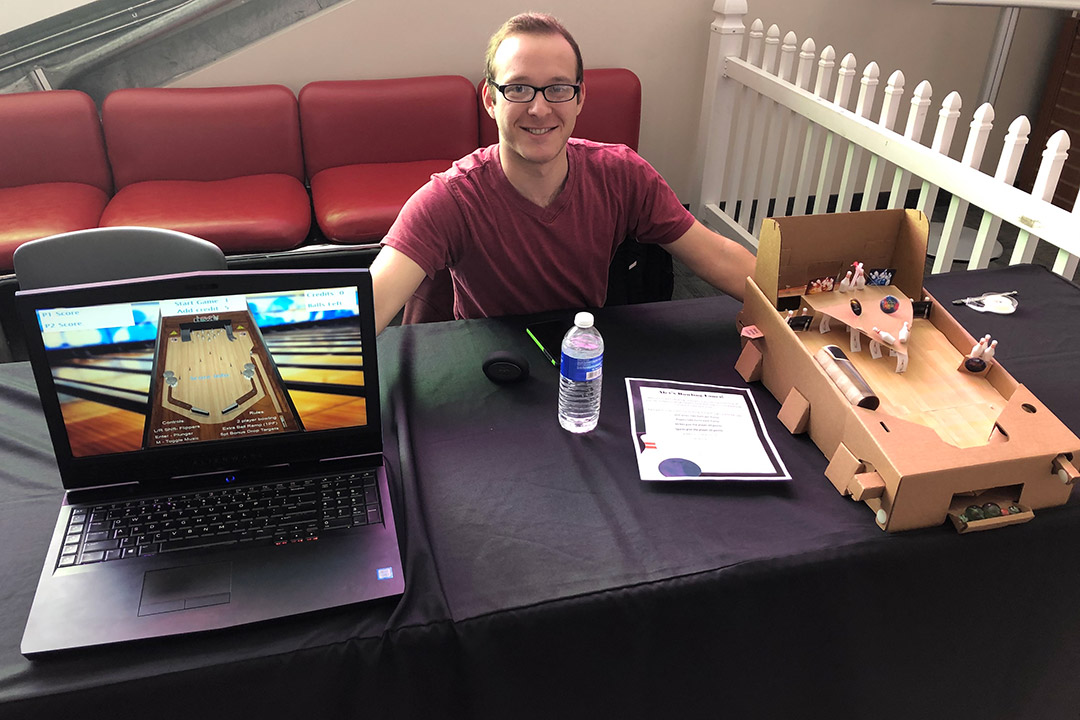 Stephen Jacobs
"I love bowling and wanted to incorporate it with pinball," said Stevens, who is from Pittsfield, Mass. "So, I made drop targets that represented the pins so two players could compete for a higher score."
The course also featured many guest lectures from pinball experts. Bruce Nightingale, owner of the Silverball Saloon in East Rochester, shared his experience and expertise from decades in the business as a league player and technician. RIT alumna Ashley Ludwig '14 (fine arts studio), a pinball conservator for Pinball Alley in Rochester, talked about her work restoring machines and her path from pinball novice to league competitor and color commentator for streamed competitions. Joel Rosen, a lecturer in RIT's College of Art and Design, also taught a session on pinball as information design.
Students in the class got to visit The Strong's Pinball Playfield exhibit to learn about pinball history and specific machines in the collection. Martin Reinhardt, arcade game conservation technician at The Strong, opened up three generations of machines and talked about the changes in the technology over time.
"Pinball has played such an important role in the history of games—particularly in the development of video games," said Jeremy Saucier, assistant vice president for electronic games and interpretation at The Strong, who also talked with the RIT class. "The museum is thrilled to work with RIT on this class and to help showcase the work of its student pinball designers."
Students in the class blogged about their experience.
"The students and our guest lecturers all had a blast and the students have made some great work," said Jacobs, who is also a scholar-in-residence at The Strong. "We even got to screen The Who's pinball rock opera 'Tommy' in the Wegmans Theater at RIT's MAGIC Center one night."
The pinball course is part of an informal linking of projects across campus this year.
A team of engineering students is building a RIT-themed pinball table system for their senior design project this spring. John Wellin, senior lecturer of mechanical engineering, is guiding the students as they create a reconfigurable system that is able to meet a set of game mechanics designed by Jacobs and Rosen.
Josh Owen, Distinguished Professor and director of the industrial design program, also plans to explore pinball in a spring semester course for industrial design graduate students. Parts of the course will look into an area of interest that industrial designer George Gomez, EVP/Chief Creative Officer at STERN Pinball, had always wanted to experiment with in industry but never had the opportunity to do.
"Are we becoming the Rochester Institute of Pinball?" said Jacobs. "It may be too early to tell. But, I can't wait to teach the pinball course again next fall."