RIT students finding ways to stay active in clubs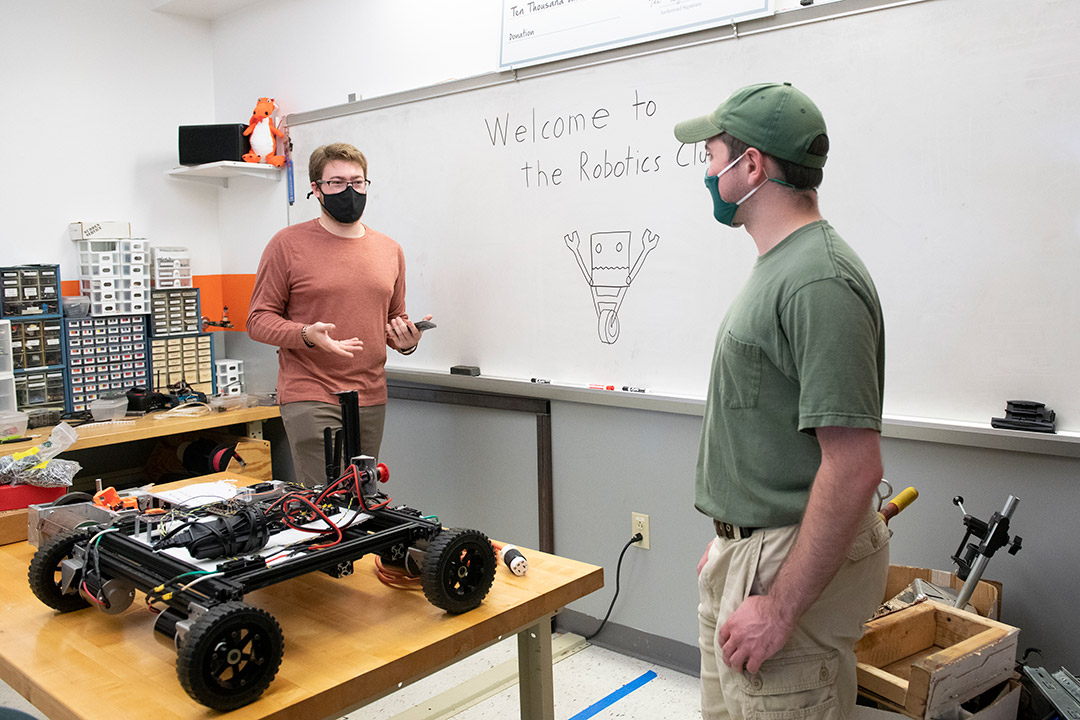 A. Sue Weisler
Despite restrictions due to the COVID-19 pandemic, students at Rochester Institute of Technology are still finding ways to participate in hundreds of clubs and organizations, including dancing, designing games, and even skydiving.
Some clubs are offering live meetings and activities if they can be held safely. Others are having members meet online, and others have combinations of in-person and online interaction.
Members of the RIT Robotics Club began talking over the summer on Zoom to see what they'd be doing once the fall semester started.
"Now we have gotten our club room reopened, but with its low capacity of only three people, we can only use it if absolutely necessary to work on the physical components," said Gillian Doolittle, the club's president and a third-year applied arts and sciences major from Napanoch, N.Y. "We are making adjustments and reserving rooms to have even more productive meetings in person and to be able to show the new members the actual robots instead of only sharing pictures."
She said the more than 40 members have been keeping in contact through Slack and email.
Members of the RIT Dancesport Team have been doing "as well as we can probably be doing during a pandemic," said James Chin, club president and a fourth-year mechanical engineering technology major from Brooklyn, N.Y. Instead of having five hours of in-person group lessons and 10 hours of open practices, members this fall have switched to two hours of in-person lessons outside, three hours of professional Zoom lessons, and seven hours of private lessons.
Members of Delta Sigma Pi, the co-ed professional business fraternity in Saunders College of Business, have met virtually to make cards for healthcare heroes and have held a professional event with alumni and faculty about working through COVID-19.
"We will still host at least three more professional events this semester, and have been breaking members into small groups to do safe community service opportunities where we can be spread out, such as cleaning Mt. Hope Cemetery," said Madeline Tremblay, club president and a fourth-year new media marketing and management information systems dual major from Park Ridge, N.J.
She said members have been using Slack daily to connect, share professional opportunities, virtual events or just check in with each other.
"Something that has been helpful is instituting a virtual coffee chat mixer, where I pair brothers with another who they may not interact with as they don't live together or share a class now each week," Tremblay said. "In addition, we meet virtually every week just like always, and still have all of our members serve on committees."
Online meetings are just fine with Andrew Brook, a fourth-year game design and development major from Duxbury, Mass. He attends weekly meetings of the Game Dev Club via Zoom on Thursday nights, which feature lectures with speakers who teach game development skills and allow members to chat and discuss their progress.
They also have a weekly game night and game club that focuses on video games.
"While I miss being able to meet in-person in the Golisano lecture hall for our Thursday meetings, I think we're adjusting well and continue to foster new and exciting projects," he said. "I think the club is one of the most underrated resources for anyone interested with game development on campus, and there is so much you can learn from simply attending the weekly meetings."
Brook said club members can also use the club's various Discord text channels to post in-progress work, recruit people to help with side projects, and discuss games with each other.
"That really helps encourage people to be active and engage the community," he said.
Chat rooms are also connecting members of the Asian Deaf Club. Its president, Youngjin Yi, said members have been meeting only virtually now, but may begin having in-person meetings for future events.
"Communication is very important for us to stay connected," said Yi, an interior design major from Fairfax, Va. "COVID-19 is not stopping us. We're using Slack, Zoom, Facebook, and email to stay connected and are staying positive to growing our club."
Normally, more than 20 members of the Field Hockey Club play seven or eight games against other Western New York colleges. This fall, the team still meets each week but only to practice drills.
"We're finding a majority of people coming to practice are people who haven't played before, that they want to be outside and be recreating with other people," said Connie Lucid, the club's treasurer and a fourth-year industrial design major from San Jose, Calif.
Members reserve the entire turf field for practice each Tuesday evening, where they pair up one-to-one to practice passing, or in groups of three to do quick passing drills to add an element of competitiveness.
"There's not a lot of body contact with field hockey," she said. "The sticks and balls prevent cross-contamination. And we're able to spread out a lot, too."
While practices only this season aren't quite the same as competing against other college clubs, Lucid is thankful they are able to stay active and participate in a sport they love.
"I find that doing some field hockey is better than no field hockey," she said. "We want a way to stay active with our friends. I know it's only temporary."
RIT held a virtual club fair earlier this year, where students could see the variety of clubs available to them. And while this may not be the best time to start a new club, that hasn't stopped Colton Brown, a fourth-year computer science major from Tunkhannock, Pa., to form the RIT Skydiving Club, which he said was one of the most popular booths at the virtual club fair.
So far, the group, which has about 50 members, mostly plans outings on their Discord server.
"We do, of course, meet in person when we actually skydive. It would be a bit more difficult to do that virtually," Brown said.
Recently Brown, who has made 101 jumps, joined eight other RIT students at the Perry-Warsaw Airport south of Rochester where they made their first tandem parachute jumps with an instructor. Everyone wore masks along with their parachutes, and they took separate flights, mainly due to the size of the available airplane.
"While at the skydiving drop zone, we are very careful to make sure everyone is wearing masks and is staying the recommended six feet apart," Brown said. "We are generally outside the majority of the time while we are at the skydiving facility, so that helps as well."           
Brown expects more skydiving outings this semester, and he's excited to see more people experience the sport.
"Starting a new club during this time has definitely been a challenge, from getting new members in the club, to getting events improved, there is a lot we have to do to make sure we are being safe in regards to COVID. But I wasn't going to allow COVID to stop us."
Topics