RIT students win first place in thrill design competition
Theme Park Enthusiasts take top placement at national competition for second time and recognized for innovative designs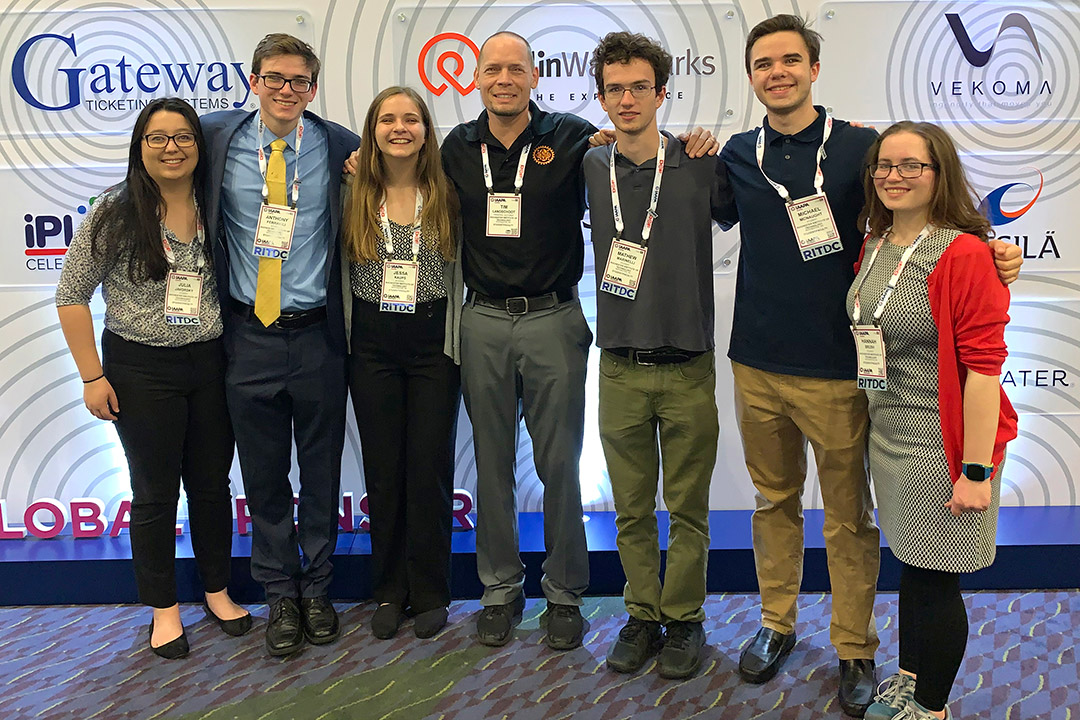 The coaster contest was a thrill ride for Rochester Institute of Technology's Theme Park Enthusiasts student group at the annual Ryerson Invitational Thrill Design Competition. For the second time since the competition began, RIT's Theme Park Enthusiasts club won first place overall at the competition taking place in Orlando, Fla., Nov. 15-18.
Their designs for theme park entertainment and landscape options as well as safety concepts were category winners helping the team place first overall at the challenge among 15 other collegiate teams. (Specific design specs developed by the teams are retained by Universal Creative, event host and co-sponsors.)
"The judges were impressed by the diverse make-up of the team and talents that the group brought to the competition," said Tim Landschoot, the team's faculty adviser. "To put this performance into perspective, the last time RIT won the competition in 2016, they were one of three universities competing. This year there were 16 universities represented."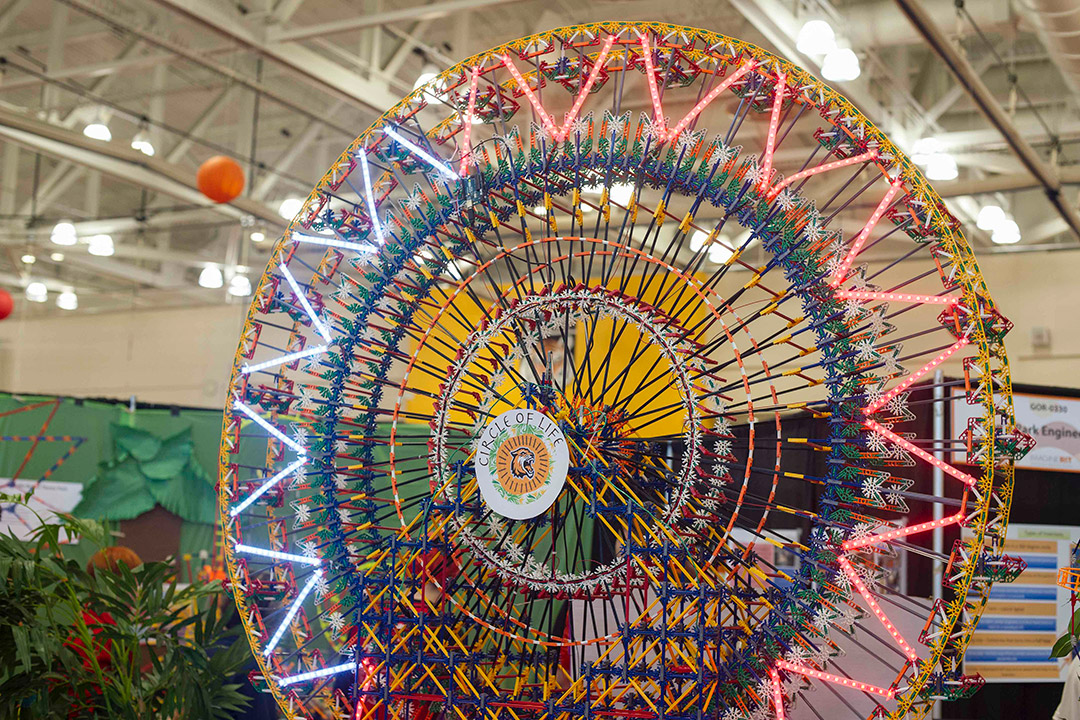 A. Sue Weisler
Even though the competition is getting steeper, RIT's team received first place in the Mechanical Design Challenge. The group was also presented with the Dr. Paula Stenzler Award for first place in the Experience and Containment Design Challenge. The award was named after Stenzler, senior director of engineering and safety at Universal Creative, who died in January 2019 to remember her service, advocacy and support of student careers in STEM.
"Most of the challenges we entered were technical in nature. We were a pretty diverse group, and able to bring a different outlook to the event. Some teams just bring artists, some bring only engineers, but we had a mix and we were a smaller team," said Julia Javorsky, a third-year mechanical engineering student in RIT's Kate Gleason College of Engineering. "It was good to be a part of such a diverse group, to see what everyone's skills are. I felt that our knowledge fit well together, and when we have to create a deliverable, everyone was a strong contributor to our submission."
Hannah Brush, a third-year mechanical engineering student, agreed: "I think that themed entertainment, people don't necessarily think, 'Oh, I can be designing roller coasters or theme park rides,' and when they find out they can, they get very excited. I think that is what draws people and combining the creative with the engineering to make something great in a collaborative environment."
Throughout the four-day competition, presented by Universal Creative, in partnership with Ryerson University (Canada), 120 students from around the world representing engineering, creative, architecture and business majors took on theme park design challenges varying from guest experience to attraction design. Students must demonstrate imagination and creativity, technical skills, collaboration and time management throughout the challenges that are then judged by Universal Creative leadership and industry leaders. According to competition organizers, more than 50 students who have participated in the competition over the past five years have gone on to receive internships or jobs with Universal Creative and other industry-leading organizations.
"They are an amazing group of passionate students that continue to raise the bar whether it be at the Imagine RIT festival or at the Ryerson Competition," said Landschoot, who is also a principal lecturer in the mechanical engineering department in RIT's Kate Gleason College of Engineering. Landschoot and TPE alumni have been advocates for RIT in the theme park industry, building a foundation for a student-organization that provides real world experiences to its members.
The team included Javorsky, from Hinkley, Ohio; Brush, from Greenvile, R.I.; Jessa Kaups, a mechanical engineering major from Cleveland, Ohio; Mathew Marinelli, an industrial engineering student from Boylston, Mass.; Michael McNaught, an industrial design major in RIT's College of Art and Design from Wladwick, N.J.; and Anthony Ferraioli, a game design and development student in the Golisano College of Computing and Information Sciences from Mahwah, N.J.
Teams participating in the thrill design competition were from: Auburn University, Carnegie-Mellon University, Cornell University, Ryerson University, University of Arizona; University of Central Florida; Southern Methodist University; University of California – San Diego; University of Michigan; University of Nebraska – Lincoln; Virginia Polytechnic Institute and State University; Drexel University; University of Florida; University of Notre Dame; and Savannah College of Art and Design.
NOTE: RIT's Theme Park Enthusiasts have been campus favorites at the annual Imagine RIT Innovation and Creativity Festival over the past several years and its designs of theme parks made of colorful K'Nex building sets have grown from one theme ride to extensive, interactive exhibits. Several RIT mechanical engineering alumni currently work for popular theme parks, said Landschoot, and three were on hand at the Orlando competition to share industry best practices and to provide advice to the students about seeking co-op or full-time positions: David Swerzenksi '17 (mechanical engineering), an associate engineer at Universal Creative, Robert Cybulski '18 (mechanical engineering) a CAE analyst at Roush Engineering—two of the original members of RIT's Theme Park Enthusiasts group—and Dan Sawicki '14 (mechanical engineering), a senior scheduler engineer at Walt Disney World.