April 29, 2012
by Paul Stella
RIT summit touts upstate's manufacturing renewal
Sen. Kirsten Gillibrand welcomes Commerce Secretary John Bryson for keynote address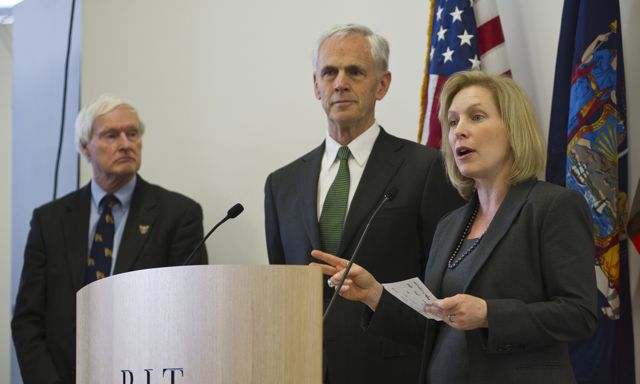 After decades of deterioration in the manufacturing sector, evidence is mounting that "Made in America" is poised for a comeback. Now the question becomes how do business, government and academic leaders—particularly in upstate New York—muster the resources needed to capitalize on this trend.
That was the focus of "Building from Strength: Upstate New York's New Manufacturing Renaissance," a summit held April 27, sponsored by U.S. Senator Kirsten Gillibrand and hosted by Rochester Institute of Technology. Groundbreaking research combined with a high-skilled workforce and a history of manufacturing know-how have positioned upstate to serve a leading role in this renewal.
U.S. Secretary of Commerce John Bryson served as the event's keynote speaker. Bryson's priority as commerce secretary is to help American businesses "build it here and sell it everywhere." As co-chair of the White House Office of Manufacturing Policy, he is coordinating government-wide efforts to support and strengthen America's manufacturing sector, especially advanced manufacturing.
"People around the world want Made in America products more than ever before," Bryson told the audience. "Here in New York, about $70 billion in goods were exported in 2010. Last year, that jumped to $83 billion."
Bryson suggested steps that will help all American manufacturers compete on a global scale. As an example, he called for reform of the corporate tax code, which he explained is the highest statutory corporate tax rate in the world at 35 percent.
The commerce secretary also touted federal-local partnerships that drive economic development and innovation while focusing on areas of strengths in different regions throughout the U.S. The process is known as "clustering."
"Here in the Finger Lakes area, there is particular potential with all of the businesses, researchers and others involved in the food processing industry. Last year, RIT got these folks together to compete in what we call our Jobs and Innovation Accelerator Challenge. I'm pleased to say that last September, they won. The Commerce Department's Economic Development Administration and other agencies awarded them $1.5 million."
Gillibrand used the forum to emphasize that America was built by New York's manufacturing, and it holds the key to fueling the 21st century economy.
"Obviously Washington doesn't create jobs," she stated. "People create jobs, businesses create jobs, ideas create jobs. So our job is to listen to some of these manufacturers about what would make the difference for them, what parts of the tax reform would help them the most, and then really try to get those ideas marshaled through Congress."
Prior to the daylong summit, the officials joined RIT President Bill Destler for a tour of the future home of RIT's Golisano Institute for Sustainability. The facility, which is nearing the final phase of construction, is made possible through support of the Department of Commerce. The agency awarded RIT a $13.1 million grant through the National Institute of Standards and Technology's Construction Grant Program to help build the facility.
A transcript of Commerce Secretary John Bryson's remarks at RIT is available online.
Video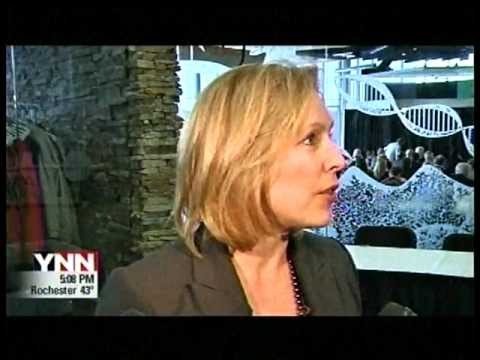 Topics