RIT team creates virtual reality game to teach about NASA's lunar exploration missions
Immersive VR game named finalist at Serious Games Showcase and Challenge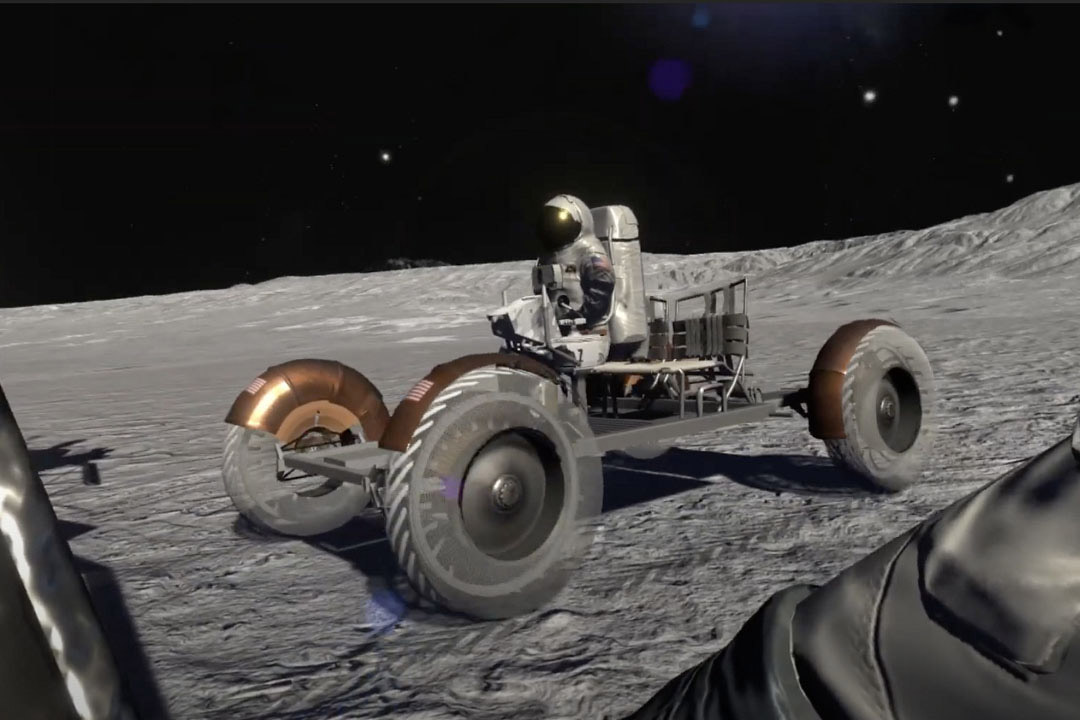 NASA's Artemis program plans to return humans to the moon by 2025. However, in a new game developed by Rochester Institute of Technology faculty and students, people can use virtual reality to return even sooner.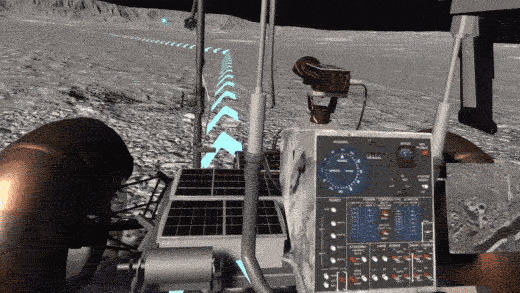 The video game, called Lunar Exploration: Past, immerses players in the lunar exploration activities that astronauts did during the 1968 to 1972 Apollo missions, including landing on the moon, collecting soil samples, and driving a lunar rover. As players strap on a virtual reality (VR) headset for the activities, they learn about how technically unique and difficult the Apollo missions were.
The development team attended the Serious Games Showcase and Challenge Dec. 2, where their game was selected as a finalist and dozens of attendees tried out the game. The event is a premier international competition in the field of serious games, which are games whose primary purpose is not purely for entertainment. For example, serious games can be used for education, training, healthcare, and simulation.
The interdisciplinary RIT team is led by Chao Peng, assistant professor of interactive games and media and faculty member in RIT's MAGIC Center.
"I was so inspired by how amazing and challenging these space missions were and still are," said Peng. "I knew that gamifying the experience would be a great way to teach the public about all the technical details of these missions and motivate people to learn about space science. And with the power of VR, players can really see it from the perspective of the astronauts."
Players follow the storyline as they plan and execute six exploratory activities on the moon. They land on the Moon, step out of the hatch, and deploy the lunar rover. There are also mini games and surface exploration tasks.
The interdisciplinary RIT team includes Lizhou Cao, a computing and information sciences Ph.D. student; Huadong Zhang, a computing and information sciences Ph.D. student and 2021 game design and development MS alumnus; Yue Zhang, a film and animation MFA student; and Yangzi Dong '20 Ph.D. (computing and information sciences).
"I like making games and I enjoy seeing people play our games," said Cao, who works on the programming and game design. "I also believe a serious VR game like this can be an efficient tool for education. Once, after a group of middle school students played our game, they said that they enjoyed it and also learned something new from playing it."
For Zhang, it was his first time developing a serious game.
"The Apollo project was a long, long time ago, so most people could only know and feel it through books or videos," said Zhang, who works on programming and design of the game. "But our game allows players to stand on the moon and actually feel the environment. Watching people play this immersive game and learning knowledge they didn't know before keeps motivating me to enjoy developing this game."
One challenge with the game development included gamifying the original mission—which lasted several hours—into several minutes of playing and learning content. The team also figured out how to create realistic 3D models of the moon's surface, based on NASA satellite images. Effort was also spent on the unique physics of simulating gravity on the moon and art design to make the models and interactions realistic.
"RIT and the MAGIC Center provide a perfect environment and opportunity to really have an interdisciplinary team working on the art and design of the game at the same time," said Peng. "This setup is what's making this game happen. I'm glad that we can help our students create serious games that have broad positive impacts."
Peng said the lunar game is close to being finished. They are continuing to playtest the game and conducting learning efficiency tests, to evaluate what players learn from the game. Players will be able to use Windows 10 and the Oculus Rift to explore the VR game.
In the future, Peng hopes the lunar game can be used in museums and possibly even for players at home. He sees the project as a way to help people learn something new about the past and connect with the ongoing story of moon and space exploration.