RIT team prepares for virtual cyber defense national championship
Cybersecurity students to defend against attackers in new ways May 22-23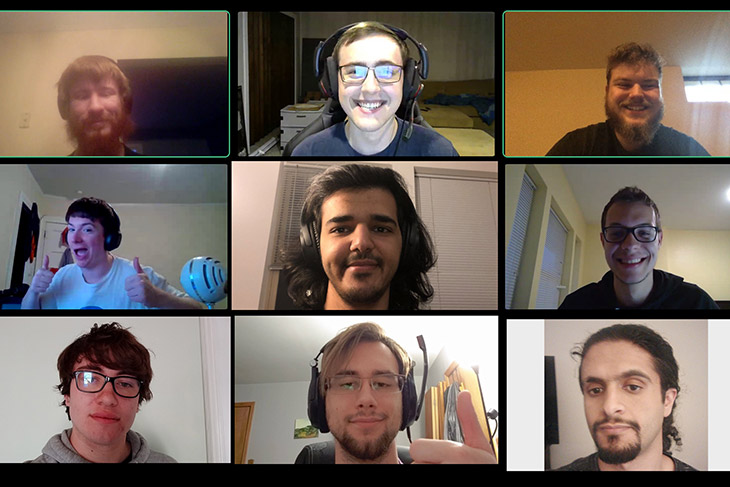 RIT's cyber defense team is getting a first-hand look at the challenges of socially distanced business operations, as they prepare for a new format of the National Collegiate Cyber Defense Competition (CCDC).
The annual championship is part of the nation's largest college-level cyber defense competition, an extracurricular event that helps to train the next generation of cybersecurity experts.
However, in response to the COVID-19 pandemic, teams will have to compete without physically gathering together May 22–23. This is the first time that the national competition will be held completely virtually—although other CCDC events have been virtual in the past.
"That's going to make it more difficult for teams to coordinate things like incident response," said Dwayne Williams, director of NCCDC. "Being able to work with and communicate with your other team members without physically gathering is a new challenge for the National Championship, but it perfectly reflects the current business environment."
Throughout the evolving COVID-19 situation, RIT's team has been practicing using Discord and are working on ways to update their game plan for the new remote format of the competition. Jack McKenna, captain of the RIT team, said that everyone has been working hard to practice, especially as some students begin their jobs and balance family obligations.
"I expect that with the virtual environment some things like transferring information between teammates will become easier, as we're allowed to use communications channels that Red-Team doesn't have access too," said McKenna, a fourth-year computing security student from Saint Paul, Minn. "However, I anticipate most of the competition will be more challenging as we are no longer able to access systems physically."
RIT's cyber defense team is a perennial contender at the regional and national competitions. The Tigers placed third at nationals last year and won in 2013. RIT received an automatic berth to the 2020 nationals after winning the virtual Northeast regional competition in March.
Other regional winners competing for this year's national title include University of Central Florida, University of Maryland Baltimore County, DePaul University, University of Washington Seattle, Red Rocks Community College, Kennesaw State University, University of Tulsa, Stanford University and University of Virginia.
The cyber defense competition gives student teams the opportunity to assume responsibility for the information technology operations of a simulated organization, allowing them to apply cyber defense skills in a real-world scenario.
For the competition, a group of industry professionals from government and companies—called the red team—is assigned to break into computer networks to exploit information from a mock organization. Teams of students are "hired" by the organization to prevent that information theft from occurring.
NCCDC organizers worked to virtualize all the core components of this year's competition and said that all the major elements of the NCCDC will still be there. 
"Teams will still get their network to defend, they will have to maintain services, they will have to respond to business tasks and they will have to defend against the live Red Team just like they always do," said Williams. "We're even sending out the typical attendee swag to the competitors."
Sean Newman, co-captain of the RIT team, said that he enjoys these cybersecurity competitions because they provide a unique opportunity to test his knowledge of operating and securing computers.
"It could be easy to do something in a lab environment with plenty of time and resources," said Newman, a fourth-year computing security student from Fairfax, Va. "Doing the same thing with a rapidly-approaching deadline and lots of stress can be really difficult — and I think it can be fun to work under that pressure."
Simon Buchheit, a third-year computing security student, also sees a benefit in the amount of material that students learn during the engagement.
"Even the most seasoned competitors finish a competition having learned something new," said Buchheit, who is from Marysville, Ohio. "I find this to be extremely important because information security at its core, is a constantly changing and evolving field."
The RIT student team is made up of computing security majors McKenna; Newman; Buchheit; Ali Alamri, a fourth-year student from Saudi Arabia; Adriano DeCastro, a fourth-year student from Stonington, Conn.; Robert Gray, a second-year student from Canandaigua, N.Y.; Connor Shade, a fourth-year student from Jersey Shore, Pa.; Mohammed Alshehri, a third-year student from Saudi Arabia; Daniel Szafran, a third-year student from Colrain, Mass.; and Phillip Babey, a second-year student from Newark Valley, N.Y. Alternate team members include Ella Daugherty, a first-year student from San Diego, and Craig Gebo, a second-year student from Rochester, N.Y.
The RIT team is coached by Bill Stackpole, professor in RIT's Department of Computing Security, and assistant coach Justin Pelletier, director of the GCI Cyber Range and Training Center.
In 2021, RIT will host the Northeast regional competition (NECCDC) in the new three-story Global Cybersecurity Institute (GCI) facility. RIT is creating the GCI to help address the global cybersecurity crisis and critical workforce needs by conducting groundbreaking research, education and professional training and development.
Topics