RIT Tigers make game used as a therapeutic tool for children and families
Students collaborate with Society for the Protection and Care of Children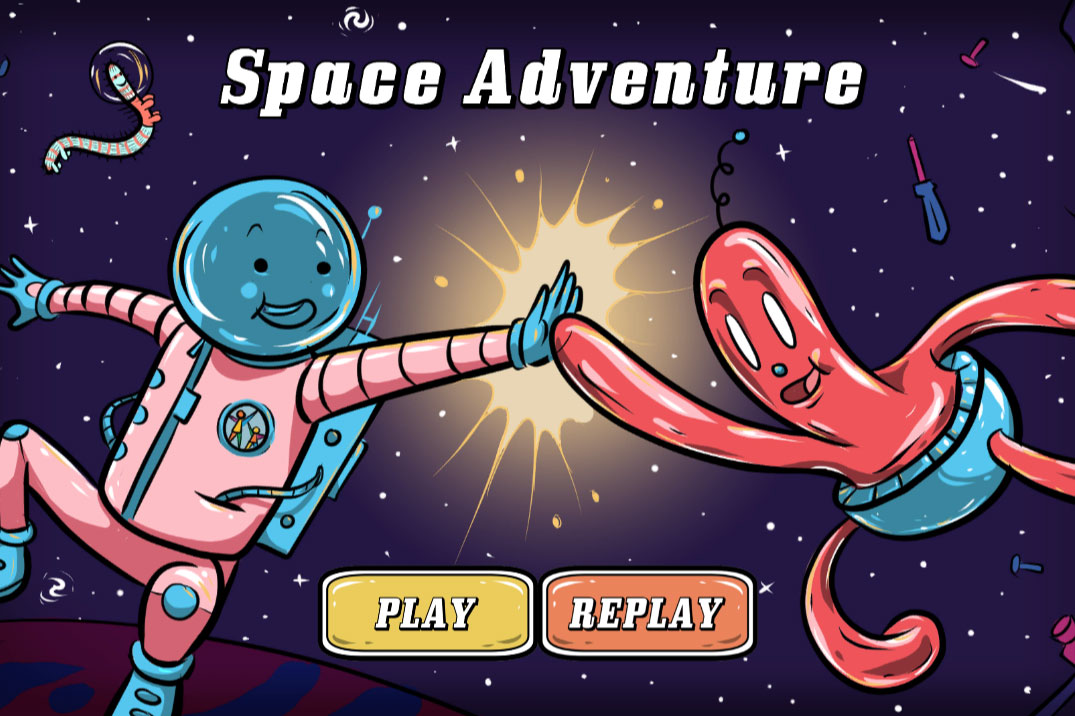 A therapeutic game called Space Adventure designed by an RIT class officially launched this month on the Rochester Society for the Protection and Care of Children (SPCC) website.
During the spring semester of 2016, students in Professor Susan Lakin's content marketing and gaming class were charged with conceptualizing and designing a game for the SPCC. The course was designed to give students an authentic experience of designing and creating interactive, digital marketing tools for a not-for-profit client.
"The SPCC has been part of the Rochester community since the late 1800s. It's part of Rochester's rich history that people aren't really aware of," said Lakin, a professor in the School of Photographic Arts and Sciences. "They don't have a marketing team or marketing funding as a nonprofit, which made them a perfect partner for the course."
Lakin's students communicated with the organization throughout the semester and, at the end of the course, they were able to present an overall concept and style for the game. After the semester was over, Lakin connected with two students who brought the game concept to life: Isaac Kelman, a fifth-year game design and development major; and Gabe Levitt '17 (illustration). Later on, Lakin also recruited Wesley Odell '18 (media arts and technology), a graduate student from Severna Park, Md., to help with sound composition and design.
Kelman, from Boulder, Colo., was in charge of writing all of the code for the game. He also designed and built all the minigames available within the larger game.
"The game was made to be a therapeutic experience for kids to help them communicate and express their emotions," said Kelman. "It is a space adventure where the players attempt to explore an unknown planet and work with aliens to get back home."
Levitt, from Brooklyn, N.Y., managed the artistic side of game design and took charge of all the illustration, including drawing the backgrounds, characters and interactive assets like buttons and text bubbles.
"I saw this project not only as a good portfolio piece, but also as a good opportunity to use my artistic skills in a manner that would positively impact other humans," said Levitt. "It feels pleasant knowing you've done some altruistic good for people who may be struggling by using the talents you know and enjoy using."
The SPCC specializes in supporting families whose lives have been impacted by trauma by helping parents and children realize their potential and create healthier relationships with each other. One effective method of achieving these goals is learning through play, which is why the organization was interested in connecting with RIT to create Space Adventure.
"The SPCC has been listening to and believing in the power of children and young people for 145 years. Who better to create such an important video game than students, who can bring the spirit and perspective of youth," said Sarah Fitzgibbons, the vice president of programs and practices at the SPCC.
Aside from being a good portfolio piece for Kelman and Levitt, the two were able to learn more about the community they lived in as RIT Tigers.
"This project taught me tons about issues that children face in Rochester and in general. In a meeting with the SPCC, we learned that some parts of Rochester have an infant mortality rate three times the average for New York state. I think it's paramount to help children like this have a better future," said Kelman.
So far, the game has been well received by the staff and families who come to the SPCC office. Fitzgibbons has already seen a family therapist offer the game as "homework" for a father and son so they could spend more time with each other.
"While we will never part with our dollhouses, books, crayons, building blocks or doctor kits, we see the possibilities that video games can have in supporting health and healing for children and families," said Fitzgibbons. "We see this game as a way for children and families to connect to each other, connect to the agency, and learn about themselves all while having fun. We are so excited to have it in our 'play' toolbox".
Topics