RIT's global campuses celebrate milestones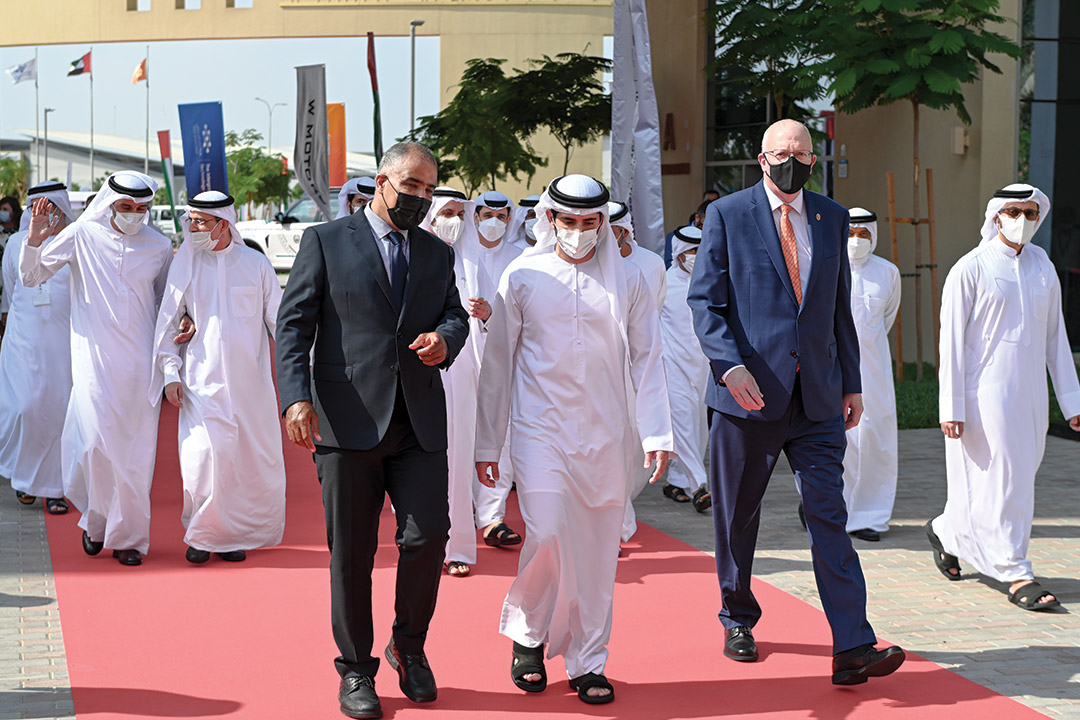 While students have engaged in virtual inter­national experiences throughout the pandemic, they once again began crisscrossing the globe last fall for in-person international education experiences.
Thirteen students from RIT's campuses in China, Croatia, Dubai, and Kosovo and 11 students from RIT's international exchange partners came to Rochester last fall through the Global Scholars Program. Meanwhile, Rochester students began studying abroad again.
Enrollment at RIT's global campuses reached a record high of nearly 3,000, with Dubai growing the most.
RIT China
In 2015, RIT became Beijing Jiaotong University's first international partner committed to delivering joint business degree programs at its Weihai location, and one of many renowned international partners offering graduate degree and exchange partnership programs at the Beijing campus.
Construction is underway on building a new complex in Weihai that will include a stadium, athletic center, large classroom-type spaces, and an auditorium.
The athletic center will be roughly 2,000 square meters, including six badminton courts and two basketball courts. The student activity area will feature a 1,400-square-meter theater, a dance studio, piano room, and mental health counseling room. The complex is expected to be complete this spring.
RIT Croatia
RIT Croatia is celebrating its 25th anni­versary this year. Established in 1997, RIT Croatia now has more than 2,600 alumni achieving great things in more than 40 countries around the globe. RIT Croatia began in the small coastal city of Dubrovnik and added a second campus in the capital city of Zagreb in 2011.
Donald Hudspeth, president and dean of RIT Croatia, said that people are at the heart of what makes RIT Croatia special.
"The one thing that began in 1997, and has remained the same throughout all these years, is the strong spirit and the quality of relationships between the members of our community," said Hudspeth. "We remain very connected with our alumni, from the first group in 2001 to the most recent in 2021. The landscape has changed since 1997, and we have grown significantly, but the connections, they're still the same."
RIT Dubai
RIT Dubai completed phase one of construction on its new state-of-the-art campus and began officially operating out of the new location in the Dubai Silicon Oasis last year. A grand opening ceremony took place in late November.
Phase one of the new campus was built with an overarching theme of interactive learning and spans 129,000 square meters with collaborative teaching and research spaces designed to accommodate 2,300 students. Campus planners said it was envisioned to be a positive and healthy environment to encourage independence, informal and creative meetings, socializing, and participation.
At the heart of the new campus is a centralized courtyard with an innovation center as its focal point, overlooked by all other academic buildings. Two main axes connect the different functions of the campus with the Innovation Lab at their intersection, resembling the core of a quantum microchip.
The campus includes a wide range of spaces designed to facilitate instruction, learning communities, research and innovation laboratories for experiential learning, and collaborative meeting and events areas.
RIT Kosovo
Last fall, RIT Kosovo launched a new BS in computing and information technologies. The program emphasizes a hands-on approach to technology and versatility. Students can concentrate in web administration, database, networking and communications, web development, or enterprise administration. The major requires students to complete two blocks of co-op before graduation.
Kosovo also offers a BS in applied arts and sciences with professional concentrations ranging from economics and statistics to energy policy studies, management and entrepreneurship, security studies, and graphic design and multimedia.
Last fall at the graduate level, RIT Kosovo jointly developed and launched the MS in professional studies program focusing on strategic foresight and innovation in collaboration with RIT's School of Individualized Study, Office of International Education, and RIT Dubai.
Topics