RIT's new Graduate School looks toward future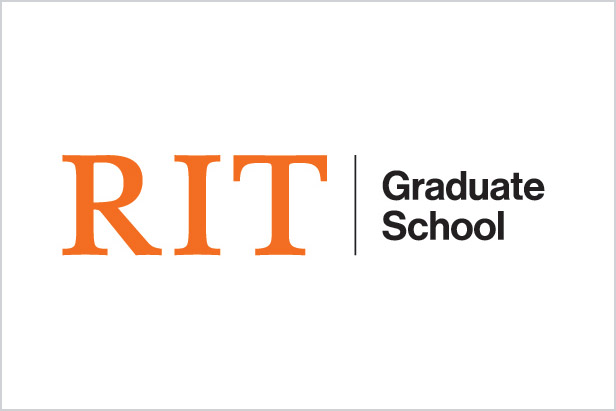 Graduate education at Rochester Institute of Technology has evolved over the last 60 years, and now, the university has officially created the RIT Graduate School, replacing the RIT Office of Graduate Education.
"Moving forward, the RIT Graduate School will retain its organizational structure and continue to offer its current programs," RIT Provost Ellen Granberg wrote in a letter to the RIT community in June. "It will also hold the same mission: to collaborate with college deans, faculty, staff, and students, at RIT's home and international campuses; to advocate for graduate education and the needs of students; and to promote research, creative practice, and experiential learning."
The new designation is more than semantics. The RIT Graduate School elevates the status of the university and is aligned with RIT's Carnegie Classification as an R2 research university. The naming of the RIT Graduate School supports the RIT Strategic Plan and carries nuances that make it a new entity on campus without the limitations of its previous structure.
"RIT's strategic plan focuses on the continued growth of graduate programs by increasing the number of doctoral degrees awarded, the development of new Ph.D. programs, and by building a sustainable and high-quality online program portfolio that focuses on graduate certificates and master's degrees," said Twyla Cummings, RIT associate provost and dean of the Graduate School.
RIT enrolls approximately 3,200 graduate students in more than 100 professional and research-oriented degrees and advanced certificates in the visual arts, humanities, business, and science, technology, engineering, and mathematics (STEM) disciplines, including 11 Ph.D. programs. RIT's Strategic Plan calls for, by 2025, the addition of six to 12 new Ph.D. program and the conferral of 50 doctoral degrees every year. Cummings anticipates meeting those objectives.
The final number for Ph.D. degrees conferred for the 2020-2021 academic year was 51, and the slate of new Ph.D. programs could reach seven, including the three engineering programs launched last fall.
An additional strategic goal for graduate education is to increase enrollment in the current Ph.D. programs.
"Five years ago, we had 76 new students, and the three years ago we had 97 new Ph.D. students," Cummings said. "Last year, even with COVID and the remote start, we had 90. Now we are trying to get to exceed 100 every year. The university is supporting that growth."
Graduate education at RIT is decentralized, with professional and research-based programs housed and administered in RIT's nine colleges and two degree granting units, the School of Individualized Study and the Golisano Institute for Sustainability. The Graduate School will continue its supporting role with a new elevated status and the ability to confer degrees.
"As a graduate school, it positions us better to look for funding opportunities to support graduate students with scholarships, fellowships, and programming, and to develop a degree out of the graduate school, or house interdisciplinary graduate degrees that do not have a single home."
Cummings added, "The name gives my Graduate Dean's Advisory Committee more leverage with which to network with their contacts, and it is starting to tell a different story about graduate education at RIT, and what that can mean."
The RIT Graduate School replaces the Office of Graduate Education, which was created in 2007 as the Office of Graduate Studies.
RIT offers the following graduate degrees:
Master of Science (MS)
Master of Business Administration (MBA)
Master of Fine Arts (MFA)
Master of Engineering (ME)
Master of Science in Teaching (MST)
Master of Architecture (M. Arch.)
Doctor of Philosophy (Ph.D.)
Topics