RIT's Vignelli Center for Design Studies teaming up with Design Milk for lecture series
Diverse lineup of creative visionaries slated for annual Design Conversations Lecture Series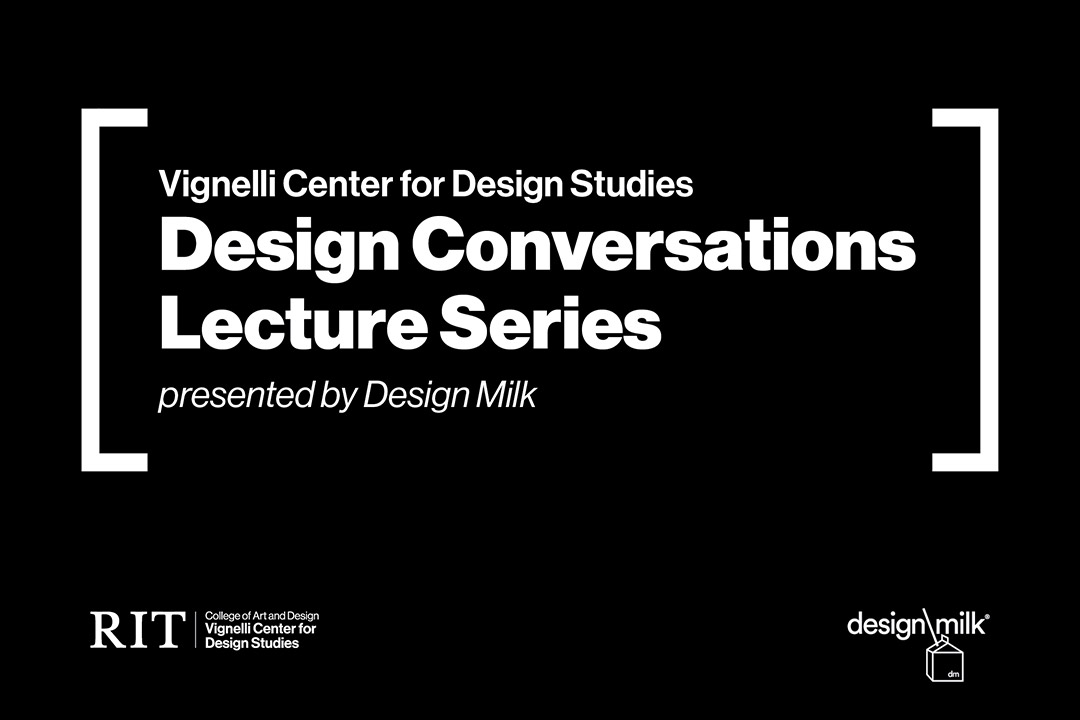 In a first-of-its-kind partnership with a popular online design destination, the Vignelli Center for Design Studies at Rochester Institute of Technology plans to dramatically expand its reach for an annual lecture series by presenting a lineup of diverse and creative visionaries.
Beginning with next week's inaugural lecture on Sept. 16, the Vignelli Center's Design Conversations Lecture Series presented by Design Milk will feature a wide variety of diverse designers whose compelling work has made important impacts on the design world.
Design Milk, an online magazine and ecommerce shop dedicated to modern design, is a highly coveted source of the latest in art, architecture, interior design, furniture and décor, fashion, and technology. As part of its strong commitment to build inclusive communities, the company donates a portion of its ecommerce sales to charities or entities that promote social justice and reform.
The collaboration with Design Milk is among the early initiatives "to further diversify and amplify the Vignelli Center's content in my first year as director," said Josh Owen, who was recently named director of the center housing the archive of renowned designers Massimo and Lella Vignelli, whose graphic and product designs are icons of international design.
"The Vignellis taught us that design is a systematic framework for solving the world's most intractable problems," Owen said. "I plan to build upon the depth of my experience in design education and service within the Vignelli Center to foster new initiatives—like this one with the outstanding people at Design Milk—to educate the broader public about the power of design."
"My aim is to make the Vignelli Center even more accessible and applicable by bringing in exciting guest contributors from diverse and underrepresented backgrounds who are using design in innovative ways," he added. "This year's Design Conversations Lecture Series follows the forward-thinking agenda for the center by broadening the scope of design-related content and invited individuals."
Jaime Derringer, founder and chief creative officer of Design Milk, said its support of the RIT lecture series is consistent with the company's anti-racist mission to actively highlight products, projects, and brands supporting underrepresented groups.
"We're thrilled to be partnering with RIT for the university's Design Conversations Lecture Series, which not only adds another valuable layer to our everyday content, but will also allow our readers a new level of access to thought leaders, educators, and supporters of design and innovation."
While lectures will initially be live-streamed to an RIT-only audience on presentation dates, they will then be made available over a number of College Art and Design and Design Milk social media platforms like YouTube and Facebook several days later for anyone to watch and listen.
As he works to put together his slate of designer-speakers through the end of the academic year, Owen has finalized a list of presenters through the end of the fall semester.
Natalie Nixon, 7 p.m. (EDT) Wednesday, Sept. 16 (livestream to RIT-only audience); Design Milk presentation scheduled for Sept. 22. Nixon is a "creativity strategist" who transformed a 16-year career in higher-education into a successful consulting practice at Figure 8 Thinking, LLC, where she advises leaders at companies such as Comcast, Bloomberg, and Citrix. The author of multiple books, she is a regular contributor to Inc. magazine on creativity and design thinking.
Noel Mayo, 7 p.m. (EDT) Wednesday, Oct. 14 (livestream to RIT-only audience); Design Milk presentation scheduled for Oct. 20. A designer and educator, Mayo is owner and president of Noel Mayo Associates, Inc., the first African-American industrial design firm in the United States. He has been instrumental in establishing minority-mentoring programs in the IDSA, SEGD, and the Ohio State University, where he retired from teaching in 2018.
 
Milton S. F. Curry, 7 p.m. (EST) Wednesday, Nov. 18 (livestream to RIT-only audience); Design Milk presentation scheduled for Nov. 24. Curry serves as dean and professor at the University of Southern California School of Architecture, and holds the Della & Harry MacDonald Dean's Chair in Architecture—both positions he has held since 2017. The author of influential essays and articles related to architecture, urbanism, race, and cultural theory, Curry is a firm believer in public discourse on architecture and culture, and has been published and lectured widely.