'Rubes' creator discusses the art of cartooning
Leigh Rubin explains how to make a living being creative, funny and a businessman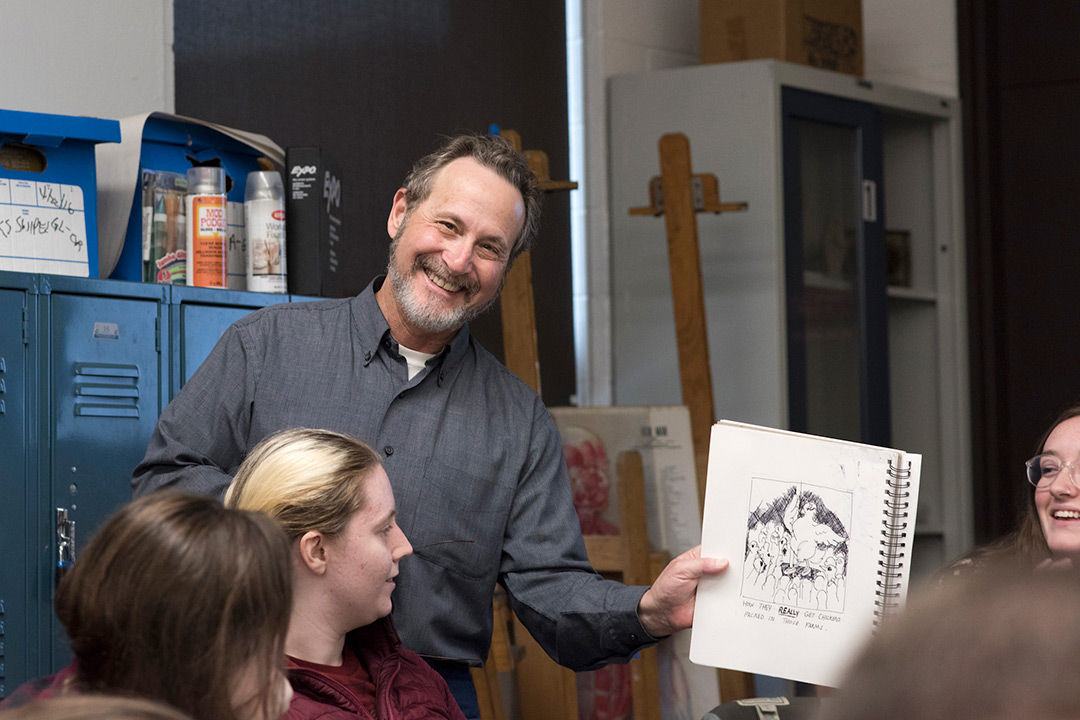 Students at Rochester Institute of Technology this week are learning first-hand what it's like to be a syndicated cartoonist, with Leigh Rubin, the creator of Rubes, as cartoonist-in-residence.
"How do you make a living at it? You pound your head 1,000 times against the wall until you break through," he told illustration students Monday. "This is the 35th year of doing this. I have to turn out seven cartoons a week. Sometimes you have to take chances, but ones that don't get me kicked out of newspapers."
Rubes is published in Rochester's Democrat and Chronicle and more than 400 media outlets around the world.
A. Sue Weisler
Rubin began his cartooning career in 1978 when he established his own greeting card company, Rubes Publications. The company has also sold his cartoons on merchandise including mugs and calendars.
In a medical illustration class Monday, Rubin asked students to think about linking two seemingly unrelated items together, such as "strippers" and "chicken." He walked around to see what the students had come up with.
Megan Banks, a fourth-year medical illustration major from Youngstown, Ohio, drew a chicken dancing on a stripper pole and captioned, "How they really get chickens packed in those farms."
"I'm very proud of you," Rubin told them. "I've never done this with a class before. You guys are surpassing every expectation I had."
He told them sometimes creative ideas need time to simmer, so he puts half-completed sketches away to revisit another time. "You work around with it until you get something. Sometimes it works, sometimes it doesn't," he said.
Rubin doesn't do political humor, but some of his comics involve social commentary. One of his recent comics showed a chicken crying that the sky is falling, with on-looking cows calling it "fake news."
"I always like to take a pun and go deeper, to take the sublime and make it ridiculous," he said. "And I like to draw cows because it's always funnier with a cow."
Rubin, whose visit is sponsored by RIT's College of Liberal Arts, College of Art and Design, School of Individualized Study, the Office of the Provost and Senior Vice President for Academic Affairs, expects to speak with students in art history classes, video game production and design classes. He'll also talk to students about the business aspects of his work to help them better understand what it's like to be a successful cartoonist, including branding and working with publishers and syndications.
He also plans to meet with faculty across the university to discuss best practices for teaching students how to be more creative and innovative, two hallmarks of an RIT education.
His visit will coincide with the east coast premiere of Drawing Inspiration, the pilot of a proposed television travel/documentary/reality program with co-creator Ryan Johnson. The free showing, presented by RIT and the Rochester Democrat and Chronicle, will be 6:30 p.m. Wednesday in RIT's Webb Auditorium. Reservations are suggested.
Rubin plans to return to RIT in the spring to continue working with students and faculty on various projects.
Topics