Running in Circles: Engineering students build Human Hamster Wheel
Interactive exhibit at Imagine RIT will produce fun and electricity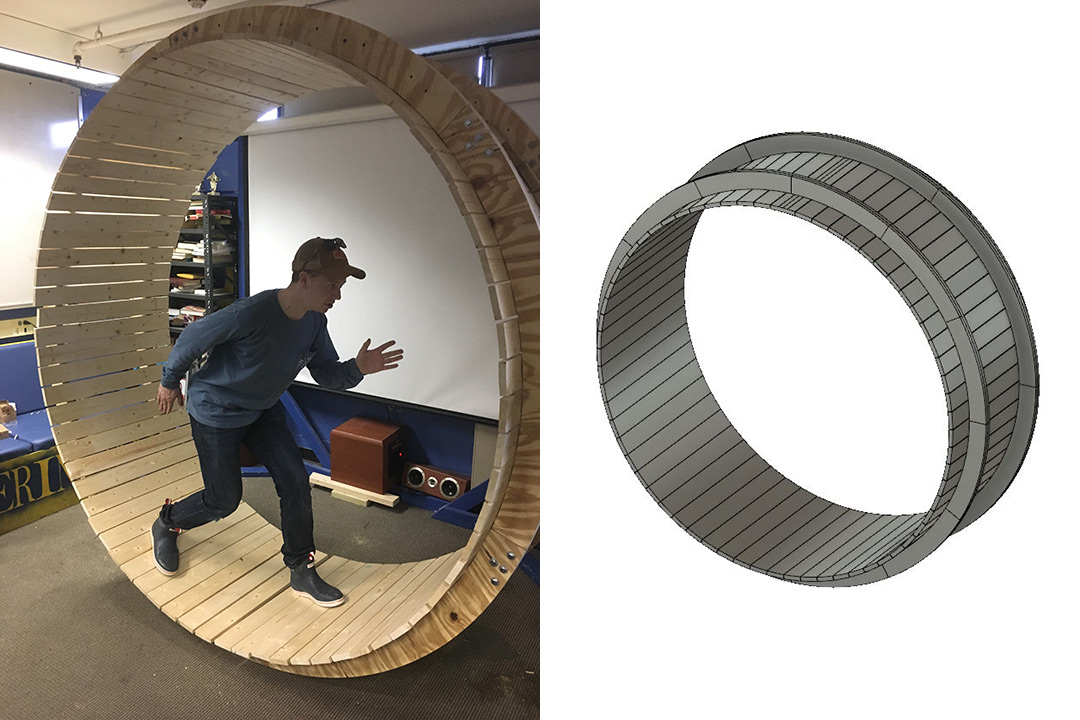 The big wheel will turn, but the hamsters will be humans instead.
Students in RIT's Engineering House built a Human Hamster Wheel, and instead of running in circles, as the cliché goes, their 7-foot wheel will produce electricity. Open to children and adults, the wheel will be one of many interactive exhibits featured at this year's Imagine RIT: Creativity and Innovation Festival on April 27.  
The idea originally came about two years ago. The group had tabled the idea, not for its difficulty, but because it would need time to carefully design, construct and test the wheel before humans big and small would be on it running. This fall, the group began building the six different segments of the wheel made of wood, rollers, bearings and power connections that will be bolted together on top of a base with a series of batteries. It's strong enough to support adults and safe enough for children, said Kel Hakim, a member of Engineering House. 
"We had someone on it running full out; I think we clocked them at just under 20 miles per hour. That was amazing to see a wheel going that quickly," he said. To compare speed, the average marathoner runs 13 miles per hour to achieve the four-minute mile target. World Champion sprinter Usain Bolt clocks in, on average, at 27 miles per hour.
Each year, Engineering House students plan several projects to display at Imagine, and this is one of their biggest and most complicated, but one that served the group as a learning experience.
"It required different disciplines to accomplish it," said Hakim, a second-year student from Ocean Grove, N.J. "We have a mix of engineers on the team from electrical, mechanical; I'm a biomedical engineer. I could help with some of the biological factors, like how fast can a human run, but I think this is a project that we all knew we'd have a stake in, and we all wanted to learn something out of it."
Building the wheel meant learning CAD design and power collection, and to help with the overall process, the team worked with students and staff in The Construct, RIT's maker space located in Institute Hall.
"Albert Einstein said, you don't really have mastery of a subject until you teach it to someone. And that is something I think we all did with the project. It was a hands on, physical object that we could all point to and say this is what our engineering classes went toward."
And the project was less about the stereotype of running and going nowhere than it was about taking challenging first steps.
"The first step is saying hey, let's do this, and the second step is finding a way to do it. That's the idea of the hamster wheel. We know there will be a lot of questions about where did this idea come from? Why a hamster wheel? What does this offer to the world? Going for a run on a hamster wheel is fun, but also building a hamster wheel is very enjoyable."
And after Imagine?
"If we turn the wheel on its side, put a tarp in it, seal it up, and we'll have a hot tub for finals week!"
Engineering House team members are: Nicholas Levie, Kristy Stine, Kel Hakim, Zoe DeTrani, Braden Feasley, Leiah Maloney, Marissa Cacace, Dan Popp, Hunter Leonard, Howard Barnes, Zach Flowers, Poppy Eskridge.