January 31, 2022
by Shelly Meyer
Saunders College of Business offers STEM-designated programs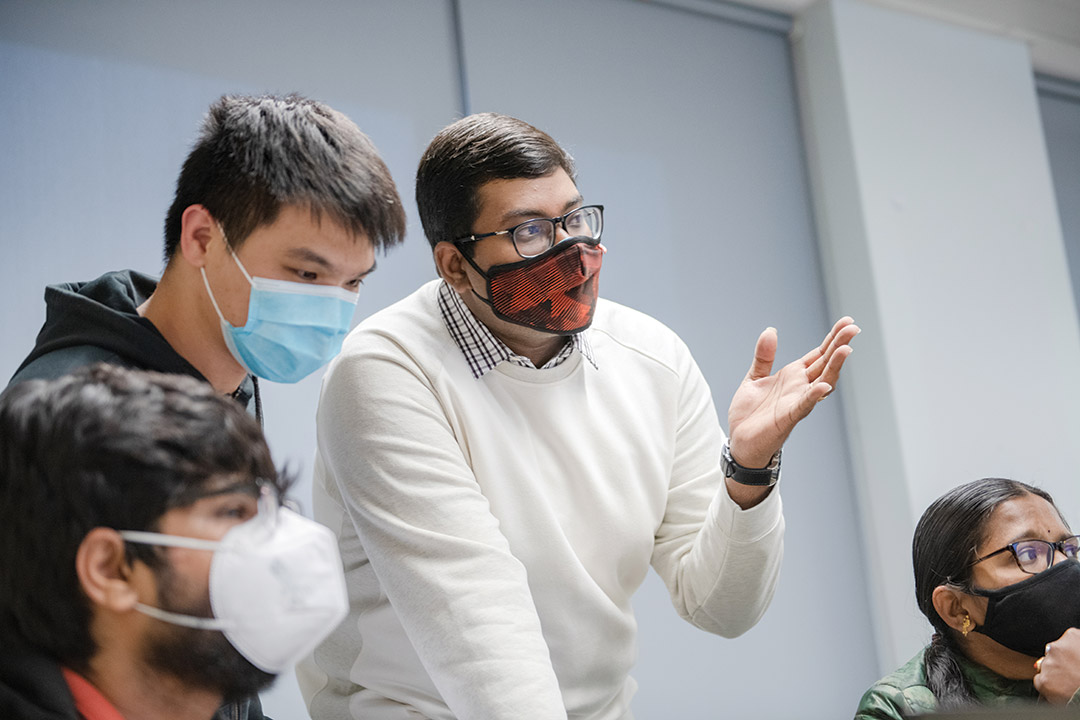 Sree Naaga Shiva Rama Geethveer Devineni, a graduate student from Hyderabad, Telangana, India, moved to the U.S. to pursue a master's degree in global supply chain management from Saunders College of Business after working for two years as an engineer at Novacom Digitronics, a telecom electronics company.
The move was motivated, in part, by the program's science, technology, engineering, and math (STEM)-designated status. Six graduate programs in Saunders College are now STEM-designated, allowing students the opportunity to engage in technology-based business education.
Three programs, Master of Business Administration (MBA), MS in accounting and analytics, and MS in finance, secured their designations in March. Three additional programs—MS in business analytics, MS in technology innovation management and entrepreneurship, and MS in global supply chain management— were previously designated.
Because of this STEM designation, Devineni is eligible for a work visa extension which will allow him to work in the U.S. for up to three years after graduation.
In order to bolster STEM education in the U.S., the Department of Homeland Security has established criteria that recognizes some degree programs as STEM-designated.
Learn more
As one of the nation's largest producers of STEM undergraduate degrees among all private universities in the U.S., RIT offers 100+ STEM-designated programs to choose from. Learn more about RIT's STEM-designated degree programs.
Traditionally, with an F-1 visa, international students are eligible for up to 12 months of optional practical training (OPT) in the U.S. post-graduation. This STEM designation allows international students to apply to extend that period by up to 24 months.
"When I go back to India with this degree and the experience of working here in the U.S., my position will be upgraded to a supply chain manager," Devineni said.
To obtain STEM designation, at least 50 percent of the program's coursework must be STEM related. Saunders College achieved this through a combination of updating existing curricula and developing new classes. Students also have the choice to take additional graduate-level STEM electives from other RIT colleges.
"Our updated curricula are infused with analytics, data visualization, artificial intelligence, supply chain, and technology management principles and strategies, as well as other emerging technologies being applied within business disciplines," said Dean Jacqueline Mozrall. "This enhanced flexibility allow students to customizetheir degrees."
Last semester, Devineni took Visiting Lecturer Anthony DiVasta's Lean Six Sigma class in Kate Gleason College of Engineering to round out his business education. The course focused on the process of developing a new product in a more efficient way, and making the product better for the end user and more cost-effective for the manufacturer. It was the first class he'd taken outside of Saunders College, and he plans to take more. 
"In a typical supply chain program, we learn about how chocolate is taken from a plant, transported to its destination, and everything in between," said Devineni. "The program at Saunders College gives us the flexibility and opportunity to go to the College of Engineering to take it a step further to understand the manu­facturing processes involved in making the chocolate."
Topics