Saunders College names Optimax president, CEO as 2019 Vanden Brul Award recipients
Michael Mandina and Richard Plympton, along with RIT students, honored at June 5 event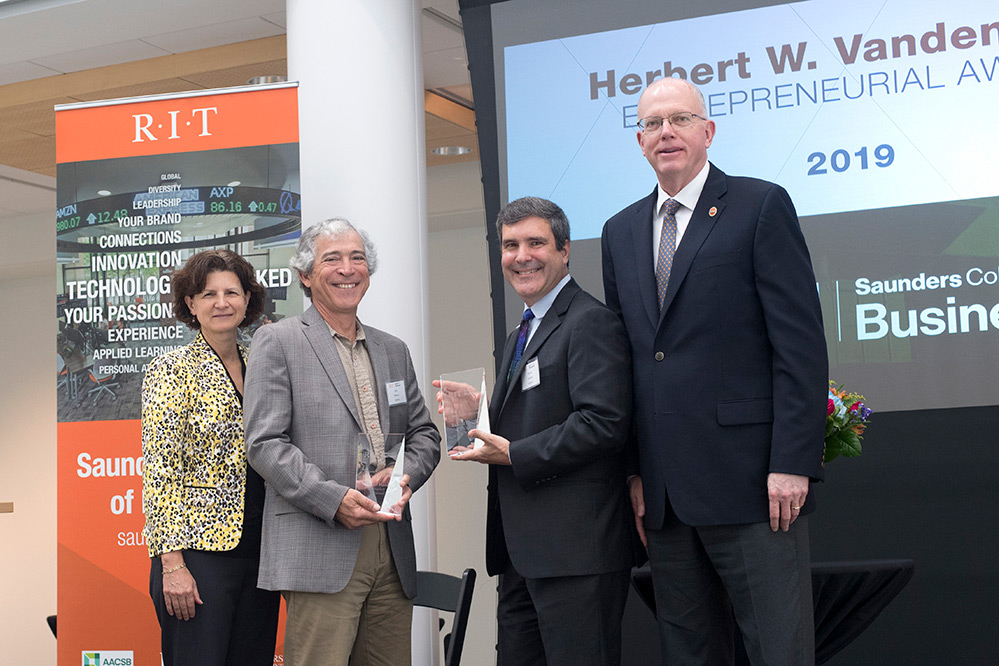 Michael Mandina, president of Optimax, and Richard Plympton, CEO of Optimax, have been named the 2019 recipients of the Herbert W. Vanden Brul Entrepreneurial Award, presented by Saunders College of Business at Rochester Institute of Technology. The award, in its 34th year, is given to entrepreneurial leaders in the greater Rochester region who have developed a business that has improved the local or regional economy or whose innovative management skills have changed the course of an existing business. The awards were presented at RIT on June 5.
In addition, several RIT students, including Brandon Hudson, a fifth-year student in RIT's School of Individualized Study, were also honored for their contributions to RIT's entrepreneurial ecosystem.
Mandina, a 2003 graduate of RIT's Executive MBA program, was one of the founders of Optimax, a precision optics manufacturer headquartered in Ontario, N.Y. The company, reportedly the largest prototype optics manufacturer in the United States, employs more than 350 people, with more than 300 being highly skilled technicians, engineers and scientists. Mandina, who is a master optician, has been active in many industry associations and organizations including Rochester Regional Photonics Cluster, Rochester Technology and Manufacturing Association, New York State Finger Lakes Workforce Investment Board, and High Tech of Rochester's Manufacturers Extension Partnership, and was one of the founders of the Finger Lakes Advanced Manufacturers Enterprise.
Plympton began his career at Optimax in 1995 managing the sales, marketing and quality assurance departments. He has also been actively involved in the regional optics industry and area colleges and sits on the Finger Lakes Community College Foundation Board, the Board of the Rochester Regional Photonics Cluster, is vice chair of the Finger Lakes Workforce Investment Board, and is participating in an Aspen Institute Fellowship for Job Quality.
Among other distinguished guests, Mandina and Plympton were joined by Herbert Vanden Brul's family, including Kristin Vanden Brul, Patti Vanden Brul Nunnari, and Bill and John Vanden Brul.
During the event, both Mandina and Plympton expressed their gratitude in receiving the honor and credited their employees for helping to grow the company.
"I'd like to thank the past winners of this award. They are an honored group," said Mandina. "I would also like to thank RIT and Saunders College. I was a 'non-standard' student and they really take the time to understand the students. I would also like to thank Optimax and the great people we work with. They are the heart and soul of what we do."
Plympton added: "Through our culture, we have been able to create a place where people can add value. We are stewards of the culture and ensure success for our customers. We work with awesome people and accept our employees as individuals and for who they are. Through the creation of local jobs, we hope to ensure our philanthropic mission to support education and innovation in our community. We started manufacturing lenses to see if we could change the world. We are just getting started and we see so much potential."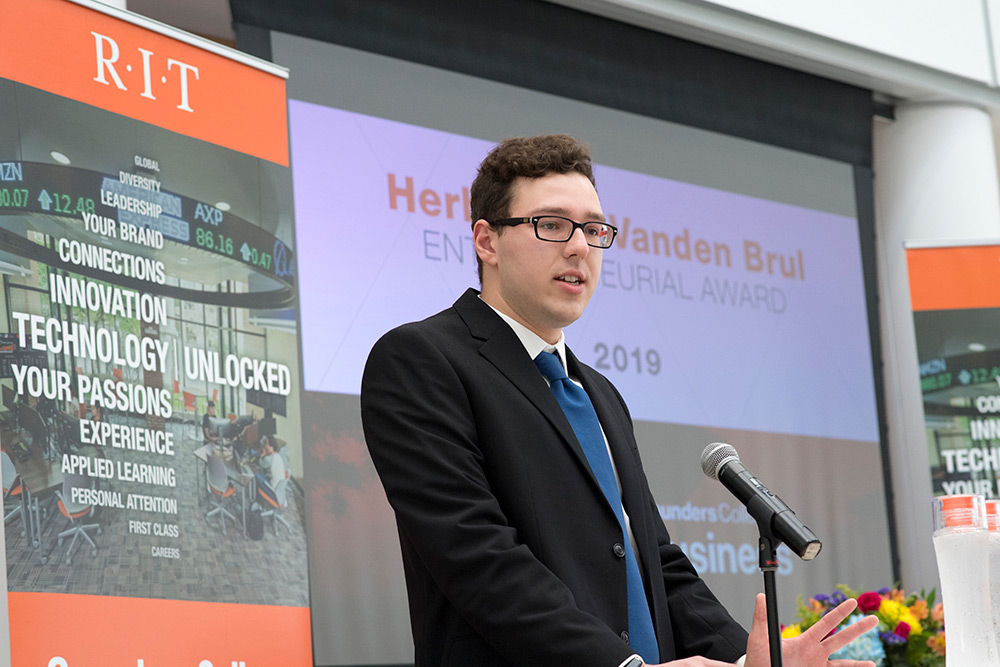 A. Sue Weisler
Hudson, CEO of Seerwise, was awarded $3,000 as the first-place recipient of the Student Entrepreneurial Award. According to Hudson, Seerwise, which is part of RIT's Venture Creations business incubator, is focused on disrupting the building management industry by streamlining the installation, maintenance and management of HVAC systems. Hudson, a Buffalo, N.Y., native, was the first student selected for the RIT Gap Year Entrepreneurship Fellows Program, which allows students with an ongoing enterprise to take a year to focus on their venture while receiving mentoring from experts at RIT.
"In preparing for today's event, I began by reflecting on my journey at RIT and how much has changed for me in the past five years," said Hudson. "I was able to enroll in a program that has allowed me to dedicate my time and passion to developing my business. My journey at RIT speaks volumes about the university. The quality of the people, the flexibility toward students and the unconditional support through the best and worst times of the business have given me the opportunity to chase my dreams. I'm excited to see what lies ahead. We have plenty of work to do."
Other students honored were Nathan DeMario, a mechanical engineering graduate student from South Wales, N.Y., and Eva Skovli, a graduate student in professional studies from Norway, who both received $750.
A. Sue Weisler
DeMario, who plans to pursue his Ph.D. in mechanical engineering this fall at RIT, is co-founder of Phase Innovations, a startup company using innovative technologies to improve efficiencies in cooling and dehumidification systems. The company, also part of Venture Creations, received $1.1 million from the New York State Energy Research and Development Authority (NYSERDA) to support the development and commercialization of the technology.
Skovli is working with startup VeeTV, described as the "Netflix of sign-language content videos." She says she hopes to help deaf and hard-of-hearing entrepreneurs by exploring innovative communication solutions to make the world more accessible.
Saunders College of Business Dean Jacqueline Mozrall thanked the Vanden Brul family for their commitment and praised the past winners of the Vanden Brul award who she said have all helped to create a tremendous legacy of entrepreneurial success for our region.
"The Vanden Brul award is one of Rochester's best annual traditions for celebrating top business successes with more than 30 distinguished recipients who are shining examples of entrepreneurial vision and success. We are grateful to the Vanden Brul family for their support of this event and commitment to recognize business leaders who drive the Rochester community as well as the next generation of aspiring entrepreneurs," said Mozrall. "The leaders of Optimax, who we are honoring this year, are committed to addressing the current skills gap and aligning the educational system with industry needs to produce a skilled workforce to strengthen our region by helping to ensure a vibrant high-tech manufacturing community."
Topics