Security Risk Advisors creates scholarships for RIT's Cybersecurity Bootcamp program
$25,000 in scholarships available for underrepresented populations looking to enter cyber workforce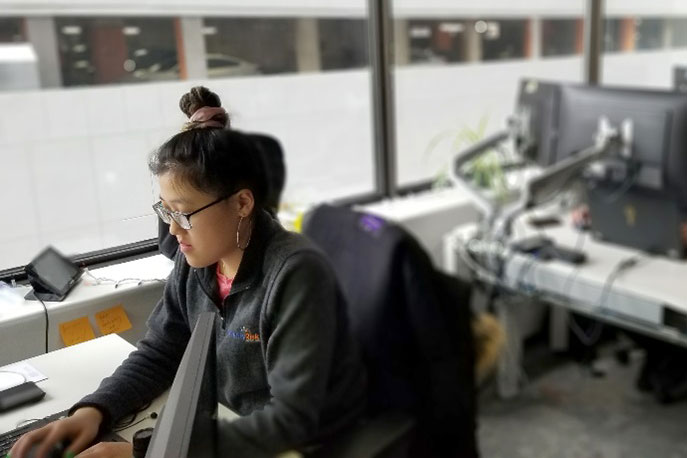 Security Risk Advisors
Cybersecurity consulting firm Security Risk Advisors is offering $25,000 in scholarships for underrepresented professionals looking to enter the cyber workforce through RIT's Cybersecurity Bootcamp program.

The SRA Next Gen Cybersecurity Scholarships will be granted to select participants of RIT's Cybersecurity Bootcamp — an immersive 15-week training course that prepares people for critical entry-level roles in the cybersecurity workforce. The program aims to help professionals from all backgrounds and abilities set themselves up to transition into an in-demand career.
Security Risk Advisors (SRA) created the five $5,000 scholarships for people with non-traditional backgrounds who are trying to transition into the cybersecurity workforce. This includes, but is not limited to, women, those from single-parent households, minorities, people with non-technical backgrounds, and people with disabilities.
"SRA's goal of building a more diverse cybersecurity community aligns perfectly with the vision of RIT's Cybersecurity Bootcamp Program and we are proud to offer the SRA Next Gen Cybersecurity Scholarships to underrepresented professionals," said Tim Wainwright, CEO of SRA. "As we train the next generation of cybersecurity professionals, we find teammates with nontraditional education backgrounds offer a diverse experience and voice that strengthens our team. We look forward to adding graduates from RIT's Cybersecurity Bootcamp to team SRA."
Since the COVID-19 pandemic began, more than 21 million Americans have become unemployed. RIT recognized that cybersecurity was one industry still in need of employees across the globe.
"We created this program in order to train these people who need jobs, so they can start a career in a field that is desperately in need of qualified professionals," said Steve Hoover, executive director of RIT's Global Cybersecurity Institute (GCI). "We are very thankful to Security Risk Advisors for their support and helping to build a better, more diverse cybersecurity workforce."
Registration is open for the next cohort of RIT's Cybersecurity Bootcamp, which starts Nov. 16. Participants must enroll by Nov. 13. Apply now on the Cybersecurity Bootcamp website for more information.
Other scholarships are available for Cybersecurity Bootcamp applicants. RIT offers a $2,500 Professional Re-employment Education Training (PRET) scholarship, designed to assist qualified dislocated workers who have lost their jobs as a result of economic or business conditions. Through generous private donations, RIT also offers a $2,500 Diversity Scholarship for underrepresented populations.
The bootcamp has been added to the New York State Department of Labor Eligible Training Provider List (ETPL), meaning that anyone who is on unemployment in New York, or is underemployed and working below $15-per-hour, can get up to $5,000 toward the program. The ETPL program is used to identify training that may be federally funded under the Workforce Innovation and Opportunity Act (WIOA), meaning that those who don't live in New York state may still be eligible through state reciprocity agreements.
The bootcamp is delivered remotely and is intended for full-time learners. Tuition for the RIT Cybersecurity Bootcamp is $10,000. There is no prior coding or IT experience required, although learners should have basic computing skills.
In the program, learners begin as an intern for a mock company, where they'll learn the basics of IT, operating systems, and networking. Participants will also get to field the company's helpdesk trouble tickets, learning new fundamentals as they progress each week.
Learners who pass the program's skills-based assessment will be issued an RIT Global Cybersecurity Institute Cybersecurity Bootcamp Certificate that they can put on their resume. Participants will have access to job search assistance through RIT. Upon completion, they will be prepared to take on entry-level roles as a cyber technician, cyber incident responder, cyber investigator, and an IT auditor.
Security Risk Advisors delivers technology security services and provides cybersecurity expertise to Fortune and Global 1,000 companies. SRA is committed to training the next generation of cyber professionals, and that support goes beyond hiring and mentoring teammates. SRA sponsors collegiate cybersecurity clubs at regional and national competitions. As part of its commitment to closing the gap of underrepresented populations in the tech industry, SRA hosts an annual Women's Networking Night for college women to connect with female leaders in cybersecurity, sponsors women in tech groups, and has a partnership with the Girl Scouts to help scouts earn their cybersecurity badge. The company has offices in Philadelphia; Rochester, N.Y.; and Kilkenny, Ireland.
The bootcamp and the Cyber Range are just part of RIT's Global Cybersecurity Institute, which is expected to fully open in 2021. The new three-story facility will allow RIT to conduct more groundbreaking research, education and professional training and development.
Topics