Sociology students use art to communicate important social issues
Foundations of Sociology students combine research and art making for a unique final project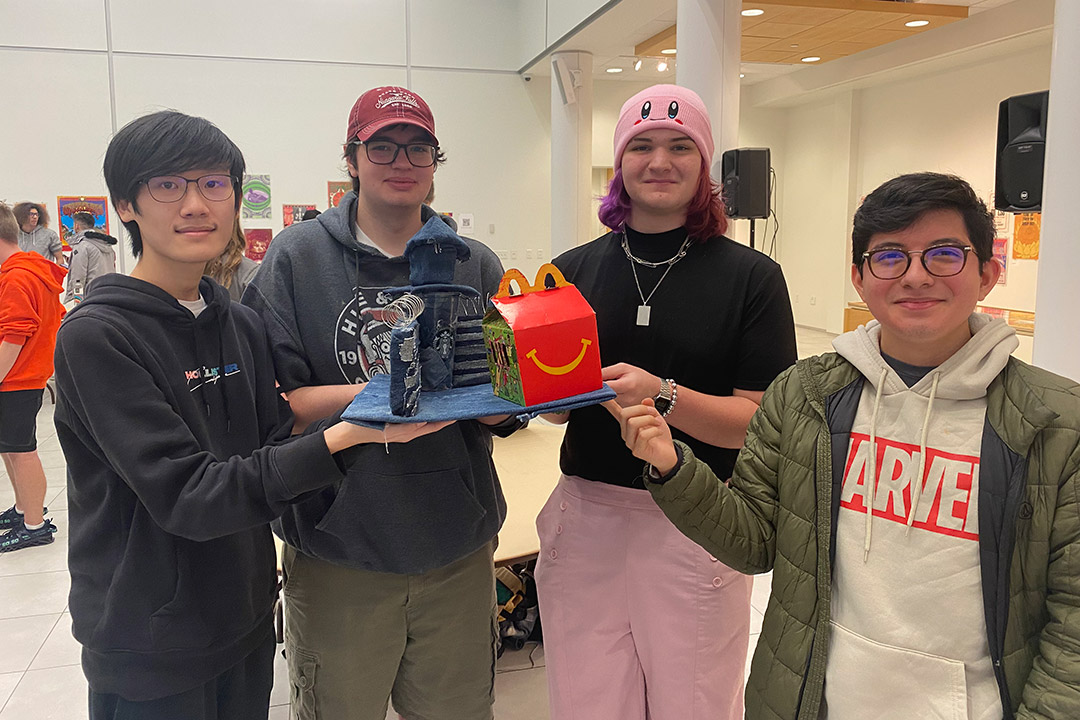 The saying goes that a picture is worth a thousand words, and students in Assistant Professor Wenjie Liao's Foundations of Sociology courses this fall put the old adage to the test in one of their final projects. The result was a Sociological Imagination Art Fair, held on Dec. 7, where students shared artwork that communicated social issues that are important to them.
"I truly believe that to be a successful sociologist, we need to be able to use our imagination. To me, one goal of sociology is to peel off the mask of social reality and to see that a lot of the things that we take for granted are socially constructed," said Liao. "Therefore, there are always other ways we can imagine how the world can be. I think that's part of what makes sociology appealing."
For the project, students were given the prompt to create something that demonstrates their understanding of key sociological concepts and their application in social life. The students had to center their project on a concrete social issue or problem, but beyond that, students had the creative liberty to figure out what their project would become.
"This is one of the many different things we try to do so that different students get to express themselves in a way that's suited to their individual learning styles. This way, that classroom is not just about repeating information back to me," said Liao. "I also think this project is something they will remember more than the papers that they will write. I think alternative ways of engaging students can be more impactful for their learning."
Some of the topics students explored include aspects of prison reform, the social construct of gender, environmental pollution and discrimination, and the legalization of marijuana. One group focused specifically on the issue of prison labor and created a miniature jail made from materials that are manufactured by people in prisons.
"We included a McDonald's Happy Meal box because they use prisons for packaging and processing of ingredients. There is also a Starbucks cup because they also use them for packaging. Jeans were something that have been commonly made in prisons, so we used the jeans to make portions of the prison structure as well," explained Nat McClure, a first-year engineering technology exploration student.
Patrick Souza, a first-year chemical engineering student and one of McClure's groupmates, added that the miniature prison they created is a unique way to get people interested in their topic. When people saw the Happy Meal box and denim structure from across the room, their curiosity was sparked and they would approach the group to learn more.
"A lot of times when people read, they just read. They don't actually gather the information in their head," said Souza. "It can be really hard to gather emotion from just words on a piece of paper, so when you share ideas in an artistic way, you can really emphasize certain aspects that you sometimes can't with an essay."
Another group ventured into the pop culture sphere and made a project which analyzed how women are portrayed in video games.
"It's a very important issue and it's so often overlooked in the game industry. A lot of games are primarily directed towards men nowadays, and you can very clearly tell," said Ryan Glover, a first-year chemical engineering student. "I think almost any woman who's tried to play a male-dominated video game has felt the effects of it. Raising awareness about the way that women are represented in games can make gaming more inclusive for everyone."
Another member of the group, Joe Harrington, a first-year electrical engineering technology student, shared that he has always been interested in video games, and that it's easy to see that there have always been discrepancies over how men and women are portrayed. Harrington added that using a visual medium to convey their message is ideal because it allows people to literally see examples of unfair and misogynistic portrayals of women.
"I think that, especially for the hyper-sexualization part of the issue, it's easier to get the full message this way. It helps a lot to actually see what the female characters are wearing and how they're portrayed because a lot of times with an essay, you'll create an image in your head based off what's written, and it doesn't really sink in in terms of just how bad some of the clothing options are and some of the portrayals are," said Harrington.
The Sociological Imagination Art Fair was a one-day showcase of student work. For more information, email Wenjie Liao.