State Senate committee to visit MAGIC Center
RIT's MAGIC Center chosen as Upstate site for Oct. 22 session with industry leaders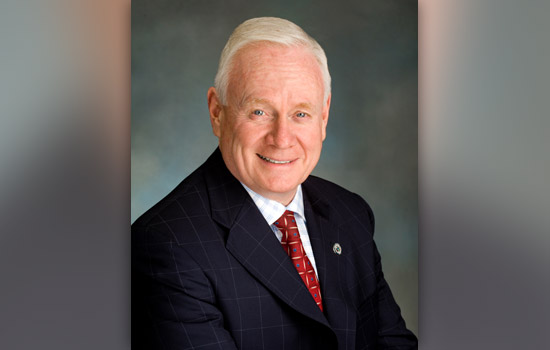 Could the video game design and development industry be an economic engine for New York state, and Upstate in particular?
New York State Sen. Martin Golden thinks it can, which is why the Republican legislator from Brooklyn is bringing his Senate Select Committee on Science, Technology, Incubation and Entrepreneurship to Rochester Institute of Technology on Oct. 22 for a fact-finding session on how to grow the industry.
Golden, who is chairman of the select committee, held a similar session in September at Polytechnic Institute of New York University. He said he chose RIT for the Upstate session because of the university's nationally recognized game design and development programs, along with its new multidisciplinary Center for Media, Arts, Games, Interaction and Creativity (MAGIC), which will work with students to take ideas to market.
Golden said the ultimate goal is creating jobs in the field. RIT, for example, graduates nearly 100 students a year with skills in game and media development, but most have to leave the area to find jobs.
The roundtable, titled "Growing Computer and Video Game Development in New York," is a session to gather comment from interactive entertainment leaders, entrepreneurs and legislators on how to attract and support an industry that accounted for $4.9 billion of the U.S. gross domestic product in 2009. The event, which is open to public, will also feature remarks from RIT President Bill Destler.
"The purpose of this roundtable is to create discussion around policy and programs that will make the state of New York the center of this booming video game design and development universe," says Golden.
New York is currently fourth among the top five states in the U.S. when it comes to game industry employment, providing 5,474 direct and indirect jobs. The average compensation for an entertainment software industry employee in New York was $96,062.
But employment in New York is still far below the job figures for the top four states in an industry that's booming. According to the Entertainment Software Association, the sector's economic potential, between 2005 and 2009—the latest year for which figures were available—the entertainment software industry's annual growth exceeded 10 percent, compared to 2 percent growth for the entire U.S. economy.
"While New York's gaming software industry is large and growing, it still lags behind California, Texas and Washington in the number of companies, employees and contribution to the economy," says Golden. "Rochester Institute of Technology is an Upstate university already working to keep talent in state, by providing students with the tools to succeed academically while creating market-ready products."
According to The Princeton Review's "Best Schools for Gaming 2013," RIT's game design and development programs rank fourth at both the undergraduate and graduate levels. RIT's programs are housed in the School of Interactive Games and Media within the B. Thomas Golisano College of Computing and Information Sciences.
The university is also home to the RIT Center for Media, Arts, Games Interaction and Creativity (MAGIC), a nonprofit university-wide research and development laboratory and a for-profit production studio that assists in efforts to bring digital media creations up to marketplace standards and commercialization. This two-sided structure is specifically designed to bridge many of the barriers between academia and the digital media industry that hinder research and production.
"Consistently among the top universities in game design, RIT has also been home to several tech-startups including Digsby, which has since moved from Rochester to San Francisco," says Professor Andrew Phelps, director of RIT's MAGIC Center and founder of the School of Interactive Games and Media. "With the MAGIC Center our goal is to not only foster student ideas into a business or product, but to also keep these companies in state as they begin to grow and prosper."
Scott Nicholson, an associate professor at the School of Information Studies at Syracuse University and director of the Because Play Matters game lab, will open the afternoon session with a talk about transformative games and how they can be used as a powerful tool to transform players.
"Our hope for the event is to make sure that the resources Upstate New York can offer are considered as part of a plan to attract gaming companies to New York state," says Nicholson. "We are delighted that Senator Golden is interested to learn how upstate New York can complement New York City to make an attractive home for game companies."
The morning session will be facilitated by Golden, Phelps and Bob Herz, director of the Senate Select Committee on Science, Technology, Incubation and Entrepreneurship. Among the morning panelists will be:
Blake Gross, RIT game design and development student/Blind Horizon Studios Inc.
Brian Moyer, Storm Frog
Colin Doody, Darkwind Media
Jason Arena, Workinman
Kenny Johnson, Zephyr Games
RJ Mical, Independent Game Developer/Google
Shane Brennan, EPIX/Studio 3 Partners
Stephane Morichere-Matte, Microsoft Games
Tobi Saulnier, 1st Playable Productions
Theresa Mazzullo, Excell Partners
Robert H. Fritzinger, SUNY Fredonia Business Technology Incubator
Denny DeLeo, Trillium Group
The afternoon roundtable will be facilitated by Phelps and Herz. Among the panelists will be:
Dustin Kochensparger, RIT game design and development student/Blind Horizons Studios Inc.
Jon-Paul Dyson, The Strong
Lee Sheldon, Games and Simulation Arts program at Rensselaer Polytechnic Institute
Michelle Yaiser, Creative Cloud Learning at Adobe
Scott Nicholson, School of Information Studies at Syracuse University/Because Play Matters game lab
Sebastian Deterding, RIT MAGIC Center
Victoria VanVoorhis, Second Avenue Learning
J. Alison Bryant, PlayCollective, PlayScience and PlayLab
Rami Katz, Excell Partners
Jim Senall, High Tech Rochester/Rochester Angel Network