Student becomes successful entrepreneur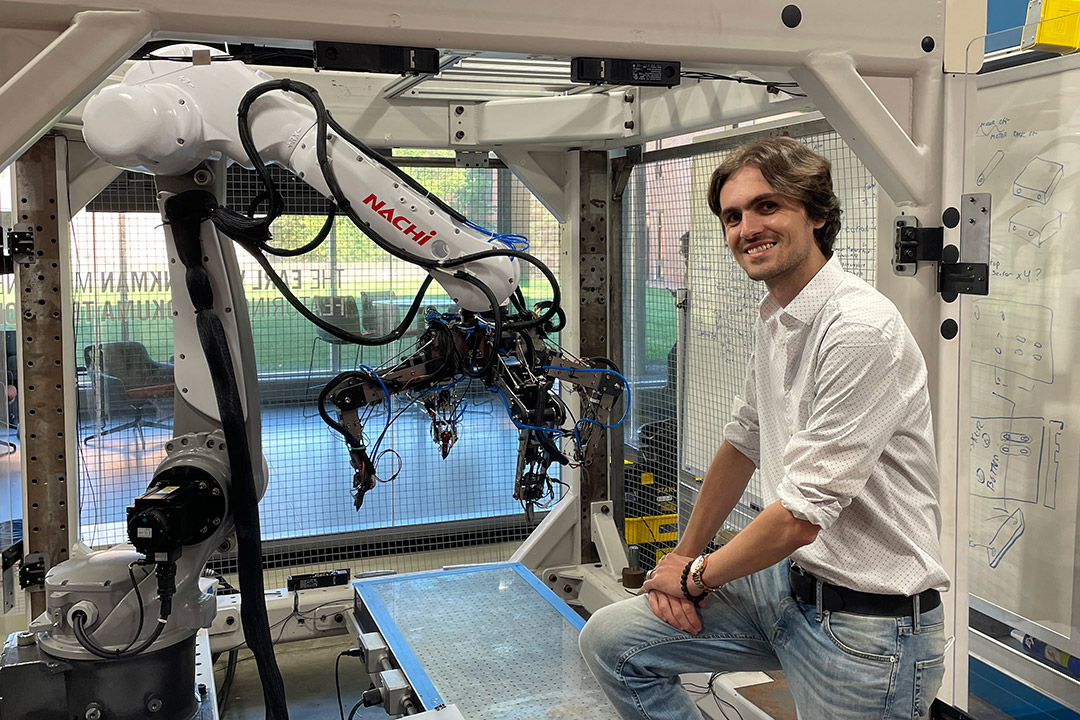 Adam Foster, a Ph.D. student in mechanical and industrial engineering from Villennes-sur-Seine, France, is a team member on PrisAM, a student-owned business.
PrisAM is part of RIT's Venture Creations business incubator. It is a technology business incubator that helps students with startups advance their businesses. Venture Creations provides connections with fellow entrepreneurs and hands-on coaching.
What is PrisAM about and who are your clients?
PrisAM is an advanced manufacturing company. We use ground-breaking 3D-printing technology to manufacture airframes for Uncrewed Aerial Vehicles, or drones. Our custom industrial 3D printer can print very complex geometric structures, called lattice structures, in three dimensions. Our technology allows us to produce parts that are both very light and very strong.
Because we are a contract manufacturing company and because 3D printing can produce an extremely wide range of parts, our technology would benefit a lot of industries. Given the results from our customer interactions to date, we have decided to focus our production on the UAV industry. Our clients are companies that make medium- to large-scale drones.
At the same time, we will be working toward getting the necessary certifications to manufacture parts for the wider aerospace industry (non-UAV companies). Fuel efficiency, sustainability and cost reductions are top priorities for the aerospace industry, and our technology will help them deliver on their priorities.
What are your responsibilities on the team?
Everyone on the team wears multiple hats. I am responsible for the mechanical design for our prototype multi-nozzle system. I am also responsible for developing the company's innovative solutions—one such example is the patent-pending nozzle, designed to work specifically for our process, but there are others in the development pipeline. Finally, I assembled the budgets for our projects, and I developed and maintained our financial model.
How do you balance helping run a legit business and your schoolwork at the same time?
I am not sure that qualifies as work-life balance since both require a significant level of effort! Given where PrisAM is now, it requires a lot of extra hours. Running the business and doing my schoolwork at the same time involves very long hours, every day.
What are the next steps for PrisAM?
PrisAM is currently at a Technical Readiness Level (TRL)of 4. We are making simple parts on our industrial 3D printer, and we are gathering funds through various grants to construct the final version. Building the final version would get us to a TRL of 6, which would allow us to manufacture the types of parts that our customers need.
What is your plan after RIT?
Over the past three years that I have been working as an entrepreneur, it has become more and more clear that this type of work is what I want to be doing once my academic career is over—starting new businesses based on technical innovations that allow me to fund the next inventions.
Topics