Student designs dress out of paper
Student SpotlightHeather Williams, third-year medical illustration major
Heather Williams, a third-year medical illustration student, was one of about 300 CIAS Foundations students to participate in the Beaux Arts Ball. For the first time in more than a decade, CIAS Foundations students were challenged by their professors to create (and to wear) a garment that was made primarily of paper materials. Each student's original design was to be inspired by, and evoke, the material culture of a specific artistic and historical style. Next year's event is already being planned for the last Friday in October of 2017.
In her time away from the classroom, Williams, from Watertown, NY, enjoys playing piano, ballroom dancing and hiking.
Question: What brought you to RIT?
Answer: Both of my parents are RIT alumni, and I would always read their alumni magazine when it came in the mail. This sparked my interest in RIT and I fell in love as soon as I came to the campus. I was really drawn to RIT by the fact that it has created such a bridge between the arts and sciences that you can't find anywhere else. Art and science are both really important to me, and I love that I can combine them here in ways that wouldn't be possible at other universities. I was also drawn to the school because of the wide range of colleges and opportunities offered. I knew that even if I changed majors (which I have twice) I'd still be able to find something that I love here.
Q: What prompted you to pursue a degree in design and what about designing do you enjoy most?
A: My senior year in high school I was heavily involved in my school's performance of Arthur Miller's The Crucible. The experience of being in that show from start to finish really sparked my appreciation for art and design. I was involved in every aspect of the show, from being a lead actress, to directing, to advertising and costume planning. After I had spent some time in college at RIT as a biomedical sciences major, which is what I originally came in as, I realized that I needed art to be a part of my life. When I switched out of biomedical sciences, I had a brief stint as a film major. I settled on medical illustration, which is the perfect fit. It sounds very specific, but there are so many different applications and ways to use the degree, and I wanted to keep science as a part of my curriculum, which I also do through my archaeology minor. I try to use a lot of my work as a designer to convey different emotions or parts of the human experience, and I love being able to communicate those things to my audience through my art.
Q: What did you wear to the Beaux Arts Ball, and what inspired your design?
A: I wore my interpretation of an 18th century French court gown with inspiration from the Rococo and Romantic movements. This design was partially inspired by my childhood dream of getting to wear a big gown and to be a princess. My favorite Disney princess is Belle, and her character is from this era. I really wanted to throw myself into the design, and I felt that this era gave me a good canvas to work from and left me with a lot of room for interpretation.
Q: How much time went into constructing your garment for the event?
A: When I work, I like to have something on in the background, so I usually keep track of how much time I've spent on a project by what I watched. I watched three movies while I made the wig, and about four seasons of Friends while making and applying all of the hand-painted, gold accents. The skirt itself took at least 20 hours in total, including folding all of the individual cones. In all, I spent over a month working, and I've been planning this design since the beginning of the semester when we were told about the project. I was working every day for the last four weeks. I did at least one thing a day, whether it was paper folding or redesigning the dress. This allowed for about four or five iterations of my original idea and let the dress evolve into what it became.
Q: What was your favorite part about the night?
A: My favorite part of the night was getting to see what everyone else made and getting to display my hard work, as well. So many people approached the project so differently that it was interesting to see what such an open-ended requirement can inspire people to create. I know that a lot of people put extra time and effort into their costumes, and it was just fun for everyone to get to show off for a night.
Q: Following the success of this year's Beaux Arts Ball, the same event has been scheduled for next year in the hopes of making it annual. How do you think the evening will benefit CIAS students?
A: I honestly really loved this event. As students, it's so difficult to find the time between classes and work to be able to really devote yourself to one thing. What I really loved about Beaux Arts was that I was able to take the time that I would have normally been working on my three separate Foundations classes, and put it toward this singular project. Beaux Arts allowed for a degree of focus that you don't get when you have so many different assignments to take on at once. I had the ability to throw myself into one thing and create something that I'm really proud of. It was also really interesting to be able to get feedback from three different professors on one project because it puts things into a different perspective. I feel like it's important to be able to create big, involved projects where you have artistic liberty to take them in so many different directions. I hope the students at the next event really take hold of this opportunity and push themselves to create the best costume that they can.
Lauren Peace compiles "Student Spotlight" for University News. Contact her at lmp1579@g.rit.edu with suggestions.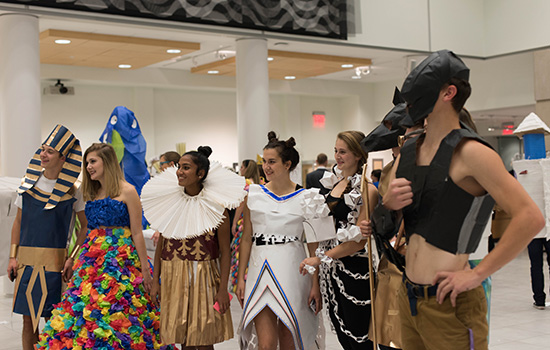 Catherine Rafferty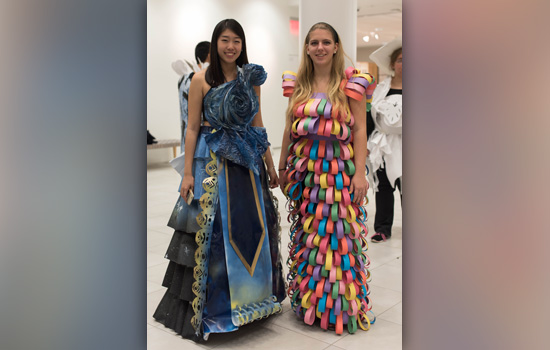 Catherine Rafferty
Topics