Student Government president's 2023 commencement address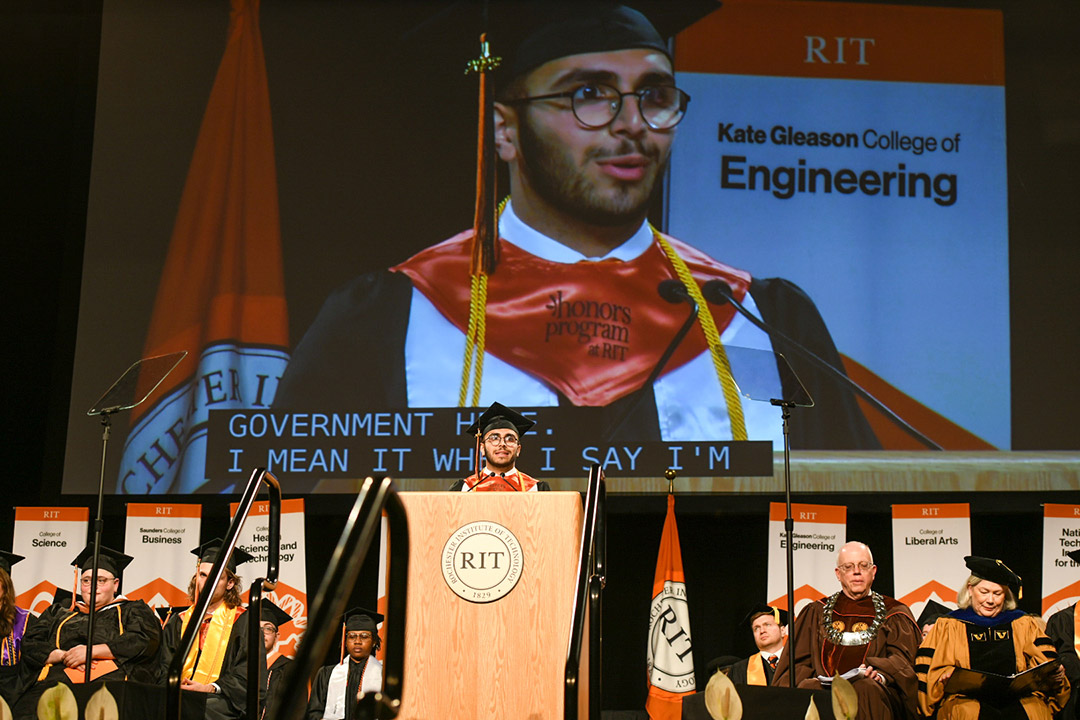 Student Government President Aditya Khanna addressed the crowd at the Gordon Field House during RIT's annual commencement ceremony on May 12. The full text of her speech is below:
Good morning! I am truly humbled and honored to be given the opportunity to speak at this year's Academic Convocation. Wow. Tigers, we made it. This class has seen it all, I mean we had an entire pandemic sandwiched into our college experience, and I promise that's the only time I'll bring that up today. Writing this speech was difficult, partly because in true college student fashion I procrastinated it, but also partly because to me graduating is bittersweet.
Being an RIT student means you get to experience college differently, whether you went on Co-op or your friends did, we all had to constantly adjust to new environments and make the most of it.
Being an RIT student means innovating both in and out of the classroom and combining your passions with your education to create a genuine impact. Being an RIT student means spending most of your college indoors because this city is so damn cold that we need tunnels to get to class. Being an RIT student means a lot of things, but as we can see here today, most importantly, being an RIT student means being part of a community of intellect, compassion, and unity.
I know everyone here had a different experience, but man did I love being a student here. I loved running through dorm tunnels playing sardines, bringing an entire Christmas tree into our common room and decorating it as a floor, every Ultimate Werewolf game that always got a little too personal, I loved messing around with virtual backgrounds when I couldn't pay attention to Zoom anymore, and boy did I love being your Student Government president this year.
I mean it when I say I'm overwhelmed with emotions about graduating and I think we're all in that boat. We've made so many memories, friendships, mistakes, and tuition payments, and now we just have to say goodbye and move along with our lives. Personally, I'm excited about this new chapter, and naturally a little nervous. But once upon a time, college was the new chapter of our life, the best of mine so far, and so our story isn't over yet, rather it's just getting started.
Whether you're moving on to pursue your education further, apply your skills in the workforce, or you're just not sure yet, be proud of who you are and how far you've come, we've all worked really hard to be here today, so celebrate your accomplishments. I want to thank my parents, sister, and extended family who have been so supportive of me and have inspired me to be the best version of myself. I also want to thank all the friends, mentors, and professors who have contributed to my experience here, you are what I will miss the most.
Tigers, Congratulations, be proud and hold your heads high as you embark on your next adventure, remembering that the skills and knowledge you have gained here will serve you well as you navigate the challenges and opportunities ahead. Go forth and make your mark on the world, knowing that you have the power to create positive change and leave a lasting legacy.
Tigers, Congratulations! Thank you!