Student initiative takes bite out of waste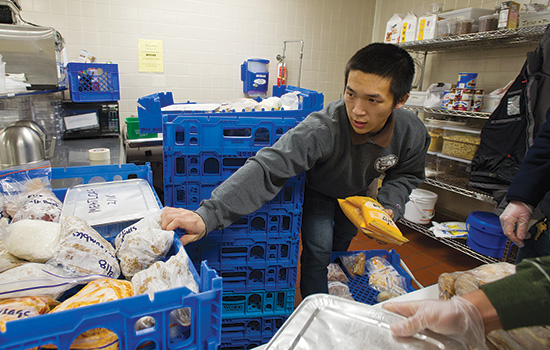 A. Sue Weisler
During years he worked in dining halls around RIT, Wai Hon Chan wondered to himself what happened with all the excess food at the end of the night.

"I have a love for food," says the fourth-year bioinformatics major, who was born in China's Macau region before moving to Shirley, N.Y., on Long Island.

Wasted food, however, leaves a very bad taste in Chan's mouth.

After beginning a co-op with Tom Trabold, associate professor in the Golisano Institute for Sustainability last September, he came across a "food rescue mission" known as the "Flash Food" project at Arizona State University. Soon afterward he learned of the national Food Recovery Network, launched by the University of Maryland.

Within a short period of time, Chan established Recover Rochester, spearheading an effort by a handful of students to divert surplus food from dining halls that would end up in a landfill, and delivering it instead to local soup kitchens.

To date, Chan and a small group of volunteers have recovered nearly 3,200 pounds of excess food from Grace Watson Dining Hall and elsewhere on campus, delivering food such as hamburgers, hot dogs and pasta to appreciative food cupboards and shelters in the Rochester area.

To ensure handling safety, the process by which volunteers recover and deliver food is meticulous, including freezing, weighing (and reweighing), and keeping a detailed logbook of food items.

Chan credits fellow RIT students Nicholas Neumann (second-year new media marketing and advertising photography, Honeoye Falls, N.Y.) and Thomas Godsey (fourth-year game design, Williamson, N.Y.) for supporting his efforts, beginning with the group's earliest information sessions.

He also says Enid Cardinal, senior sustainability advisor to the president, has served as his mentor, and that Kurt Ingerick, director of Facilities, Sustainability and Conservation for Auxiliary Services; Stacey Clements, Safety, Dining Services Training and compliance manager; and Scott Vadney, manager of Grace Watson, have been instrumental in supporting the project.

Off campus, Laura Sugarwala, a nutrition and resources specialist at Foodlink, has helped students establish proper food-handling and delivery procedures and make connections with soup kitchens.

Cardinal says Chan is the one who deserves credit for taking on such an ambitious enterprise.

"What has most impressed me about Wai Hon is his initiative and desire to make a difference," says Cardinal. "When he first walked into my office to talk about food waste within our dining operations, he wasn't telling me and expecting me to fix it. He wanted to know what he could do."

Meanwhile, he still has big goals, including having all of RIT's dining services get on board. To do so, however, he needs to build the student volunteer base on campus. 

Chan also wants to expand food-recovery programs to other campuses and has talked with the University of Rochester and elsewhere. Through fundraising, he's hopeful volunteers will no longer have to use their own gas money for deliveries and to possibly purchase a hybrid vehicle along with needed items like coolers, scales, and even a walk-in freezer.

Next school year he's looking into the feasibility of implementing a commercial food-recovery initiative, including restaurants and wholesalers.

"There are plenty of hungry people in our community and around the globe," Chan says. "The amount of food being wasted every day, however, is enough to eliminate hunger."