Student Researchers, Innovators and Entrepreneurs Share Their Work Aug. 12
Student Research and Innovation Symposium showcases undergraduate discovery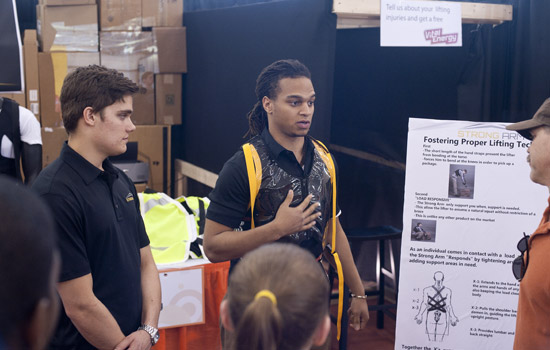 Luticha Doucette has been paralyzed and in a wheelchair since she was 2 years old. Doucette, a Rochester native and a bioinformatics major at Rochester Institute of Technology, and David Olney, a third-year chemical engineering student, have come up with a way to wirelessly guide a motorized wheelchair using a smartphone or mobile device.
"We've created a platform using motors," says Doucette. "The motors can be signaled from a smartphone or an iPad to move the joystick on a motorized wheelchair. This device would benefit a lot of people in wheelchairs and make it easier too for their caregivers."
The students are currently working on getting a provisional patent.
Also applying for a patent are Justin Hillery and Sean Petterson. These undergraduate students have invented Strong Arm—a vest that helps workers lift objects while reducing the risk of back injuries.
Doucette, Olney, Hillery and Petterson are just some of the more than 200 RIT undergraduate students—all researchers and innovators—that will present their work at RIT's annual Student Research and Innovation Symposium from 9:30 a.m. to 6:30 p.m. Aug. 12. The event is free and open to the public. Students will be presenting in the Center for Student Innovation and Louise M. Slaughter Hall on the RIT campus.
"This symposium is one of the largest and most distinguished events of its kind," says Jon Schull, interim director of the Center for Student Innovation. "For students from each of RIT's nine colleges, it celebrates the culmination of their research in a wide variety of areas. It's also an opportunity for people outside of RIT to witness this innovation ecosystem that's thriving here at RIT."
John Resig, a 2005 graduate of RIT's computer science program, will give the keynote address at 12:45 p.m. in Louise M. Slaughter Hall. Resig is the head of JavaScript development at Khan Academy and the author of Pro JavaScript Techniques. He's currently working on a second book, Secrets of the JavaScript Ninja. Resig is also the youngest inductee into RIT's Innovation Hall of Fame.
To learn more, go to www.rit.edu/innovationcenter/symposium.
##