Students address challenges in RIT Grand Challenges Scholars Program
Poster session details possible solutions to provide clean water around the globe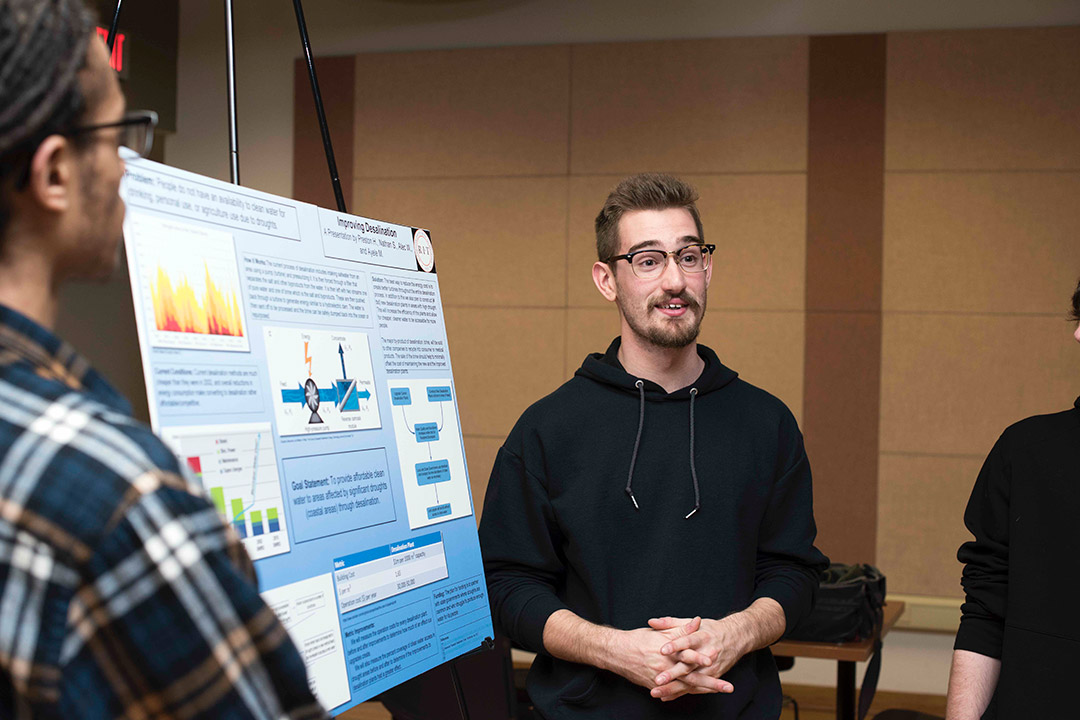 A. Sue Weisler
Ridding waterways of microplastics, delivering water to remote villages experiencing drought, and better ways to remove salt from water were just a few of the clean-water research projects recently presented by undergraduate students as part of Rochester Institute of Technology's Grand Challenge Scholars program.
Their work is part of a larger initiative to provide solutions to some of the biggest challenges facing society today, and water is one area where communities around the world contend with issues from droughts and lack of access to contamination and waste.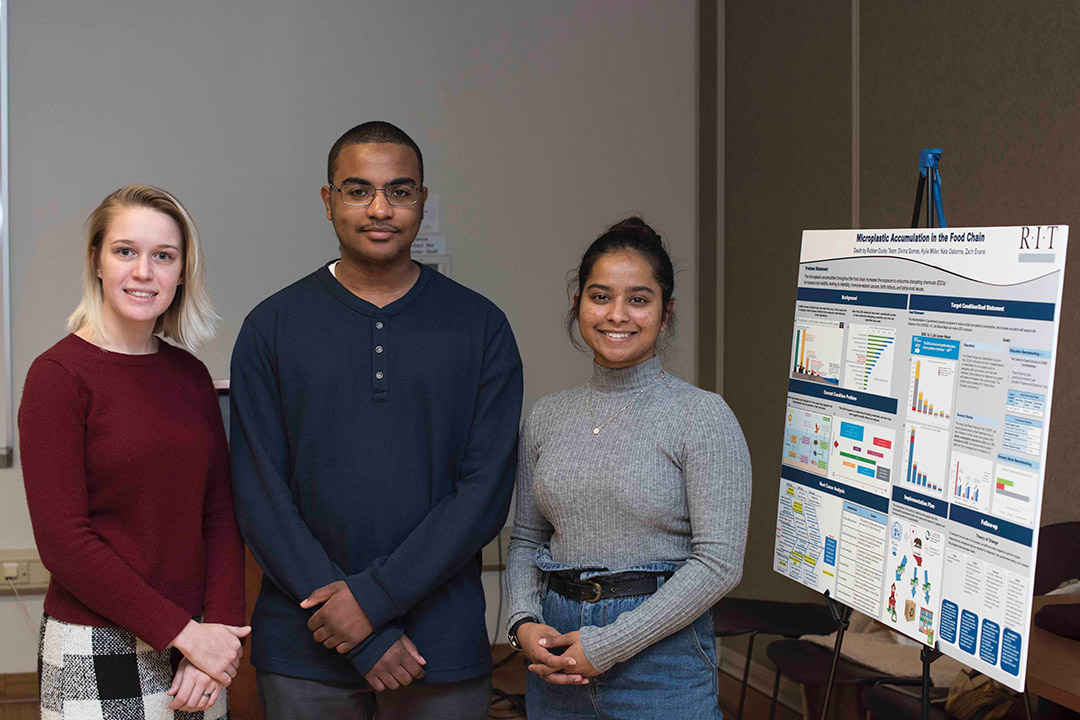 A. Sue Weisler
Preston Herrmann, a third-year philosophy major from Warsaw, N.Y., was on a team with a marketing and new media major and two mechanical engineers, attempting to help improve the desalination process for areas experiencing severe droughts. The team proposed constructing new desalination plants with better turbines to help filter salt from the water.
"It was nice to see what students from the other colleges were up to," Herrmann said. "I wouldn't have known about the process of desalination without the mechanical engineering students on my team. And I helped them think about the ethics. It's not just about the people involved, but the environment is also extremely important to me."
The 24 undergraduate students in this year's class came from RIT's Kate Gleason College of Engineering, the College of Liberal Arts and the College of Art and Design. The course is one of a variety in the General Education selections, incorporating ethics and writing-intensive components as well as project development and discovery aspects.
Sarah Brownell, senior lecturer in the engineering college, taught the course with Wade Robison, the Ezra A. Hale Professor in Applied Ethics in RIT's College of Liberal Arts. Students selected a world problem involving clean water and formed groups of four to five students to come up ways to solve it in a collaborative team, using students from different majors and years.
"They had to provide an explanation of how their idea is going to work and they have to quantify it," Robison said. He was impressed by the results. One group showed that an American household of three to four people can save 10 percent of the 300 gallons of water used each day by using aerators and high-efficiency washing machines and dishwashers.
Adam Maclean, a second-year industrial engineering major from Concord, Mass., explained that 12 percent of homes in the U.S. have water leaks of up to 90 gallons a day.
"And if everyone cut back 5 percent of their daily water use – that's four gallons a day – you could fill 70 percent of Lake Erie every year," Maclean said.
In 2017, RIT became part of the Grand Challenge Scholars Program, the national initiative to train future engineering and non-engineering students to play a role in solving 21st century challenges. Led by the National Academy of Engineering, the program details 14 challenges that if solved through collaborations between individuals in science, engineering and the liberal arts could positively impact complex societal issues such as improving urban infrastructure, making solar energy economical, securing cyberspace, access to clean water and engineering better medicines.
Trends in education today provide options for students to attain degrees that increase awareness of global challenges and provide experiences that reflect the complexity of problems that can be best solved by integrating cultural, social, political and human qualities with the technical options. RIT has been encouraging its students to collaborate among disciplines to generate innovative solutions to such problems.
Over the past two years, students from KGCOE and COLA participated in a gateway course to introduce program objectives and activities that varied from research and interdisciplinary coursework to global, service and entrepreneurial experiences.
As part of the Grand Challenge Scholars Program, RIT can take advantage of several established and successful components of its educational curriculum, particularly its co-operative education program and its international campuses. Students who participate also work with mentors and academic advisers to ensure that their learning experience integrates technical skills with critical thinking, communication and awareness of, and respect for, diversity.
Students' ideas extended beyond the United States to incorporate models from around the world. Divina Gomes, a first-year biomedical engineering student from Rochester, N.Y., stated that schools in Italy have integrated information about sustainable water usage into classes as a normal part of the curriculum. She said young people are aware of the issues but need broader understanding about their role in solving the situation.
"Kids hear of sustainability initiatives and these younger generations need information to understand them more. Lack of information is the biggest problem and we need to push governments to support more educational initiatives," she said.
Their work entailed understanding how microplastics are accumulated in the food chain and exposure to materials in the plastics are disrupting the endocrine systems of humans and wildlife, leading to infertility, cancers, birth defects and behavioral issues. Gomes worked on this project with COLA students Nate Osborne, from Cicero, N.Y., and Zach Evans, from Canton, Mass., and with fifth-year industrial engineering major Kylie Miller, from Grasonville, Md. The mix of years and programs was an asset for the teams.
"There's something to be said for engineering students working differently," said Alex Trostle, a second-year electrical engineering major from Sweden, N.Y. "I've never worked with other students who weren't engineers."
Trostle showed a poster of his team's goal to help bring clean water via tanker truck to villages in southern Bolivia. Locals rely on water from Lake Titicaca, but the region is experiencing its worst drought in 25 years, so the team came up with a way tanker trucks could be notified via an app to deliver water to remote areas. The main stakeholder would be Bolivian President Evo Morales, who was well-received by the people of Bolivia. But the team's assignment was complicated in November when Morales was forced to resign by the military. Damien D'Arcy, a first-year economics and political science double major from Pittsford, N.Y., stepped up to explain to the team how the Bolivian government works.
"We realized how complex these problems are," D'Arcy said. "And having people on the team with all different perspectives is always helpful."
Several students said they'd consider taking another Grand Challenge class in the future. Trostle even thought about traveling to Bolivia on a missionary trip with his church to help build houses, distribute water and bring bread baking supplies to the people there, but he'll wait until the region is more politically stable to visit.
Includes reporting by Senior Communication Specialist Greg Livadas.