Students find varied employment opportunities at RIT career fair
RIT's deep tradition of co-op education brings students and employers together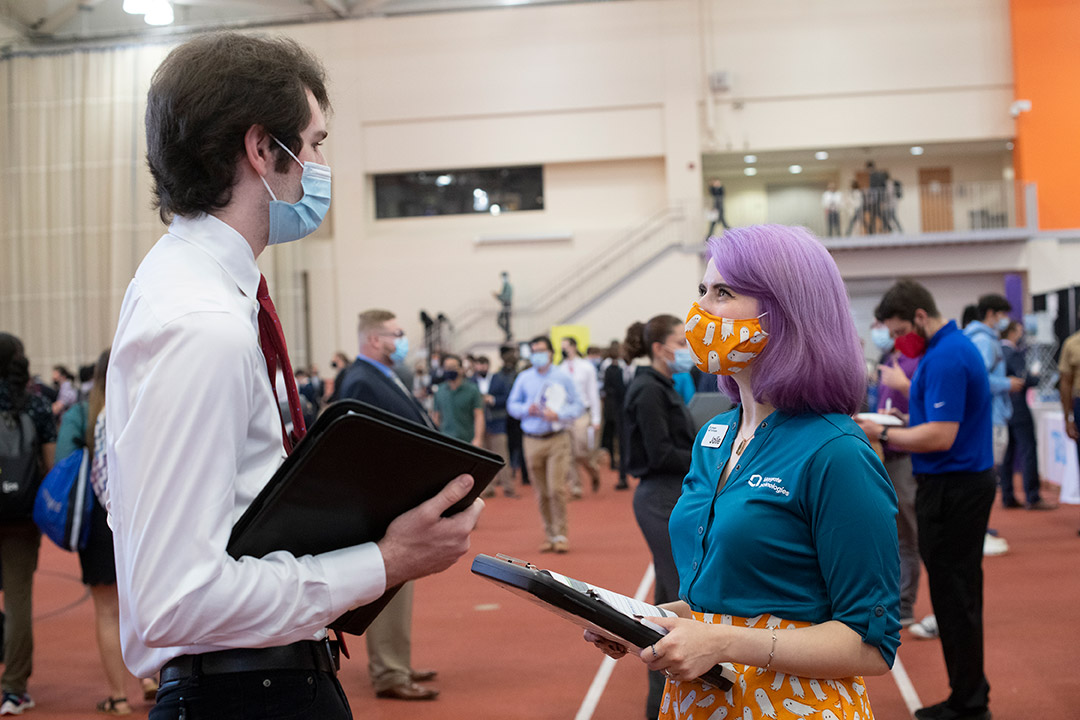 John Kiernan never thought his path to a mechanical engineering degree would lead him to helping design a butterfly-topped perfume bottle for country superstar Dolly Parton, but that's the opportunity that presented itself at a co-op he recently had at RJTB Group in Connecticut.
"It was called 'Scent from Above,' and it sold out in 20 minutes on the Home Shopping Network," said Kiernan, a third-year Rochester Institute of Technology student from Mt. Kisco, N.Y.
Kiernan chose to attend RIT because of its successful co-op program, one of the oldest in the nation, beginning in 1912. He was seeking his next co-op experience Wednesday while attending the university-wide career fair in the Gordon Field House, where representatives from 108 companies and the military met with students hoping to land a co-op next year, or a full-time position.
The fair was held virtually last year due to the pandemic. This year, the number of companies was limited to allow more spacing and due to travel bans still observed by many companies.
More than 1,200 students, most wearing business attire and carrying résumés, attended the fair in the first hour.
"We are so excited to be back," said Maria Richart, director of RIT's Career Services and Cooperative Education. "And the employers also are thrilled to return to RIT because they know the caliber of students we have here."
Although the number of recruiters was smaller this year, it still was a bit overwhelming for first-time attendees like Rose Crisman, a third-year advertising and public relations major from Fremont, Calif.
Crisman printed out copies of her résumé and practiced her elevator pitch for the recruiters.
She also came prepared with help from her advisors, who told her what to expect and gave her some tips: "Practice answering questions, bring résumés, and make sure to have a confident response to questions."
Jeff Ryan, a software engineer for SAAB Technologies in Syracuse, N.Y., which as numerous RIT graduates working there, was one of the many RIT alumni who returned to campus to help recruit for their company. He graduated in 2020 with a degree in computer engineering technology.
Ryan recalls his time as a student, getting his first co-op from the RIT career fair.
"I mostly wanted the co-op because I needed it to graduate," he said. "At the end of my second co-op, it was a relief because they offered me a full-time position."
Richart said more 5,000 RIT students typically complete a co-op each year, and 95 percent of employers say they would offer a graduating RIT student a full-time position if one is available after successfully completing their co-ops.
The real-world work experience that comes from co-ops also lets students know what career path may be the best fit for them. Brandon Chu, a fourth-year software engineering major from Queens, N.Y., said he learned from each of his three previous co-ops and views them as stepping stones to his ultimate job after graduation.
"They definitely helped me decide what I want to do for my career," Chu said.
Madison Day, a second-year mechanical engineering technology major from Irondequoit, N.Y., was eyeing global companies such as General Motors and General Electric for co-op opportunities.
"My main interest is to find a co-op in another country," Day said. "I'd love to work in Japan or Europe or spend some time working in New York City. A co-op allows you to do some traveling while making some money."
Micah Campbell, a 2021 physics graduate, is now pursuing a master's degree in data science. He planned to visit about a dozen representatives from various companies and was keeping his options open for employment possibilities.
"I have no preferences where I want to work," he said. "I'll go anywhere."
And there were plenty of local companies represented, as well, at the fair.
A steady line soon formed in front of the table manned by Nick Ragone, lead recruiter for Rochester-based Eastman Kodak Co., who said they were looking for chemists and chemical, mechanical, and electrical engineers.
"We've hired a lot of RIT students and have a lot of former Kodak employees as RIT faculty now," Ragone said. "RIT is one of our major stops when it comes to hiring and recruitment. We get a lot of great hires from RIT."
Another RIT alumna, Cassandra Killion '07 (chemical engineering), was recruiting for Barry-Wehmiller Design Group, where she works in Philadelphia as a process engineer.
Although this was her first time at RIT as a recruiter, the company has been recruiting RIT students for many years. Killion even landed her co-op with the company from the career fair when she was a student.
"I know the quality of the students coming from RIT is the best," she said. "I know the students will be able to do anything out there because that's what the RIT program requires."
Because additional employers were unable to attend the fair due to the cap and travel restrictions, nearly 70 companies plan to participate in a virtual career fair on Oct. 14 via RIT Career Connect. Recruiters will be able to chat one-on-one virtually with students on a first-come basis.
More information, including tips for students and the list of participating employers, can be found on the Career Fair webpage.
Topics