Students make finals—and history—as part of autonomous race at Indianapolis Speedway
Inaugural design competition features international university teams at the Autonomous Innovation Summit on Oct. 23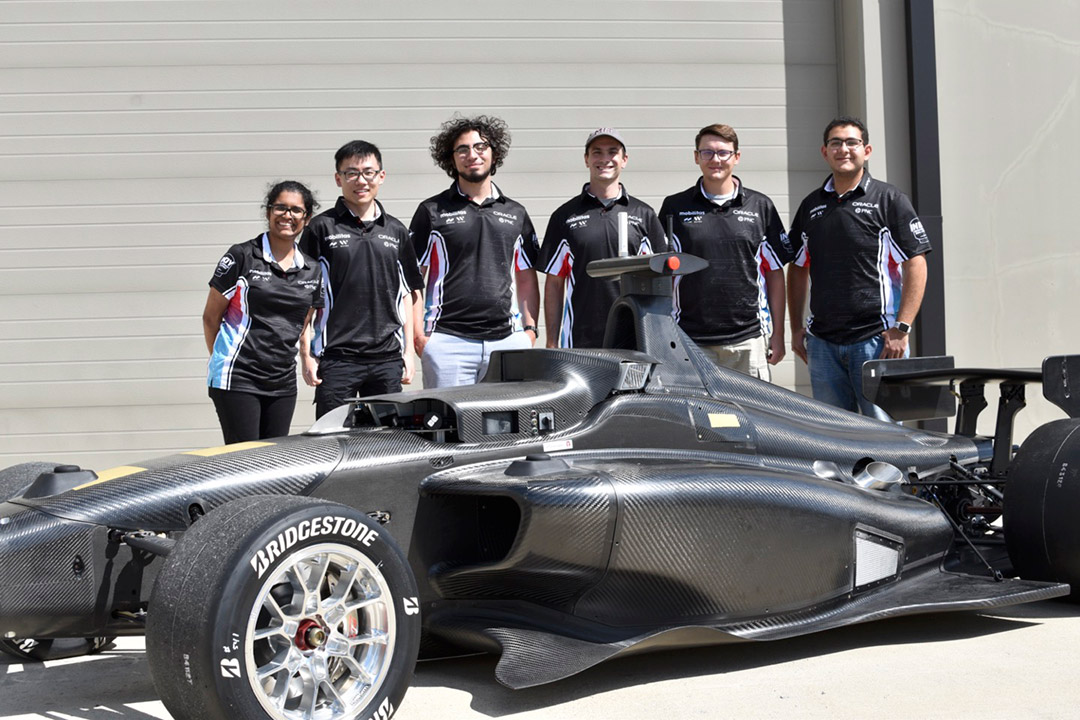 Many only dream of racing the historic oval at Indianapolis Motor Speedway. Several RIT engineering and computing students will make that dream come true.
Members of RIT's Autonomous Vehicle team will join partner universities as finalists in the inaugural Indy Autonomous Challenge taking place on Oct. 23 in Indianapolis. Over 20 laps on the legendary racetrack, with the newest in autonomous technology installed, one team has a chance to take home the $1.5 million prize.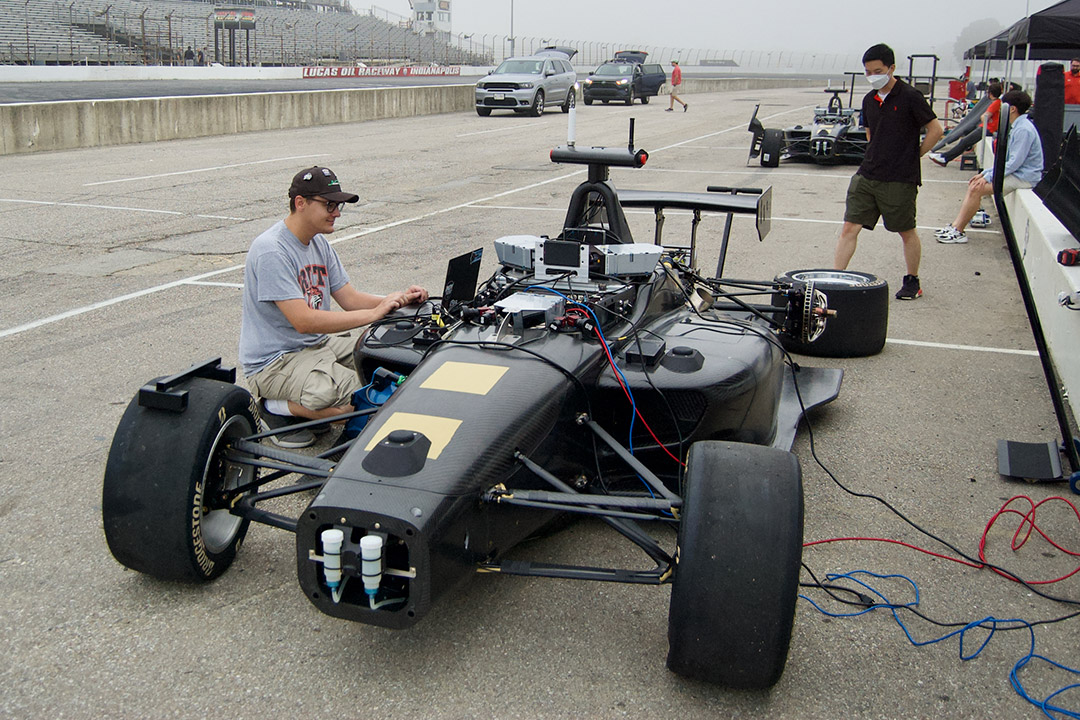 RIT, part of the MIT-PITT-RW team—made up of students from Massachusetts Institute of Technology, the University of Pittsburgh, and the University of Waterloo (Canada)—will participate in the international competition to test their technology know-how and to help promote autonomous driving by using the motorsports world as a proving ground for innovation. 
Since the start of the semester, student-engineers like Andrew Keats have traveled to Indianapolis to work with teammates. His independent study class is taking experiential learning to a different and very competitive level.
"Our goals are to get the car safely around the track. From there, we will build on our algorithm to make the car faster and effective at passing other teams on the track. Most of our work is going to come down to race strategy and training the car how to race," said Keats, project manager and fifth-year computer engineering student in RIT's Kate Gleason College of Engineering.
Nearly 30 collegiate teams from around the world competed in the phased competition that began in spring 2020. Teams detailed system concepts to program autonomous components and sensors and, over the past several months, built prototypes to install and test the technology in the racecars.
Similar to today's popular Indy competitions, representatives from countries such as Germany, Italy, and Switzerland will compete. This time, it will be students from universities in each of the countries as well as representatives from U.S. universities.
The same model racecar—a Dallara AV-21, the sleek, aerodynamic model similar to the vehicles used in the Indy Light series races—is provided to each of the teams. Over the course of the year, teams had to demonstrate understanding of the development process, trends in autonomous technologies and how they could incorporate high-tech sensors, tracking and programmable driver-assistance systems into the car.
The competition consists of five rounds that featured team action plans, demonstrations of prior team knowledge, and a simulation race using an Ansys simulator in February of 2020. Combining these three preliminary rounds, teams showed both technical competence—and determination—advanced to the next round for further testing and onsite performance activities in preparation for the final round in October when a winner will take the checkered flag.
With only six weeks until the competition finals, Keats and the RIT team are refining the system algorithm and checking several quality control issues. In early practice runs, tests indicated their racecar reached a top speed of 62 miles an hour, and had a lap average of 55.23 mph, based off the timing system, he said.
"RIT is bringing some of the race and technical side of things to the project, and MIT and PITT are into the robotics, autonomy and some of the software side," Keats explained.
Teammate Charlie King, a fifth-year management information systems student in Saunders College of Business and an amateur racecar driver from Wellesley, Mass., brings both race experience and information system knowledge. Keats will oversee race and track operations from car prep and warm ups to getting systems up and running. Van Pham, from Ho Chi Minh City, Vietnam, and J.P. Ramassini, from Pittsburgh, Pa., both fourth-year computer science majors in the Golisano College of Information and Computing Science, are managing the simulator infrastructure connected to the racecar.
A small team, all members are enjoying the chance to participate in this new venture and taking steps to develop technology that might someday fully replace traditional combustion engines.
 "I have always been into racing and more specifically IndyCar. I was exposed to the Indy 500 as a kid from my parents who got engaged at a Road America race event. I attended my first Indy 500 in 2008," said Keats, who has attended several more Indy races since then. The resident of Waterford, Mich., volunteered at the Detroit Grand Prix and worked on crews at Watkins Glen International, the New York speedway. "When I saw the Indy Autonomous Challenge, I knew I had to be a part of it."
The 10 finalists consist of consolidated teams:
AI Racing Tech – University of Hawai'i, University of California San Diego
Autonomous Tiger Racing – Auburn University
Black & Gold Autonomous Racing – Purdue University, United States Military Academy at West Point
Cavalier Autonomous Racing – University of Virginia
EuroRacing – University of Modena and Reggio Emilia (Italy), University of Pisa (Italy), ETH Zürich (Switzerland), Polish Academy of Sciences (Poland)
IUPUI-IITKGP-USB – Indiana University-Purdue University Indianapolis, Indian Institute of Technology Kharagpur (India), Universidad de San Buenaventura (Colombia)
KAIST – Korea Advanced Institute of Science and Technology (South Korea)
MIT-PITT-RW – Massachusetts Institute of Technology, University of Pittsburgh, Rochester Institute of Technology, University of Waterloo (Canada)
PoliMOVE – Politecnico di Milano (Italy), University of Alabama
TUM Autonomous Motorsport – Technische Universität München (Germany).
Topics