Students raise $12,000 for local charities
Student teams coordinate fundraisers with eight Rochester non-profit agencies as part of class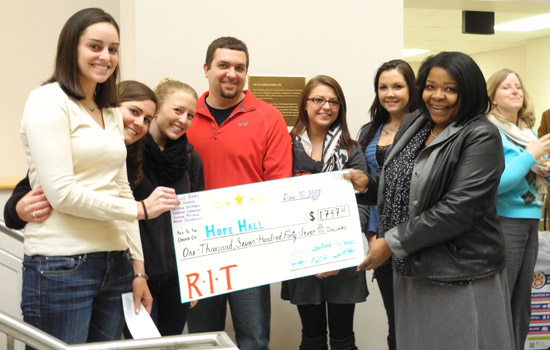 Holiday gifts came early for several local nonprofit agencies.
RIT engineering students gave more than $12,000 to eight Rochester charities this past week, the result of a course in project management with a practical, service-learning component.
A reception for the agency representatives was hosted by the class at RIT's Kate Gleason College of Engineering on Dec. 10. Monetary gifts were given to Camp Good Days and Special Times, the American Cancer Society, the Pirate Fund, Friends of Borgne (Haiti), the Make A Wish Foundation, Hope Hall, the School of the Holy Childhood and the Children's Miracle Network.
"The students learned firsthand about the details necessary to coordinate major fundraising projects," said Shaunta Collier-Santos, director of development for Hope Hall. The school, located on Buffalo Road in Rochester, received $1,747, and the students received compliments from its staff. "It was refreshing working with the students. They were full of energy and ideas."
Student-teams worked throughout the semester with agency representatives to coordinate fundraising events such as an a cappella concert, merengue and bachata dance lessons and an embroidery event. Each team had to develop a multi-faceted project plan that included initial proposal development, risk assessments, detailed timelines and performance measurements toward implementation and evaluations.
"For many it was their first experience coordinating a project for a not-for-profit agency," said Robin Borkholder, lecturer in the industrial and systems engineering department in RIT's Kate Gleason College of Engineering. "This class was organized like a real project organization with students overseeing the project management methodology and making the decisions as to which projects should proceed to the next phase. This was a new paradigm for experiential learning in this type of class."
Related stories:
The Sound of Music: Local a cappella ensembles headline fundraiser for Camp Good Days