Taking care of our own: Supporting RIT students in isolation and quarantine
From daily health checks to academic support and choice dining, RIT has plan in place to assist in cases of COVID-19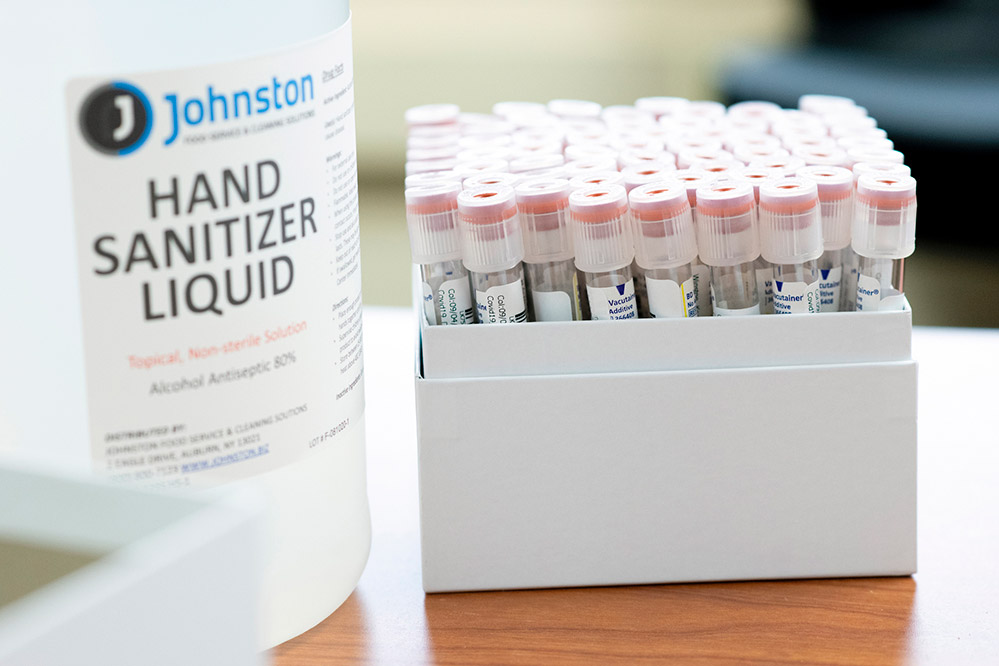 A. Sue Weisler
First-year RIT student Dulguun Enkhbayar has been in Rochester since early August, but only recently was able to set foot on campus. Instead, Enkhbayar was a "registered guest" at two local hotels and started his college coursework completely online due to an unexpected COVID-19 diagnosis.  
Enkhbayar, from Fairfax, Va., checked into the Strathallan in August, beginning a mandatory two-week quarantine due to the New York state travel advisory. During his first few days at the hotel, the electrical engineering student began experiencing symptoms aligned with COVID-19 – loss of smell and taste, fever, headache, and congestion. He contacted RIT's Student Health Center and was tested. Within 48 hours, he was diagnosed positive with the virus.
"I have no idea where or when I was exposed to COVID," he said. "I wasn't as afraid as I probably should have been since my headache came and went and my fever never rose higher than 101.6 degrees. I just tried to focus on what I needed to do to get through it."
With direct assistance from the Student Health Center and RIT Residence Life, Enkhbayar relocated to RIT property at 175 Jefferson Road, the former Radisson hotel. He is thankful for the timing of his positive diagnosis, guaranteeing that he was not in contact with anyone outside of his immediate family.
Dr. Lindsay Phillips, RIT Student Health Center medical director, is pleased with the plan the university has established to diagnose and care for students who must move into quarantine or isolation.
"Right now, our testing supplies and capacities are very good," she said. "If we believe that a student may have COVID, we will test them. We want to be sure we know when the disease actually starts circulating. If there is a chance that a student may have COVID, we ask them to move into isolation since the safety protocols require access to a private bedroom and a bathroom."
Off-campus students who must be quarantined or isolated can remain in their residences, unless they are unable to follow safety protocols.
RIT has a multi-faceted approach to disease surveillance and containment on campus, including randomized testing to monitor the spread of COVID-19 among students and to facilitate a quick response to potential outbreaks on cam​pus. Surveillance testing began the week of Aug. 24, using test kits provided by Broad Institute of MIT and Harvard, a leading genomics laboratory that enables testing at more than 100 public and private colleges and universities, as well as hospitals, nursing homes, and homeless shelters.
In addition to individual testing, RIT is testing wastewater, which monitors waste from on-campus locations and is able to detect COVID RNA fragments for a particular area. The university is also testing individuals when they have symptoms suggestive of COVID-19.
Phillips also emphasized the importance of completing the Daily Health Screen. If a student exhibits symptoms and gets a red pass from the screening indicating that they should not circulate on campus, the students need to reach out to the Student Health Center for assessment before resuming activities on campus.
Once moved into isolation or quarantine, students take their temperature daily, and are in contact with the contact tracing team of the Student Health Center. For those at greater risk for severe illness, heart rate and oxygen levels are also monitored. Telehealth visits for physical or mental health can be scheduled, and a support group on Zoom is available for students to connect with others in isolation or quarantine. If students require in-person visits to the Student Health Center or more complex treatment, RIT Ambulance is available to transport them at no additional cost.
Recognizing the importance of a healthy diet, RIT Dining Services has established an online portal over which students can place orders for both hot meals and general groceries, such as snacks and breakfast items. The MyLife Portal is operational 24-hours a day, 7 days a week, with set delivery times. Students have the option of using meals plans, dining dollars, or Tiger Bucks for meal services while in isolation or quarantine. 
"Our role is to help support our students and to have a contact person available at all times," said Ericka Smith-Schubart, associate director for RIT's Center for Residence Life. "We assist the students in requesting transportation to their quarantine or isolation location, understanding how to use the dining processes, retrieving items from their residences, and reassuring them that someone is available to contact for assistance."
Smith-Schubart says the processes are working and they are continuing to communicate with students on how best to understand and use those processes for support. 
"Feedback from our students is invaluable as we strive to improve how we support them," she said.
One result of that feedback, for example, is that students in isolation and quarantine can also order food to be delivered from outside vendors at their own expense, if they wish.
Kara Maki, an associate professor in RIT's School of Mathematical Sciences and one of Enkhbayar's instructors, says maintaining academic continuity for students who aren't well or even for those who are in split classes is a team effort.
"I use Zoom and, honestly, it took a few class periods to work out the kinks," she said. "I always try to repeat questions and comments to ensure that the students on Zoom can hear and participate in the class discussion. The other students present in class help me monitor the chat and let me know if my writing is unclear. I suspect it isn't the same, but at least students who can't physically be present in class, like Dulguun, can keep up with the work."
"We keep a very close eye on our students and we engage several areas of the university, such as Residence Life, Campus Life, and Academic Affairs, throughout this process," added Phillips. "We are prepared to serve more students and the systems that we have in place will allow us to do that in the coming weeks and months. Our goal is that our students in isolation and quarantine are as comfortable as possible and can remain active members of the university community under these circumstances."
Enkhbayar said that RIT has supported him when he needed it most.

"The battery for my thermometer ran out, and since I couldn't go out, RIT provided me with a new one," he added. "Starting classes in isolation has been alright, as some classes were all online. My professors were very understanding. The university informed them of my situation and they set up Zoom sessions in tandem with physical classes for me and other people in similar situations."

Enkhbayar began circulating on campus Aug. 28, once the Monroe County Health Department gave him the "all clear." He was happy to finally meet his roommate, decorate his side of their dorm room, attend in-person classes, and socialize with others at a safe distance. His taste has come back, but he is still waiting for one important sense to return.
"I'm feeling great now – the same as I did before I got sick, with one exception. I still can't smell anything and everyone knows that taste and smell are connected. I hope it returns soon. I'd like to be able to enjoy dessert."