Toilet seat that detects congestive heart failure wins Tiger Tank
Competition invites students to think 'outside of the box' and develop products that change the way people live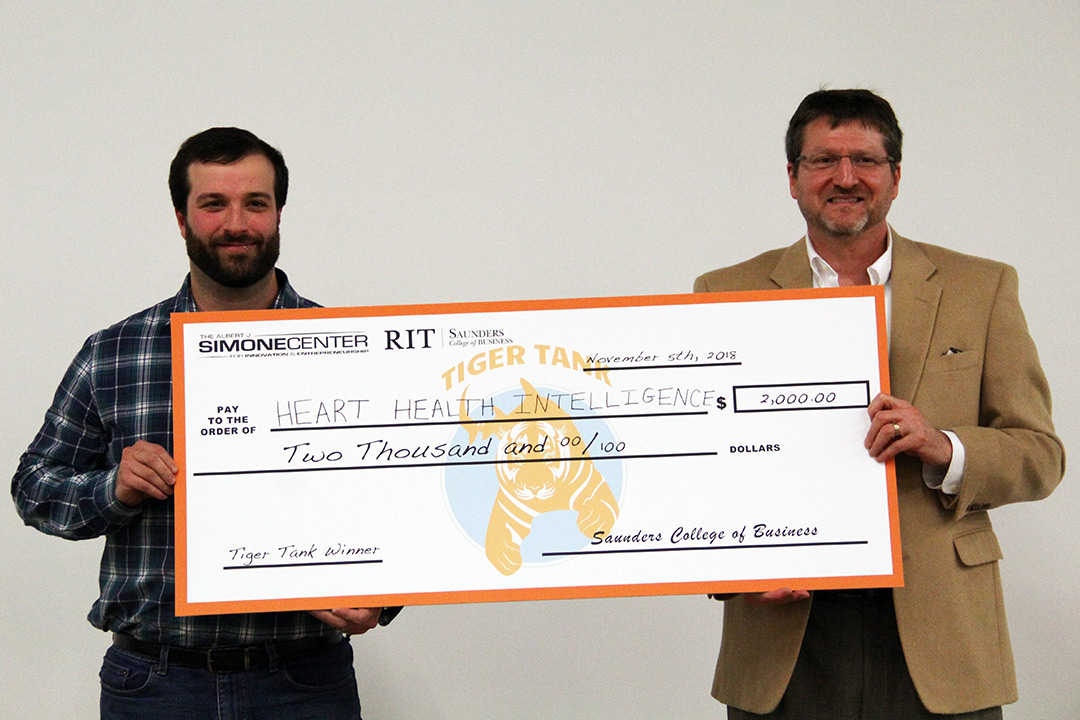 Nicholas Conn always knew a career as an electrical engineer was in his future. But he never could have predicted that his future would also involve toilet seats.
On Nov. 5, Conn, a postdoctoral fellow at Rochester Institute of Technology, took first place in the semi-annual Tiger Tank entrepreneurship competition with Heart Health Intelligence, his company that aims to lower the hospital readmission rates of patients with congestive heart failure through a toilet-seat based cardiovascular monitoring system.
Sponsored by RIT's Saunders College of Business and hosted by RIT's Simone Center for Innovation and Entrepreneurship, Tiger Tank gives students the opportunity to pitch a business idea to a panel of judges with a chance to win cash prizes. Teams competed to win $4,750 in cash prizes as well as scholarships for graduate studies at RIT's Saunders College of Business.
Conn's toilet seats, which would be purchased from Heart Health Intelligence by hospitals and issued to heart failure patients after discharge, are equipped to measure the electrical and mechanical activity of the heart. They can monitor heart rate, blood pressure, blood volume, blood oxygenation levels, the patient's weight and stroke volume, which is the amount of blood pumped out of the heart at every beat. Algorithms designed by Conn analyze the data, and with further development, will alert advanced practice providers of a deteriorating condition. A report will be passed along to cardiologists who will then determine if intervention is necessary.
"Typically, within 30 days of hospital discharge, 25 percent of patients with congestive heart failure are readmitted," said Conn. "After 90 days of hospital discharge, 45 percent of patients are readmitted. And the Centers for Medicare and Medicaid Services has started penalizing hospitals for readmitting patients for heart failure."
Conn, the company's chief technology officer, further explains that using the national average for readmission rates, the penalty alone for readmitting 150 patients is approximately $500,000 annually. The total cost of providing 150 patients with their own monitored toilet seats from HHI is $200,000. With that investment, he says, hospital systems will save more than double their initial investment within one year.
According to Conn, who earned three degrees from RIT—a bachelor's degree and a master's degree in electrical engineering in 2011 and 2013, respectively, and a doctoral degree in microsystems engineering in 2016—the system will pick up deteriorating conditions before the patients even realize they are symptomatic. And with the rapid data analysis, interventions can be as simple as a drug change or short office visit, instead of an admission to the hospital.
HHI, which joined RIT's Venture Creations business incubator earlier this year, is now focused on moving the product forward. The team is heavily involved in writing grants for additional funding and networking, and human-subject testing and pre-clinical studies are well underway. Conn and his team are hoping that the seats will eventually be rolled out across the country for the nearly 1 million new patients diagnosed with heart failure every year.
The Tiger Tank competitors were required to present to the judges the problem the venture or business seeks to solve or gap in the marketplace it seeks to fill; a description of the target market; what value the venture would add to lives; and potential challenges to delivering the product or service. Proposals were evaluated based upon their uniqueness, feasibility and the ability to impact people.
The four other teams that competed in this year's Tiger Tank competition were:
Blueprint: An app that helps special education students learn new skills by providing a resource that teachers can use to easily and effectively develop prescribed instructional content.
 Descent Technology: An app that redefines the way people snowboard featuring GPS tracking, statistics about ski runs and increased connectivity among skiers on the slopes. An additional hardware application, adding extra features like trick recognition and 3D visualization, attaches to the top of the snowboard and provides users with data not available from smartphone sensors.
SynCelf Technologies EMGo: The EMGo console is designed for persons with ALS or quadriplegia to enable full control of any standard electric wheelchair using the neuronal signals detected in the muscles. The system is compatible with almost any wheelchair and costs less than $300 to build.
Zephair: A redesign of the traditional asthma inhaler, Zephair delivers a new inhaler that will encourage more people to carry their essential medication easily anywhere.