February 12, 2021
by Luke Auburn
TransDigm Group funds new scholarships to help underrepresented students at RIT
New gift establishes the Doug Peacock Scholarship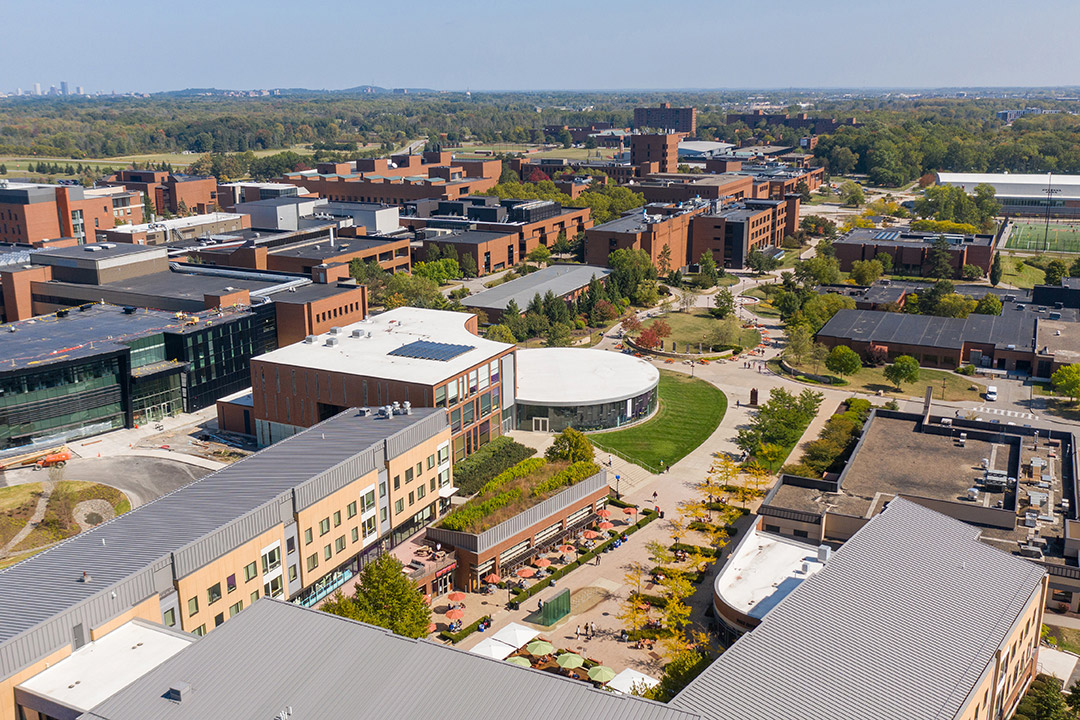 Rochester Institute of Technology is establishing a new scholarship program to help underrepresented students thanks to a pledge from TransDigm Group Inc.
The Doug Peacock Scholarship will provide 75 awards in total for three cohort groups of five first-year students selected from the Kate Gleason College of Engineering, College of Engineering Technology, and Saunders College of Business. Women and students from underrepresented groups that demonstrate financial need are eligible for the partial scholarships, which are renewable for up to five years of the recipients' undergraduate education. The fund will award five new recipients each year until the fund has been expended.
The fund is named after the founding CEO and Chairman of the Board of TransDigm, a global producer, designer, and supplier of highly engineered aerospace components, systems, and subsystems for use on nearly all commercial and military aircraft in service today. TransDigm President and CEO Kevin Stein was previously highly engaged with RIT in both research and the Office of Career Services and Co-op and served on RIT's President's Roundtable from 2012-2015.
"RIT and TransDigm are aligned in our commitment to developing and promoting a talented and diverse workforce for the future," stated Stein. "Assisting students who might not otherwise have the means to continue developing their skillsets or pursue postsecondary educational opportunities is an important initiative for TransDigm and led to the creation of the Doug Peacock Scholarship program. We are pleased to be able to contribute and further RIT's initiative."
The scholarships can be used to fund expenses such as tuition, housing, food, books, supplies, and other needs that if not fulfilled, may adversely impact the scholar's ability to complete their undergraduate degree. RIT's Division of Diversity and Inclusion will serve as the fund administrator with input from the three colleges with students eligible to receive the award. The inaugural five recipients were selected in late January.
"We are honored to have been chosen by TransDigm to receive this gift," said Keith Jenkins, RIT's vice president and associate provost for diversity and inclusion. "Their passion for making a difference in the lives of underrepresented students is tremendous. They recognized a gap in representation within their field and have taken a very intentional, serious step toward addressing it."
Phil Castleberry, vice president for University Advancement, said that "These scholarships will make a remarkable impact on the lives of business, engineering, and engineering technology students, providing crucial support to help see them through to the completion of their undergraduate studies. We are grateful to be able to honor the memory of the late Doug Peacock through this fund and offer our deepest thanks to President and CEO Kevin Stein and everyone at TransDigm Group."
The gift from TransDigm is part of Transforming RIT: The Campaign for Greatness, which is RIT's $1 billion fundraising effort, the largest in university history. This blended campaign seeks support from a variety of investors, including alumni and friends, government and corporate partners, and research foundations and agencies. The campaign has raised $754 million to date.