Tributes to Roger Remington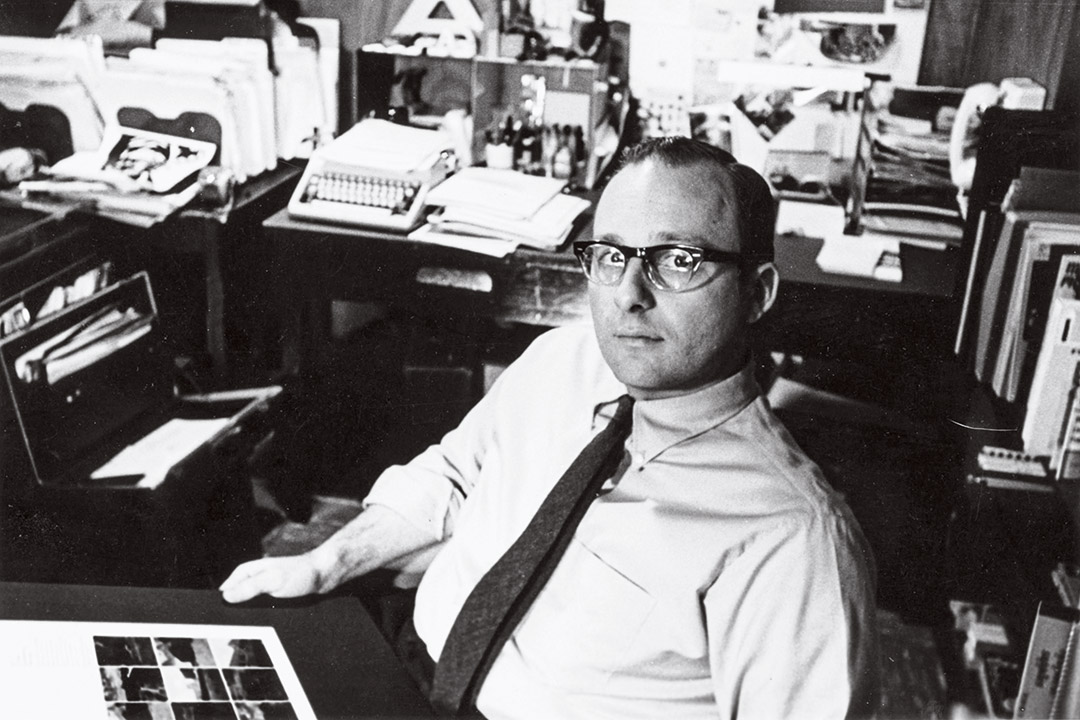 We asked readers of RIT University Magazine to send us stories about R. Roger Remington's impact on them. Here is what they said:
Barbara Brecher '74:
I met Roger in 1972 as a graduate student (MFA) in the Communication Design program. During the two-year program, Roger taught me the importance and power of graphic design.
For the past 40-plus years, I have been in the graphic design field—the majority of that time I owned a studio in Old Town Alexandria, Va. During my career I have worked with a large variety of nonprofit organizations, museums and associations. I believe this type of work was a direct result of being involved with Roger and the Urbanarium. (If you've never heard of the Urbanarium, ask Roger.)
With Roger's support, I developed a program called the Public Communication Service Program as my graduate thesis. It involved teaching staff of non-profit organizations how to work with designers, printers, photographers, and writers to get their message out to the public. After 10 weeks of seminars, a staff member was matched with a design and a photography student to work on a specific piece of printed communication. At the end of the program, the non-profit agency had a professionally designed and printed piece and the students had a printed piece for their portfolios. (In 1974, a printed piece was a big deal in a student's portfolio.)
After graduating I was hired to make the program a reality as an Urbanarium program. I did this for two years and it had a major impact on my design career.
The Urbanarium and Roger, however, had a larger impact on my life. In 1974, I met my future husband: Michael Geissinger '64 BFA photo, '76 MST taught photojournalism at RIT and was on the Urbanarium's board of directors. His students took part in the Public Communication Service Program. We just celebrated our 40th anniversary and Roger was at our wedding in 1979.
After leaving RIT in 1986, we moved to Alexandria, Va., where Mike freelanced for The New York Times, Los Angeles Times, and other major newspapers and magazines. I owned a design studio and my clients included National Geographic, American Red Cross, National Park Service, and many more.
We now live on the Northern Neck of Virginia, where Mike is cataloging his 60 years of work, which will be donated to the Dolph Briscoe Center for American History at the University of Texas Austin. I am the director of the Steamboat Era Museum in Irvington, Virginia, where—after raising almost $400,000—I am in the final phases of the museum's complete redesign, including the installation of a restored steamboat pilothouse and the publication of a book about the era.
It's been a great adventure  for both of us, but for me, it all began in a studio at RIT with a professor introducing himself as Roger Remington!
Gene DePrez BFA '62, MFA '68:
I have known Roger Remington as a friend and colleague for over 40 years. I worked with him most closely in the '70s and early '80s, when he was chairing the graphic design program and I was director of University Communications at RIT. President Paul Miller brought us together to develop the Urbanarium as a community development partnership involving RIT, area colleges, WXXI, other institutions, businesses and foundations providing opportunities for students and faculty to work with the community on a wide variety of important issues.
Roger served as the visionary program leader, assembling interdisciplinary teams of faculty, students, and community leaders from across the Greater Rochester region. The legacy of many of those projects is evidenced today, especially in the renaissance of downtown Rochester, its neighborhoods, and surrounding towns.
During this period, Roger and I collaborated closely on the redesign of RIT's graphic identity system and graphic mark, which resulted in a strong, unified look across all of the colleges and the university's branding, marketing materials, publications, signage and other communication—much of which is still in adaptive use today almost 40 years later. Also evident is the legacy work of many of his students, including the identity marks still in use by the City of Rochester and County of Monroe.
More recently, as chair of the national business advisory committee to the School of Design, I again worked closely with Roger, the committee and other leaders as Roger led the initiative creating the Vignelli Center for Design Studies, which would not have been realized without Roger's diligence, vision, and persuasive powers. 
My friend, Roger Remington—a most distinguished educator and community builder.
Darryl Degelman '73 MFA:
As a graduate design student under Roger Remington in 1972-73, I enjoyed the family environment that he helped create with all of the students. In addition to the challenging assignments, we shared personal stories that were documented on a large chart. We repeated experiences about gorillas and unusual sculptures made from items purchased at a drug store. It was fun and informative. Thanks, Roger! You made your mark on me and many others!
Martha de Lyra Barker '80:
I am, frankly, totally in awe of Roger's energy, stamina, patience, and longevity as an educator—pretty damn inspiring!
I was a student of the mid-to-late '70s, fresh from Maine, a little out-of-sorts as to what I was doing at RIT. I was overwhelmed by the campus, the environment, and my classmates—all of whom had so much more talent than I ever thought I would have. But the entire staff of the College of Fine and Applied Arts was wonderful. And when I chose communication design as my major, it was because I found my stride with a handful of faculty who pushed us, made us think and work harder, made us ask ourselves (and each other) "why," and helped us master the craft.
Roger Remington was no exception.
Senior year, when we spent days and nights in the studio, Roger was there to critique, advise, encourage, and laugh along with our foolishness. He emphasized learning and understanding the history of all the great designers, who paved the way in editorial, advertising, and corporate design. I appreciated (as did my dad) that the program focused on making us professionals—emphasizing research into our ideas, discussing our work, being able to put it in writing, and ultimately, finding a job.
Roger had lists of designers to contact in whatever city you were heading to—in my case, Boston. That list was golden—1980 was not a good time to find any job, much less as a graphic designer. But I had great conversations with some of the best names in Boston—some of them sending me off to other interviews—and all of them helping me shape my portfolio. Eventually I landed a position at Cornell with a wonderful mentor and a great group of colleagues. I found that working in higher education suited me and I continued at the University of New Hampshire for another 20-plus years, with a few agency and studio gigs and freelance in-between.
His work forming and shaping the Vignelli Center for Design Studies is outstanding—and just like him to be able to pull a collection and center of that scope together. What a fantastic resource for students of any discipline to draw upon for inspiration and an understanding of how design impacts our culture. RIT is very lucky to have had Roger as a consummate fixture in the community for so many wonderfully creative and productive years. 
Roger, congratulations on your retirement and from my heart, I thank you for laying a foundation of knowledge and curiosity. I learned more than just design in those classes, and I appreciate everything that you did to help me shape and enjoy a design life.
Trista Finch '20:
Roger has been an incredible mentor to me for a few years now. I've taken his classes, served with him on the Vignelli Council, and received a great deal of advice and many books from him—all of which I will treasure for the rest of my life. From the Cary Graphic Design Archive in the library and the Vignelli Center for Design Studies, to the day-to-day interactions with his students and colleagues, the legacy that Roger is leaving behind at RIT will last forever.
Anne Ghory-Goodman, professor emerita, Milwaukee Institute of Art and Design:
Roger Remington is the reason RIT boasts one of the nation's finest archives of modern and contemporary design housed in the Vignelli Center for Design Studies. Designers gravitate to Roger and entrust him with their legacies for the same reasons he and I have been colleagues and friends for over three decades. Thoughtful with everyone he encounters, Roger is a delightfully implausible mix: generous, creative, curious, determined, scholarly, innovative, inclusive, joyful, and modest. A master teacher, accomplished artist, and skilled designer, he cares about great design and articulately situates 20th and 21st century breakthroughs within design history. In seven books, scores of articles, and numerous presentations in the United States and abroad, he has shared his passion for the virtues of a modernist aesthetic and the glories of Massimo and Lella Vignelli's design legacy.
Few professors leave behind a landmark building whose construction they master-minded. Patiently but persistently, Roger breathed life into the Vignelli Center for Design Studies, charming brilliant clients, raising several million dollars, and opening the doors necessary to move beyond road blocks in a complex institution. Roger's vision extended into multidisciplinary programming, a lecture series by preeminent designers and thinkers, podcasts, student participation, community outreach, exhibits, research initiatives, and a recently launched graduate program in Design Studies.
One must look closely at Roger's teeming bookcases to see the breadth and depth of his scholarly curiosity. Tucked among the books are awards from national and international organizations and a collection of vintage cameras. Like Roger, these represent his strengths, but are embedded in his scholarship. Roger's life is an inspiration.
Kevin Hall '77:
As a communication design major from 1974-1977, Roger Remington was one of my RIT professors. He was someone I respected very much. He brought out the best in his students and encouraged us to strive for creative excellence in all of our design pursuits. Role model and mentor, Mr. Remington inspired me and taught me to appreciate the value and importance of graphic design.
Stephen Hall '76:
Seeing the story about Roger Remington's upcoming retirement brought back fond memories of my time as an undergraduate student in the Communication Design BFA program during 1975-1976.
In the final year of my training, Roger had a big impact on me in several ways. As a senior, he was my main instructor in design and instilled in me a standard of professionalism that remained with me throughout my own career. As my advisor he also took an interest in me and recommended me for an internship with the school in its physical resources department. That gave me my first job as a designer working on the signage and way-finding system for what was then the "new" campus. More importantly, he recommended me to John Webb, creative director and partner in the Buffalo, N.Y. advertising agency Ellis, Singer & Webb Ltd., where I started my career as an advertising designer in 1976.
That career took me all over the country and to many places around the world as an art director, creative supervisor, and ultimately as a vice president and creative director for Saatchi & Saatchi.
After 25 years in advertising, I came back to RIT as an adjunct instructor and taught advertising design, business practices and portfolio development in the same classrooms where I had been Roger's student many years earlier. Those experiences convinced me that teaching was what I should do next. My teaching career shifted from part-time to full-time in 2005, when I moved to Savannah, Ga. to help launch the advertising design major at SCAD (Savannah College of Art and Design). For the past 14 years up to my retirement in June 2019, as a professor and as department chair I have been instilling a standard of professionalism in a new generation of designers. 
Thank you, Roger, for getting me started and setting an example that I have never forgotten.
Marvin Hardee Jr. '59:
Sorry such a great guy is retiring. I know why he aged so well. Roger, Bob Brown, John Boyd, and I roomed together at RIT in the late '50s. We had to be very quiet every night because Roger went to bed at 8 o'clock sharp. He teased me about my photography clipping files, but apologized when he needed some of my files when he was working on one of his degrees—way before computers.
Steven Heller, co-chair, MFA Design, School of Visual Arts:
Roger is one of the prime leaders of the "design history movement." It has been through his devotion and persistence as teacher, conference organizer, author, and curator that graphic design history has been preserved and recorded as well as it has. Massimo Vignelli once said for graphic design to be a profession it must have a recorded history. He was speaking at Roger's first Design History Conference at RIT. I've known Roger over 30 years, since his second conference. I've respected and admired him since then—both as a professional and a friend.
John Malinoski '87 MFA:
Roger was my mentor in graduate school at RIT. He created and brought countless meaningful and impactful stories to the studio that continue to influence and measure my design practice. His teaching introduced me to Design with a " capital D," with great rigor, professionalism, passion, form, expectations, experiences, and joy accompanied by an amazing level of energy, activity and realization. He changed me. I remain grateful and very proud to be one of his students.
Albert Paley, world-renowned metal sculptor:
Education is transformational and Roger has served as a pioneer and visionary, one of the educational driving forces behind design's evolution into an independent discipline. He was there at the beginning to help usher in this transformational change in the 1960s. Seeing Roger in the context of his many contributions at RIT would be myopic; he's raised what was once a trade school onto the national and international stage. Very well done, my friend.
Pamela (Barrett) Spiteri '87:
Roger Remington spring-boarded my design career over 30 years ago, when he challenged me in my senior design project and subsequently recommended me to Xerox Corporation upon graduation from RIT. I was hired as a graphic designer in Xerox's industrial design/human interface department, where I used the principles of graphic design from Roger Remington to design flip cards for office copiers, user interfaces for networked office equipment, and worldwide networked multifunction products and services. I draw upon the design education I received at RIT on a daily basis, and I am constantly asking the question that I heard often in RIT design critiques: "How could this solution or system be improved?"
While at Xerox, I used design language to bring out the best in customers, product designers, anthropologists, mechanical and software engineers to create better office and mobile systems. After getting an MBA, I operated one of the most successful Drama Kids International franchises in the United States here in Rochester, N.Y., where the motto is "Drama Develops Kids." Just like good design, drama develops great self-expressions skills in individuals and builds curiosity and imagination. Now, I'm giving back to RIT as an innovation coach in the applied entrepreneurship classes, coaching student teams as they learn the process of creating new businesses. Through applied entrepreneurship, I challenge the students by asking: "What customer problem are you trying to solve, and what design solution can best solve it?"
Thank you Roger Remington and RIT, for providing me the design foundation upon which to ask questions and spark imaginations to inspire the next generation of great people in Rochester!
Carla Tedeschi '92 MFA:
I have held faculty positions at the University of North Texas, Metropolitan State College in Denver, and am currently the graphic design program coordinator at Texas Tech University. Professor Remington has influenced my teaching style, curriculum development, and professional research for over the past 27 years.
I have fond memories of our group critiques and Professor Remington's thoughtful and gentle guidance. He never directed, but asked poignant questions that made one think and pursue different paths into the unknown. After years of working as a professional designer in the field, the experience was unfamiliar—where was the map I was supposed to follow? He introduced me to creative methodologies and interdisciplinary theories that changed the way I look at everything from the way I design, teach, and think. I am and will forever be grateful for the experience of working with such a profound and wise professor.
Douglas Wadden '68:
Having spent 45 years at one institution, it's hard for me to imagine competing with Roger's 57 years at RIT!
I have known Roger since my student days at RIT in the 1960s and with educators' meetings in Chicago, Providence, Rochester, and Alliance Graphique Internationale (AGI) meetings in several countries, we have maintained regular contact over the decades.
Roger has been a global ambassador for the Institute, not just design, but the city, culture and mission of Rochester and RIT.
Good natured, respected for his scholarship, collaborative, unique in his ability to establish the Vignelli Center and Archive, and a lifelong educator.
RIT will need to name more than a brick or two for Roger. Few people in my experience, have had a longer or more positive influence on their discipline or institution than Roger.
I wish him the very best in this next phase of his career and hope we continue to cross paths in the future.
Jill Wagner:
Roger gave a lot of his life to RIT and strongly influenced the field of graphic design, but it is his personal attributes that make him great. As a grad student, Roger taught me to research, publish and teach, and more importantly, offered a friendship that continues to this day. His availability—both as a mentor and a friend—is what makes him stand apart.
Becoming his protégé was pivotal to my life and I honor him with my work and by bestowing Remington on the middle name of my first-born son. Most professors aren't willing to spend countless hours researching topics with graduate students, producing documentaries and inviting students to events normally reserved for more senior staff. Roger taught me design, but how he carried himself left a greater impression. He makes you feel special … like family. He created a legacy with both the university and all the personal and professional lives he has touched.