University Gallery features artist Benigna Chilla
Show presenting Benigna Chilla's mixed media work runs through Nov. 20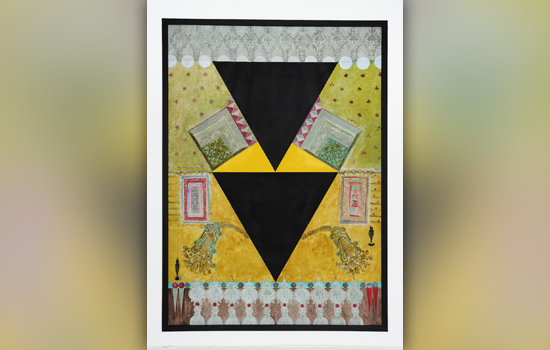 A vast exhibition of large-scale paintings, prints and installations inspired by an artist's cathartic journey to South Asia and the eastern Himalayas will adorn the walls of Rochester Institute of Technology's University Gallery through November.
The exhibition featuring artist Benigna Chilla's recent series of tapestry-like canvases shown in the context of earlier intaglio prints and wall installations opened Aug. 24 and runs through Nov. 20. An artist talk and reception will be held from 4:45 to 6:30 p.m. on Thursday, Sept. 10, at University Gallery, located inside James E. Booth Hall on the RIT campus.
Chilla's artistic process begins with inspiration from geometric patterns found in architecture, textiles and nature. She explores both organic and constructed geometric shapes, which are organized through symmetry. Clearly, this exhibit shows how she has used math and geometry in all forms of her work.
The large-scale paintings were created after Chilla's 2012 stay in Bhutan—a landlocked country in South Asia found at the eastern end of the Himalayas, bordered to the north by China and to the south, east and west by India.
"I retired that same year and was ready to start a new chapter of my artistic career—in a sense by returning to painting after many decades," said Chilla, who now splits her time between Chatham, N.Y., and Kolkata, India. "Traveling has always influenced my ideas for new pieces in different ways."
The artist noted that the 12 paintings hanging inside the RIT gallery are not about Bhutan specifically, "but the processes, materials and visual elements in the paintings were influenced by a new visual vocabulary I gathered during extensive travel through Asia—and especially Bhutan."
Actual texture is embedded onto the canvas, layered with natural pigments like turmeric, saffron and minerals. The meditative and physical process of painting is as important to Chilla as the final pieces themselves.
The full series of Chilla's paintings was first shown as part of her one-person exhibition at Tibet House in New York City last year. Her work caught the attention of Josh Owen, professor and chair of the industrial design program in the School of Design at RIT's College of Imaging Arts and Sciences.
"I am grateful that the industrial design department at RIT has offered me this opportunity to show my work," Chilla said of the exhibition's sponsor. "Every new space is a new challenge—both for the artist and the work. A new space changes the appearance of the pieces and also changes the space. This space has allowed me to show this series of paintings in the context of previous work."
Chilla, born in 1940, began her art studies in her native land of Germany at the Folkwangschule für Gestaltung in Essen and then at the Academy of Fine Arts in Berlin. After moving to the United States in 1969, she completed her graduate studies at the State University of New York at Albany and the University of Massachusetts, Amherst. Chilla has held residencies at Yaddo, the Djerassi Foundation, the Atlantic Center for the Arts and the Fine Arts Work Center in Provincetown, Mass.
She hopes that members of the RIT community can visit the exhibition "more than once" to discover new elements and take away ideas for their own work.
"I see this exhibition as an educational tool to provoke inspiration to explore concepts and ideas in different ways," Chilla observed.
Jessica Erickson, University Gallery manager, agreed.
"This exhibit was selected as it was a wonderful example of mixed media, large-scale works, that have a global influence and educational value," Erickson said. "I hope people are creatively inspired by the show since it invokes cultural curiosity as well as opens up questions about artistic process."
Go to the Benigna Chilla webpage for more information about the exhibit.