Vicki Hanson named CEO of world's largest computing society
Distinguished Professor retires to take top staff position at ACM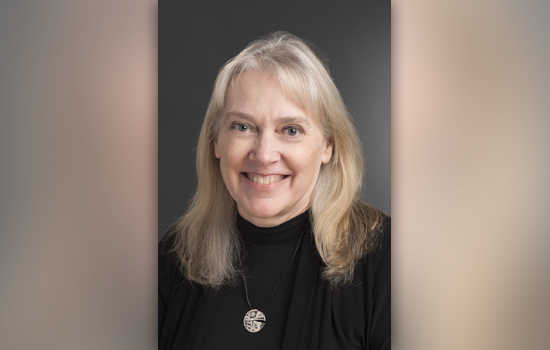 Vicki Hanson is retiring from her position as Distinguished Professor at Rochester Institute of Technology to become executive director and CEO of the Association for Computing Machinery (ACM), the world's largest education and scientific computing society. Hanson, who has served as ACM President since 2016, will take on her new role July 1.
As the first female CEO for ACM, Hanson will work with the volunteer community to provide strategic vision and to develop sustainable business models to ensure ACM's continued worldwide membership, publications and revenue growth. She will represent more than 100,000 ACM members worldwide, including many in the RIT community.
Hanson says of her new position, "I am deeply honored and humbled to serve as ACM's CEO. I look forward to working with ACM's incredible volunteers and excellent staff to make progress on the exciting opportunities and challenges facing the organization, including its evolution as a fully international society, one that addresses the needs and workstyles of a new generation of computing professionals, as well as the transformation of its publishing and access models."
Hanson has a long history of service to the computing community, having served ACM as president (2016–2018), vice president (2014–2016), ACM secretary/treasurer (2012–2014), and ACM SIG Governing Board chair (2010–2012), among other positions.
"Dr. Hanson's contributions to computing cannot be overstated," said Anne Haake, dean of RIT's B. Thomas Golisano College of Computing and Information Sciences. "Prior to RIT, she performed groundbreaking research, helping make computers more accessible to older users and users with disabilities. At RIT, she continued that work while serving as president of the ACM and aiding in the college's efforts to inspire more young women to pursue careers in computing. I speak for all of us at the college when I say we are lucky to call Vicki a colleague and friend—and wish her all the best moving forward."
Hanson, who joined RIT in 2013, has experience in both industry and academia. She worked as a research staff member and manager with IBM Research, where she received an IBM Corporate Award for pioneering technology and innovation supporting IBM's contributions to accessibility. Business Insider also named her one of the 25 Most Powerful Women Engineers in Tech.
Since then, she has worked as a professor and chair of inclusive technologies at the University of Dundee in Scotland, leading teams investigating issues of inclusion for older adults and people with disabilities. As professional recognition for her contributions, she was named an ACM Fellow in 2004, a Chartered Fellow of the British Computer Society in 2008 and a Fellow of the Royal Society of Edinburgh in 2013. She also served as one of the founding members of the ACM-W Europe Executive Committee, an organization that supports women in computing professions.
At RIT, Hanson designed and taught courses in human-computer interaction. Along with Matt Huenerfauth, associate professor of information sciences and technologies, and Stephanie Ludi, former professor of software engineering, Hanson created the Golisano College Center for Accessibility and Inclusion Research (CAIR). The center brings together researchers working on computer accessibility and assistive technology for people with disabilities, technology for older adults and educational technologies.
"Vicki has been an extraordinary colleague," said Steve Zilora, professor and chair of RIT's Information Sciences and Technologies Department. "While serving as a world-renowned figure in computing, she has also made great contributions to our degree programs, overseeing the doubling of our human-computer interaction master's degree program and the creation of our human-centered computing bachelor's degree program. Her desire to continue her involvement with our programs is emblematic of her dedication to RIT."
Hanson is receiving the title Distinguished Professor Emerita, honoring retired full-time faculty members who have demonstrated notable contributions during their professional career at RIT.
To read more about Hanson's new position at ACM, go to acm.org/media-center/2018/june/acm-names-new-ceo.
Topics