Wayne County high school teachers train at RIT
Grant funds professional development in science, math and engineering instructional practices for Regional Science Consortium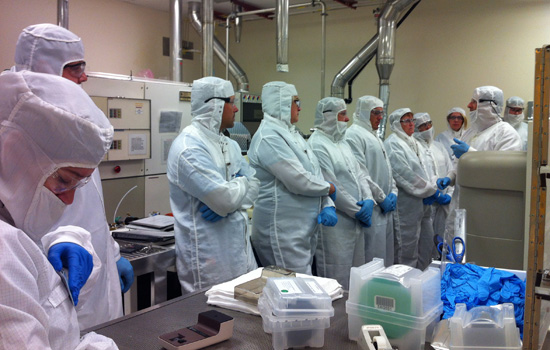 Michael Consadine
The teachers became the students, and their classrooms were the engineering clean room and laboratories at Rochester Institute of Technology.
Nineteen teachers and administrators from Wayne County high schools participated this past week in the Mathematics and Science Partnerships, a professional training and development program. High school teachers spent time in RIT's Kate Gleason College of Engineering working with faculty from its microelectronic engineering program, learning about nanotechnology, specifically the steps in silicon wafer processing and the fundamentals of how microelectronic devices work.
The new, two-year program, launched this summer, consists of technology workshops, curriculum development, mentoring and laboratory participation. It is intended to expose teachers to scientific and engineering practices, improve their core knowledge in these areas, and provide an opportunity for these teachers to plan and build the concepts in preparation for the Next Generation Science Standard.
"What we're hoping to do, and what we've actually begun at RIT, is really to give our teachers an education around how they can connect real-world opportunities with science in their classrooms," said Heather Uetz, assistant superintendent for curriculum and instruction for the Sodus Central School District, and coordinator of the new program. "We also wanted to give teachers an awareness of the career opportunities available for students in the areas of science and technology."
The Wayne County Regional Science Consortium was awarded a grant by the New York State Department of Education to develop the program for ninth- to 12th-grade teachers and administrators. The consortium consists of Wayne Finger Lakes BOCES and four small, high-need, rural school districts, specifically Lyons, North Rose-Wolcott, Red Creek and Sodus. University partners include RIT, which will focus on engineering technical skill development and practice, and the University of Rochester, for standards-based curriculum design and development. Wayne Finger Lakes BOCES is also providing staff development to support the teachers and administrators throughout the grant.
Much of the instruction this past week about silicon processing was new to the high school teachers, but all were aware of the foundational science skills involved in the demonstrations in RIT's labs. Learning more about the process of using silicon to manufacture the intricate parts of electronic devices can easily tie into the earth science curriculum, said Nick Wojieck, a 10th-grade science teacher at North Rose-Wolcott High School.
"Our students will be able to see that it is part of their phones. And that phone is pretty important to them. If you ask them to put it away, you'd think we were asking them to take off a limb," Wojieck said, laughing. "For us as earth science teachers, we'll take this raw material that we talk about, and show them this is the next step and what you can do with it."
Wojieck and his classmates also took field trips, spending an afternoon at Optimax and Optipro, two high-precision optics manufacturing and fabrication companies, both located in Ontario, N.Y.
"We had no idea they did that right in our backyard," said Wojieck. "It was interesting to see what they do there and the opportunities, not only the job opportunities, but the educational opportunities such as tuition assistance provided by the company."
Tim Thomas, another science teacher at North Rose-Wolcott, agreed. "They [the high school students] can relate this to pertinent things that they can do with their education."
Over the next two years, the high school teachers in the program will participate in 90 hours of professional development and training, including additional work with university partners such as RIT and the University of Rochester. Participation in regional training initiatives such as the Mathematics and Science Partnerships are part of the university's efforts to support K-12 STEM education and workforce development. This past week's workshop, coordinated by Michael Jackson, professor of microelectronic engineering, and outreach director for the microelectronic engineering program, featured several of those workforce partners including the Rochester Regional Photonics Cluster, under director Tom Battley, provided the overview and visits to the region's optics-related companies; Genesee County Economic Development Corp. Vice President Chris Suozzi; and Educational Consultant John Jakubowski. The latter two presented information at the training about state initiatives to attract new companies to the area, and their workforce needs, respectively. Tristan Zuber from Cornell University's Dairy Food Program spoke about Western New York's rapidly expanding food processing industry, and Sandra Small from the New York State Center of Excellence for BioInformatics and the Life Sciences discussed careers in bio-tech and medical device fields with the teachers.
"It's important to recognize the teachers and administrators and their willingness to participate in such an intense professional development program to help our kids," said Uetz.
Jackson agreed.
"We all know the STEM workforce pipeline flows from the K-12 classroom, and perhaps the biggest influence on that pipeline is the teacher. Any future success for high-tech industries relies on that pipeline, so we need to support the teachers the best we can."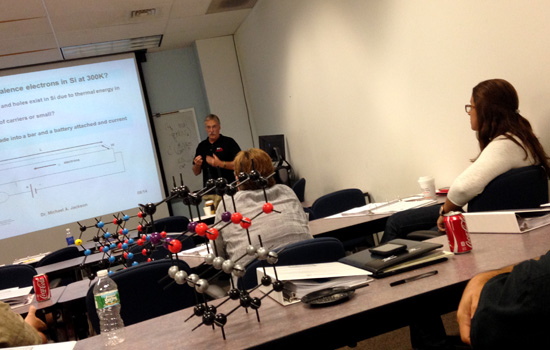 Michelle Cometa
Topics