Finding Work/Life Balance as a Podiatrist
November 5, 2021
Breeann Wilson '02 (biochemistry)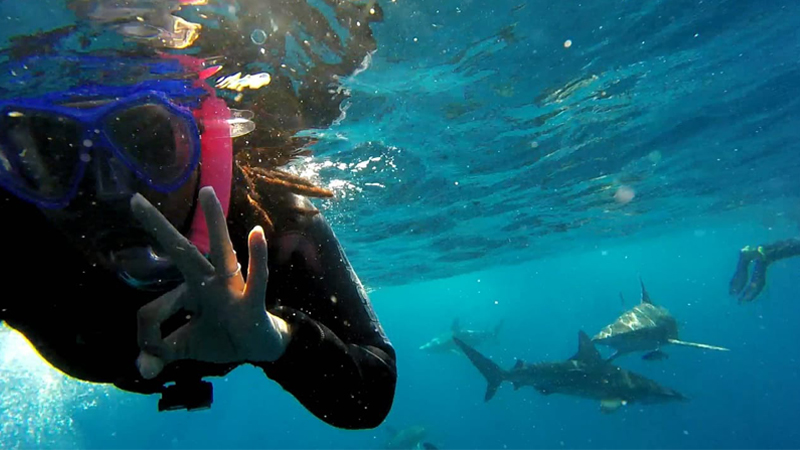 "Podiatry is an area where people can come in with pain and leave without pain; that aspect can be very fulfilling."
Breeann Wilson didn't always know she wanted to be a podiatrist. She arrived at RIT as an undeclared major and chose biochemistry after her first year simply because she loved biology and she loved chemistry. The rigorous biochemistry training at RIT prepared her well for medical school and today she runs a private podiatry practice in Buffalo, NY.
Podiatrists diagnose and treat lower extremity disorders, diseases, and injuries. They also perform surgeries but are rarely needed for urgent issues. These are just a few of the reasons why this branch of medicine appealed to Breeann when she first heard about it at the Minorities in Medicine Education Program (MMEP, now the Summer Biomedical Sciences Institute). Breeann participated in the MMEP program at Duke University during the summer after her junior year. This program exposed her to many of the hurdles involved in becoming a doctor, including how to prepare for the Medical College Admissions Test (MCAT). It also held a career day where students learned about "nontraditional" doctor positions. Podiatry was one of the "nontraditional" paths included in that session.
Breeann was accepted into one of the top podiatry schools in the country, the Dr. William M. Scholl College of Podiatric Medicine at Rosalind Franklin University in Chicago, IL. There she learned everything there is to know about conditions affecting the foot and ankle and spent two years in Buffalo and one year in Los Angeles completing her residency. Back home in Buffalo, Breeann is now a licensed podiatrist able to make her own schedule and perform surgery regularly. Her typical surgeries include fixing bunions, bone grafting, and even amputations when needed.
"The freedom of working for myself can't be matched."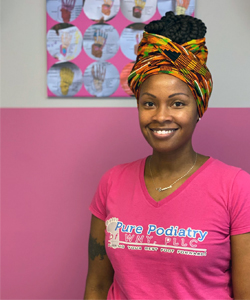 After working in a group practice for 6 years, Breeann took the leap of opening her own practice in 2020 and it was a success. Although it was challenging to learn the billing and administrative side of private practice, she now has the ability to balance work and personal commitments. She employs four staff members at Pure Podiatry of WNY, PLLC, and treats patients of all ages. Since she doesn't work nights, holidays, or weekends, Breeann has the time to sit on boards in her community, including the RIT Alumni Association Board of Directors. She also has time to volunteer with her church and travel. She's been to more than 20 countries including South Africa where she taught children about the bones of the foot.
As one of just a few black female podiatrists, and one of the few young podiatrists in the region, she is incredibly busy and works hard not to take on more than she can handle. However, she warns that if more podiatrists don't move to the Buffalo area, it may result in undeserving the community's needs.
Breeann recommends that aspiring podiatrists, especially women of color, stay focused on their goals and surround themselves with supportive people. One way to do that is to get involved in the organizations dedicated to helping minority students interested in medical careers. She specifically recommends the Student National Medical Association (SNMA), National Urban League Young Professionals, and the Summer Biomedical Sciences Institute (formerly the MMEP program she participated in at Duke University). Breeann acknowledges it won't be an easy path, but "as long as you have people there to help you, it can be done."
 
About the RIT School of Chemistry and Materials Science
While chemists focus on matter at a molecular level, and biologists focus on the complexity of living organisms, biochemists get the best of both worlds. Here at RIT, our biochemistry majors learn about the chemistry of biomolecules at a molecular level, and how those biomolecules contribute to life, disease, health, and wellness. Students get to work in two brand new structural biochemistry and molecular visualization labs and participate in authentic discovery-based research projects associated with the Biochemistry lab course.
RIT Biochemistry graduates are known for their top-notch training and fearless attitude toward research and discovery. Many of our students enter the nation's best graduate programs, medical schools, pharmacology programs, or law schools right out of college, making them even more competitive for academic or industry jobs. Learn more about the RIT Biochemistry BS program in the College of Science.
---