Life as a DVM: An Advocate for Animals and People
March 25, 2022
Liliya Becktell '11 (pre-vet advising)
Faculty: Larry Buckley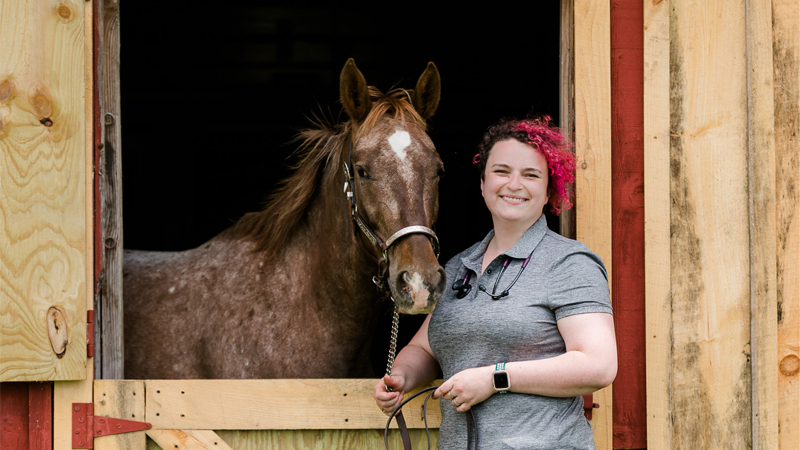 A lesson in kindness, empathy, and optimism is not technically part of the curriculum at RIT, but Liliya Becktell would tell you that's what she received from her alma mater. After completing a BS in Advertising/Public Relations in 2011, Lili discovered her passion for animal medicine and found her way back to RIT for the required advanced biology courses. Today, Lili is an Associate Veterinarian with Stable, Barn, and Field Mobile Veterinary Services.
Between 2007 and 2011, Lili pursued her BS in RIT's College of Liberal Arts, growing up and coming into her own as an adult. During this time, she also faced unexpected family challenges and financial loss. Lili remembers RIT stepping up and providing significant support to help her complete her degree and focus on healing. It's no wonder, then, that when Lili decided to pursue veterinary medicine that RIT topped her list of options.
"I knew RIT to be a challenging place, yet simultaneously one where creativity and entrepreneurial spirit thrived. I felt that I was safe to exist as myself there, big ideas, dreams, and all."
After completing entry-level courses at Monroe Community College, Lili transferred to RIT for the more advanced biology courses, and joined the Pre-Vet Club. She described her professors in the RIT Biology program as outstanding, encouraging her to explore concepts outside of the assignment. Lili has a working memory disability and ADHD, significantly impacting her learning style. Thanks to RIT's smaller class sizes, Lili got to know her professors well. They encouraged her to try different study techniques like tutoring classmates struggling in areas where she excelled and vice versa. The techniques proved successful both at RIT and in her Doctor of Veterinary Medicine (DVM) program.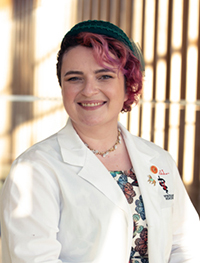 Another RIT experience that helped Lili prepare for veterinary school was her research experience. Lili's primary research was looking into cancer genetics with her mentor, Dr. Larry Buckley. She remembers Dr. Buckley's upbeat and encouraging personality, how he helped her brainstorm solutions and gave her free run of his lab. When Dr. Buckley awarded Lili with a scholarship, he called her a "force of nature." This comment stayed with Lili, showing her that someone recognized how hard she worked and how much she tried. That hard work earned Lili a spot in the competitive DVM program at Cornell University.
After graduation, Lili worked at an equine hospital with horses, cattle, sheep, goats, pigs, and other large animal species. Today she is an ambulatory clinician at a mixed animal private practice. She regularly sees small animals like cats and dogs and large animals, including horses, sheep, goats, cattle, llamas, alpacas, and pigs. Ambulatory medicine is delivered at a client's home out of a truck or a retrofitted bus instead of having the clients and pets come into a facility. A large part of Lili's time is spent educating her clients on how to provide the best possible care for their animals and how her organization, Stable Barn and Field (SBF), can best help them do that.
"One of the most important things to remember is that your clients are just as human as you. They hurt, they fear, and they feel—and when their animals are involved, all those things are magnified one hundredfold."
While people may think it's most important to have the best grades or the most awards, Lili has found that what her clients appreciate most is her humanity. She offers them a kind, compassionate, empathetic heart, and the willingness to try even when things seem bleak. Lili says she feels honored by and deeply respectful of her responsibility to serve as a go-between for animals and their owners. She recognizes the importance of making her clients feel like they are a part of what's going on and that they are working together to come up with solutions. This is how she fosters trust and creates the feeling that she's working with a friend even if she just met the person.
"Science is built on the solid foundations of logic and reason, but there is so much room for beauty, softness, and grace there, too."
Lili advises students interested in veterinary medicine to talk to as many professionals in the field as possible and fight the urge to get discouraged when something negative is said. The profession is challenging but full of supportive technicians, professors, and mentors. Lili also encourages students to give themselves grace, remember to laugh, and stick to their boundaries.
"Be curious. Be uncomfortable. Say yes to yourself, to opportunities, and to others. Be incredibly gentle with yourself and know that it's okay to not always achieve, be perfect, or save every animal."
Today Lili lives in Auburn, NY with her husband Stuart '07, an RIT alumnus from the Applied Networking and Security Administration program.
About the Pre-Vet Advising Program at RIT
Housed in the College of Science, the Pre-Vet Advising Program provides students with individual, personalized support that helps them fulfill the veterinary school requirements and acquire the research and real-world experience required for careers in veterinary medicine. This includes the hours of animal care needed to be competitive candidates for admission to veterinary colleges. The most common major for pre-vet students is biology because it offers a curriculum that fulfills veterinary school requirements. However, programs in chemistry, biochemistry, and biotechnology and molecular bioscience also include the required prerequisite courses needed for veterinary school admission.
---