Machine Learning with Satellite Imagery to Explore Happenings on Earth
October 29, 2021
Rose Rustowicz '15 (imaging science)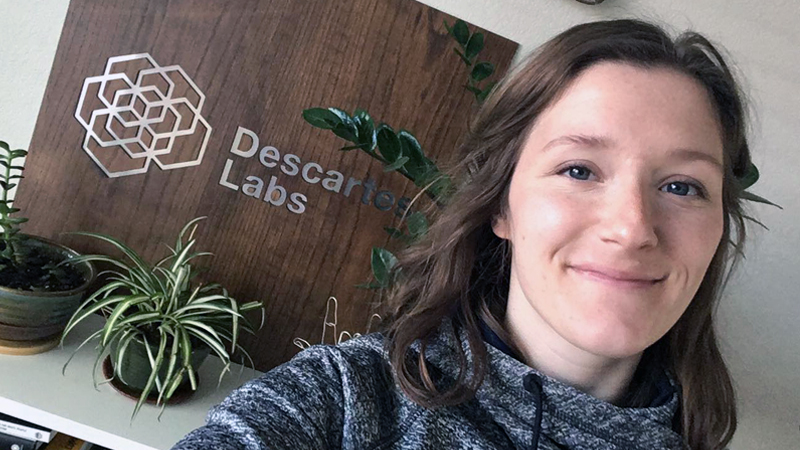 "I never thought of images as scientific tools before that moment, and from then on I knew this was what I wanted to do!" Rose Rustowicz '15 credits a tour of RIT as a high school student for her light-bulb moment - the moment when she realized that an imaging science degree could combine her love of math and science. Today, she's using geospatial data to develop models that answer questions about agriculture and sustainability with Descartes Labs.
As an Applied Scientist at the geospatial platform and analytics company, Rose combines machine learning with satellite imagery to explore what's happening on earth. One recent project required her to automatically map coffee from optical and radar-based satellite imagery. The goal was to create a coffee map over a large region in Brazil. This map would allow the end-users to better understand the early stages of their coffee supply chain. Another project in sustainable agriculture required Rose to look into mapping tillage and cover crop practices from space.
"Creativity, persistence, and being able to articulate your science have been valuable skills to learn."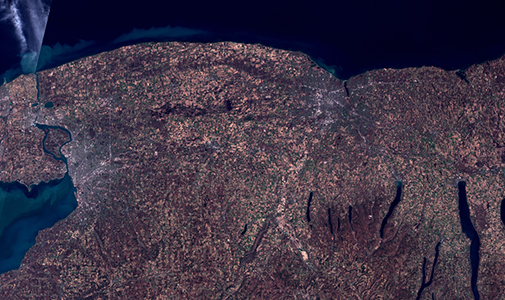 When answering problems, Rose finds that being able to stick with the issue at hand and think creatively is important. Sometimes the issues she faces don't yet have a solution, and she needs to explore multiple options as she works toward resolving them. Learning to tell stories around your science and to translate complex ideas for a variety of audiences is also essential. Rose has worked in many positions where communicating science was crucial. As a Remote Sensing Fulbright Research Grantee, she headed a successful proposal for an ASD field spectrometer. The spectrometer was used in a fieldwork campaign to gather relevant imagery of Icelandic land cover and landforms. At the Air Force Research Laboratory, Rose studied the atmospheric effects and other approximate noise sources to simulate Synthetic Aperture Ladar (SAL) imagery. She presented this work with her team at the SPIE Defense + Security Conference.
"Teamwork makes the dream work."
An imaging science degree combines math, physics, computer science, and engineering skills, which naturally brings together people from different backgrounds. Rose found that this collaboration was pivotal to her success in college and today. Learning with her peers and exercising their brains in different ways enabled her to bring creativity into her work and have a curiosity for learning with and from others. Rose admits to being intimidated by programming when learning it for the first time in college. After multiple courses and a lot of patience with herself, she was able to improve. Today it's most of what she does, and she loves it! Rose completed her imaging science degree in 2015 and has seen the variety of jobs and careers it offers in up-and-coming technology fields. Imaging science graduates can focus on developing sensors to contribute to our new world of big data, work in image analytics with deep learning models, or live at the intersection of both hardware and software in fields like robotics, virtual and augmented reality, or autonomous driving.
"The RIT imaging science degree offers flexibility to tailor your education toward your interests, enabling students to have focused skills for in-demand post-college positions."
Rose earned an MS in electrical engineering from Stanford University before landing her role at Descartes Labs. She advises students interested in imaging science to explore co-ops, internships, and RIT clubs. Co-ops and internships provide an opportunity to try out various applications and sectors, and you'll get a better understanding of what you do or don't like before you commit to something full-time. RIT's rich campus life is also worth trying - even the clubs or groups outside of imaging science!
---