The Power of Being Data Literate in a Data-Driven World
October 8, 2021
Melissa Royo '09/'10 (applied statistics)
Faculty: Robert Parody
"The applied nature of the statistics BS/MS program gave me an enormous advantage when I entered the workforce."
Melissa Royo '09/'10 started as a computational math major, switched to applied statistics and then stayed at RIT to complete her master's degree in applied statistics. Today she enjoys her work as the Director of Data Science at ITX Corp. in Rochester, NY.
Like some first-year students, Melissa was good at math in high school so she took a leap of faith when selecting computational mathematics for her major. Fortunately, RIT had more than one way to use math skills and she soon found her way to the applied statistics program. The BS portion of the degree provided a great foundation and excited Melissa to learn more. She completed hands-on practice with datasets in the BS/MS program and learned how different statistical techniques can be applied to real-world problems. RIT also connected her with a fantastic mentor, Associate Professor and Head of the Applied Statistics MS program, Rob Parody. Melissa graduated with the technical and soft skills needed to succeed in the workforce, and a life-long mentor and coach.
"I have the opportunity to evangelize my love for statistics and data science in many ways."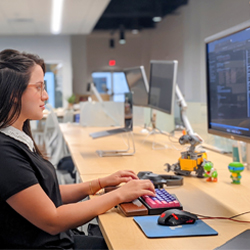 As the Director of Data Science, Melissa mentors the data science team, helping develop methodologies that solve a variety of client data problems. She also participates in sales calls to explain the company's data capabilities to prospective clients. Being able to translate technical concepts to a non-technical audience is a vital part of her daily job. Although she rarely writes code now, executing data solutions was a big part of her role as an individual data science contributor. In fact, she wishes she had learned to program sooner than she did!
Data science uses scientific methods, processes, algorithms, and systems to extract knowledge and insights from structured and unstructured data. Data scientists apply that knowledge to a broad range of situations and industries. Most data scientists begin with computer science skills and pick up statistics along the way. As a statistician first, Melissa brings a different perspective on how to solve problems. She was trained to watch out for data pitfalls and to recognize assumptions when using certain algorithms. These things can easily be overlooked if someone isn't experienced with the statistical models.
"Recognize that there is power and influence in being data literate."
According to Statista, "the total amount of data created, captured, copied, and consumed globally is forecast to increase rapidly." People who have the skills to understand, analyze, and communicate data as information will have a competitive edge. Melissa recommends that students interested in data science learn programming early on and work hard at developing soft skills because she thinks the soft skills are more important than people think in technical degrees.
---