Print Media Grad Helps Produce Award-Winning, Digitally-Produced Engineered Surfaces
September 1, 2020
Payal Sharma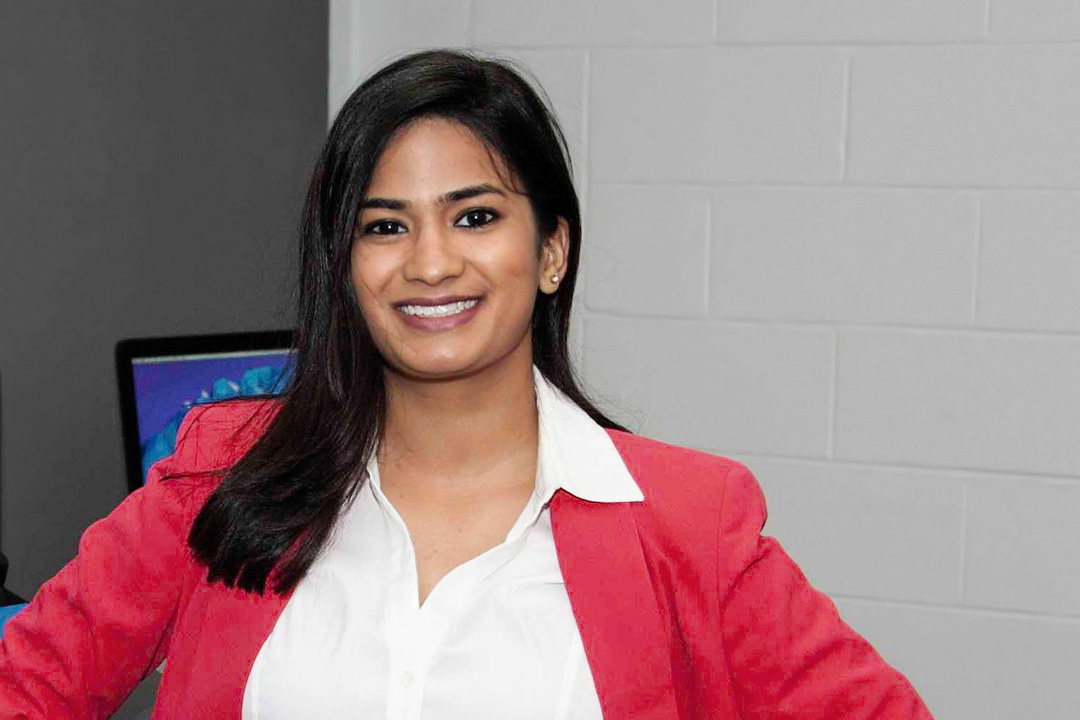 In 2014, Payal Sharma was searching.
Having completed her bachelor's degree in mass communications and journalism at St. Francis College in her native Hyderabad, India, Payal wanted to explore graduate study abroad in an area where she would gain the technical and critical thinking skills that are in-demand by industry, while learning in a community of dedicated academics and researchers. She also sought a program that was supported by active, engaged alumni, and was highly regarded by industry leaders. This is when she enrolled in the master of science degree in print media at RIT. Today, having completed her degree requirements and one-year of cooperative education, she is convinced she made the right decision in choosing RIT.
The print media program is a two-year, thesis-based master's degree in which students work closely with internationally-renown professors in world-class research facilities. After three semesters of course work, students conduct industry-relevant research that results in a published thesis. It is during this process that students work closely with research professors to produce a thesis that is relevant and meaningful. In Payal's case, her thesis exposed her to research methods and theories that provided a foundation for possible future advanced degrees and research opportunities.
According to Payal, these skills already paid off during her one-year co-op experience.
After defending her thesis in 2018, Payal embarked on a co-op at Wilsonart in Temple, Texas. Best known as a manufacturer of laminates, Wilsonart manufacturers and distributes an array of engineered surfaces. Having used the gravure printing process for decades, Wilsonart has now implemented cutting-edge digital printing technologies to supplement their gravure offerings. This is where Payal's skill set, gained in the print media program, made her an especially valuable addition to the Wilsonart research and development team.
Notably, Payal led a project to ensure consistent color reproduction for Wilsonart's digital presses. Applying the knowledge gained in the program, Payal set up the standard operating and process control procedures necessary to achieve consistent output from the digital offerings. Today, Wilsonart is efficiently producing award-winning, digitally-produced engineered surfaces.
In a direct tie to RIT, and complimentary to our long reputation as a leader in printing and print media, Payal's direct supervisor at Wilsonart is an alumnus of the print media program. He proactively looks for print media graduates to fill research and development positions. 
Payal contends that students considering the print media program should not be discouraged if they do not have previous print experience. "When I started my journey, I did not have a traditional print background. Here, I learned how industry works, and have been exposed to many different aspects of the industry," she said. Payal recognizes that the program "…has tremendous resources to support student work, backed by knowledgeable and caring professors; this helped in maintaining motivation while gaining confidence in my skills and abilities" and contends that her "…career goals are now more certain and focused as a result of the exposure to various aspects of the industry."
Payal accepted a full-time position as a digital print technology specialist at Wilsonart. She optimistically views her future career prospects, and feels fortunate to be exposed to meaningful and diverse working experiences in the U.S. as a result of her master's degree.
---