Professor Terezakis awarded Miller Fellowship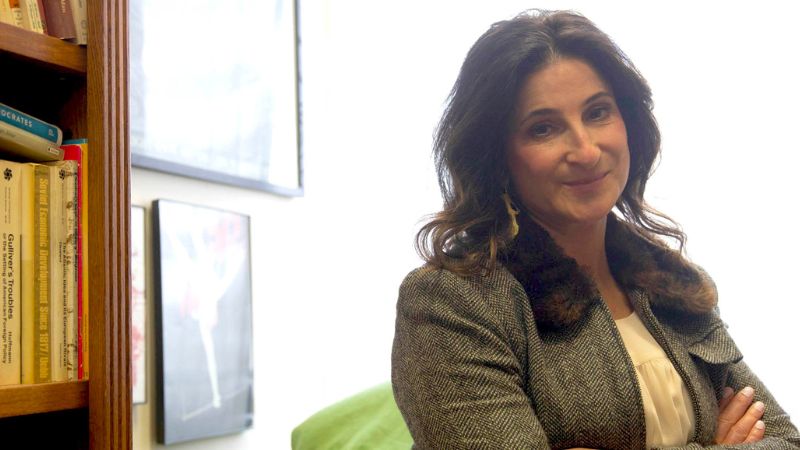 When Katie Terezakis, Ph.D., Professor in the College of Liberal Arts Department of Philosophy, was offered the chance to teach at RIT after grad school, she was thrilled at the opportunity to share her knowledge and expertise with the RIT student body, while also having the freedom to continue her own professional projects and pursuits. 
This year, having been awarded the John William Miller Fellowship, she looks forward to working on the completion of her book "Reinventing Idealism in American Philosophy" during the fall 2023 semester. 
"My book is about the way some contemporary 20th and 21st-century philosophers in North America have received the legacy of Idealism, critical ideas, and command of the German Tradition and transformed it to be more relevant to our contemporary problems in philosophy as well as in social and political culture," she said. 
Terezakis' research interests include German Idealism, critical theory, aesthetics, and the phenomenology of language—a range of philosophical ideals and topics she brings to her classrooms.
"RIT students are often really interested in learning the history of ideas in a way that they don't get to in a lot of their technical classes, but they're always also interested in the application, and being able not to repeat the mistakes of the past," Terezakis says.
"I think that the College of Liberal Arts is at a fantastic crossroads in terms of the artistic possibilities, the craft possibilities, the science possibilities, the technological possibilities. We have the best students from all of the other majors and disciplines who want to think about how history and contemporary ideas are affecting them personally, but also affecting the work that they're going to be doing in their careers. Our college is moving forward in many exciting ways right now that I think will be very healthy for us and will allow us to flourish for the next generation." 
---