From RIT to Research in Biosafety Containment
February 4, 2022
Kubra Naqvi '16 (biotechnology)
Faculty: Andre Hudson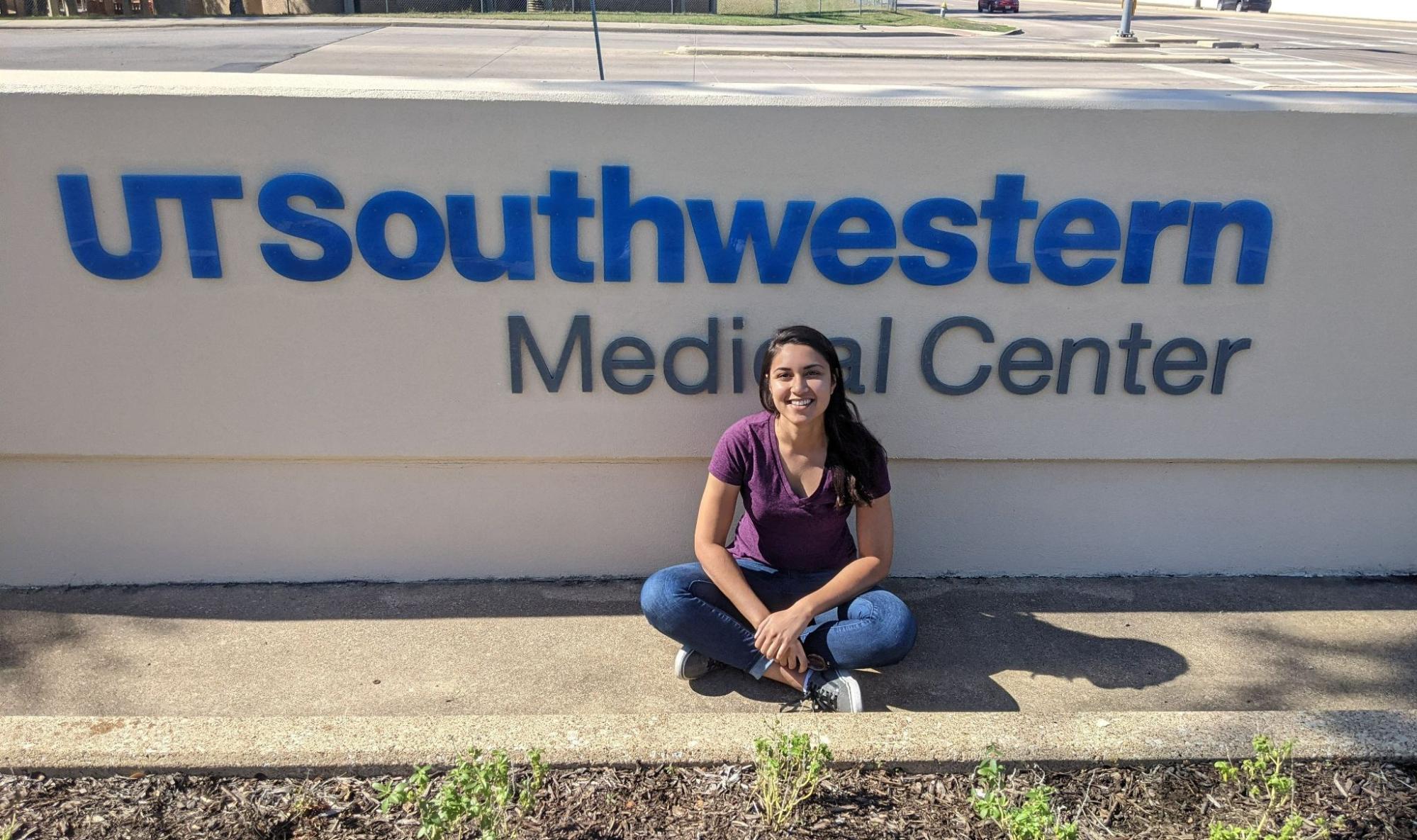 Kubra Naqvi '16, Ph.D. was exposed to a wide array of information as an undergraduate student in RIT's biotechnology and molecular bioscience program. Taking courses in biochemistry, immunology, and bioinformatics while an undergrad meant she was prepared with foundational knowledge that many of her peers in graduate school didn't have. Kubra went on to earn her Ph.D. in Pathology/Experimental Pathology from The University of Texas Medical Branch at Galveston. Today she applies a diverse set of skills as a postdoctoral researcher with the University of Texas Southwestern Medical Center.
Kubra's research project involves identifying how the bacteria causing tuberculosis (TB) triggers cough to transmit the infection from person-to-person. Her job is to design and perform experiments that can prove or disprove a central hypothesis. Since Mycobacterium tuberculosis - the bacteria responsible for TB in humans - is a high-risk human pathogen, Kubra's group must use special protective equipment and facilities when performing experiments. This means she is often performing experiments in a biosafety containment facility. When she's not performing experiments, she usually reads as many articles as she can to learn more about her project or writes articles, fellowship grants, and abstracts for conferences.
The "wet" lab and computational skills that Kubra learned in her RIT courses translated so seamlessly to the technical lab work being done in the real world. "As a postdoc, I am still amazed at how much information I retained from my bioinformatics course at RIT. The amount of useful information offered in that class is incredible, and the future of biomedical research relies heavily on our ability to analyze data computationally," says Kubra.
Kubra also believes undergraduate research played a huge role in where she is today. She worked in Dr. Hudson's lab while at RIT and learned about how research ideas are created, performed, and published. While so many technical skills are required for lab work, the most important skills involve critical thinking and creative problem-solving. Kubra described how every experiment has its limitations, and scientists try to come up with creative solutions to answer our questions but it can be frustrating when experiments fail. It can also be very rewarding when you come up with an innovative way to get the data you need.
"RIT is where I learned about science but, more importantly, how to love science."
Kubra described the College of Science, Thomas Gosnell Hall, as a place where there was so much passion. "It was easy to find someone who would just talk to you about a cool idea." Throughout her career, Kubra has gravitated towards people who have the same passion for science as her professors did at RIT.
RIT faculty also helped Kubra secure a spot in a Summer Undergraduate Research Program (SURP), which allowed her to see how research is performed at another institution. The experience helped her identify the type of research she wanted to participate in, and she still utilizes many of those research skills today.
Students interested in a career in life sciences should be prepared for challenges that will test their passion, resilience, and ability to think critically says Kubra. But she also recognizes that "being a contributing member to the world's knowledge of how living things work can be really rewarding and makes the hard times worth it."
About RIT's Thomas H. Gosnell School of Life Sciences
RIT is the place where biology meets technology. From the start, our students work in the lab, build skills in the field, and gain real-world experience that sets them apart from their peers after graduation. Our faculty focus on the students and involve them in their research. Biology at other schools may be considered traditional, but at RIT it's anything but. Explore the organic universe from DNA to global systems in a supportive academic environment at the Thomas H. Gosnell School of Life Sciences.
Our biotechnology students have many opportunities to gain hands-on experience in industry, academia, or research settings prior to graduation. With extensive research and technology training, our students are competitive applicants for co-op positions. Recent biotechnology students have completed co-ops at Cornell University, Johnson & Johnson, and Vaccinex Inc., some landing paid employment with the same organizations after graduation.
---